This post may contains affiliate links for your convenience. If you make a purchase after clicking a link we may earn a small commission but it won't cost you a penny more! Read our full disclosure policy here.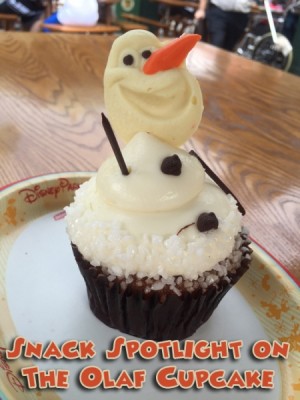 It's the season for the Frozen Summer Fun event again, which I was able to experience recently! It's a great and fun day at Disney's Hollywood Studios, with a parade, special stage shows, fireworks, all of which were spectacular!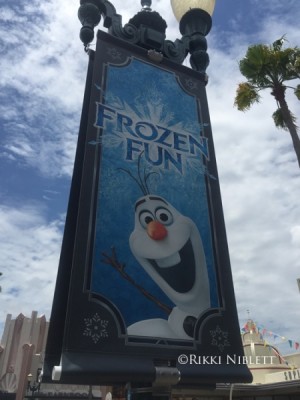 Of course, this is Disney, so you know there were special treats too! And of course, you know I had to get a treat, right?
I was able to try the exceptionally adorable Olaf cupcake themed after the beloved character from Frozen! These can be found at many of the counter service restaurants across the park, however, I got mine from Rosie's All-American Cafe at the Sunset Market Ranch food kiosks.
The cuteness factor of this cupcake is high. It is actually themed after the lovable Olaf, right down to the chocolate stick arms, and there are even chocolate snowman buttons. And of course, there is a solid white chocolate Olaf face that sticks out of the top! (And boy was he delicious!)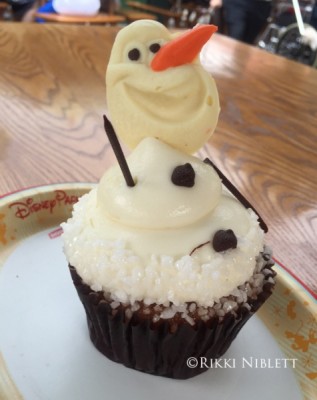 Oh and tying into the snowman theme is the fact that the cupcake is actually a carrot cake cupcake! It had a great spiced flavor that you would expect from it. Unfortunately, there was no filling found in the cupcake, however, that was made up for with how exceptionally moist it was overall.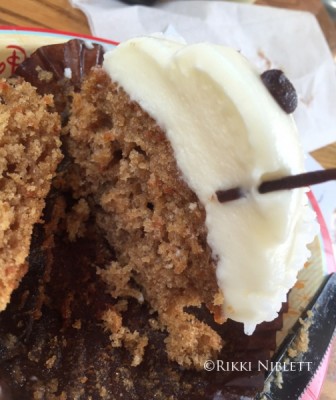 The icing part of the dessert was my favorite part though. It was that sickly sweet and incredibly yummy buttercream frosting with cream cheese flavoring. Oh and did I mention that it was a huge mound of the stuff? My sweet tooth was exceptionally happy.
As if that wasn't enough, there were also sugar crystals which coated the rim of the cupcake! This was a sweet treat indeed!
Now, I actually split this cupcake with my hubby because it was so large, however, if you are hungry, you could very well eat the entire thing in one sitting yourself. It just depends on whether you are in a sharing mood or not!
Overall, I would very much suggest that the next time you are in Disney's Hollywood Studios that you see if they are offering this very special cupcake and if they are, make sure you pick one up pronto! It's going to be a delightful end to your meal, or let's face it…you're at Disney…it's going to be your entire meal.
Have you tried the Olaf cupcake yet? What are your thoughts of the treat?