This post may contains affiliate links for your convenience. If you make a purchase after clicking a link we may earn a small commission but it won't cost you a penny more! Read our full disclosure policy here.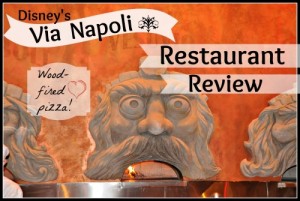 Well, I am now back from a wonderful trip to Walt Disney World.  I had a great quick four day weekend and was able to come back with a lot of great stuff for the blog!
Today, we are going to take a look at hands down, the best pizza you can get on Disney property and that is Via Napoli.
The restaurant, found in Epcot, is located in the Italy Pavilion.  It is a relative recent addition, debuting in 2010 and it has been a favorite almost since the day it opened.
The restaurant is found all the way in the back of the Pavilion.  It is quite large with high ceilings, and features an open kitchen with three very large wood fire ovens.  Named Stromboli, Vesuvio, and Etna after three active volcanoes found in Italy.  Have a large party with you?  No problem!  Down the middle of the restaurant is a very large table which can help accommodate larger parties.  Of course, keep in mind, that this may mean that if you are seated at the larger table, another family may join you.  (This happened to me on my last visit to Via Napoli.  My large party was seated at this table, but another party was seated at the other end.)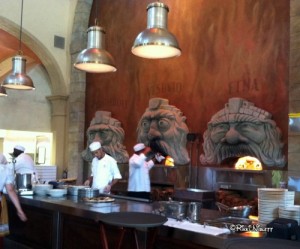 Dining here is a casual affair and dishes featured include Neapolitan pizzas, pastas, and salads.  The restaurant is sit down only and Advanced Dining Reservations are required.  This restaurant also does accept the Disney Dining Plan.
Via Napoli has a ton of appetizers options to choose from.  Options include Mozzarella Caprese (vine-ripened tomato, fresh milk mozzarella); Calamari Fritti (Corn-crusted rings served with spicy tomato sauce); Insalata del Contadino (cucumber, fennel, green beans, tomatoes, red wine vinaigrette); Minestrone Soup (vegetable & cannelini bean soup with basil pesto); and Salami e Provolone (dry cured sausage, imported provolone cheese).
On this trip though, I got the Arancini, which is fried risotto balls filled with mozzarella & meat ragu.  These are absolutely delicious.  They are super cheesy, with a little rice and beef found inside.  It is a wonderful combination.  Make sure to run it through the marinara sauce that is found on the plate!  So yum!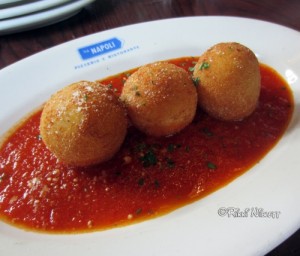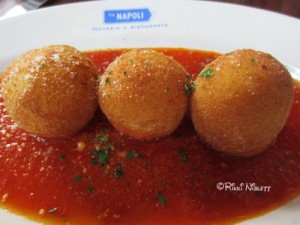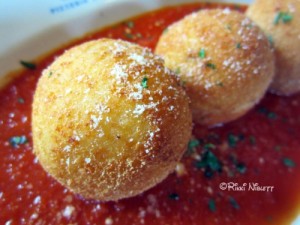 In the past, I've also had the offering of the Family Style House Salad.  This salad is only served as an option with a pizza order.  It is served to a minimum of two people and costs $7 per person.  It includes leaf lettuces, roasted red peppers, marinated mushrooms, olives, peperoncini, and a red wine vinaigrette.
Of course, if you are coming here, the main focus of your meal has to be on the pizza.  Pizzas here come in three different sizes:  Individual; Large (serves 2-3); and Mezzo Metro, or half meter (serves 3-5).  Trust me…these are large pizzas.  I've been known to get an appetizer or salad, and split an individual with my hubby, and be full enough for the rest of the evening.  (Of course, that does mean that snacking around the World will still be involved!)  Keep that in mind when you are deciding what size pizza to get.
There are two different ways you can order a pizza here.  The first way is to get a Margherita pizza (tomato, mozzarella, and basil) and then build it your own way.  Toppings are $2 each and include eggplant, pepperoni, artichoke, mushroom, parma con ham, Italian spicy sausage, prosciutto, olives, onions, arugula, fontina cheese,  red peppers, anchovies, zucchini, and chicken sausage.
However, my favorite way to order a pizza from here is choosing a signature pie.  Options include: Pepperoni (pepperoni, tomato, mozzarella), Funghi  (portobello, crimini mushrooms), Piccante  (Italian spicy sausage, tomato, mozzarella), Prosciutto e Melone  (white pizza, fontina, mozzarella, prosciutto, canteloupe, arugula).  My absolute favorite though?  The Quattro Formaggi which is a white pizza made with mozzarella, parmesan, fontina, and provolone.  It is a decedent delight.  It's all cheese!  How can you get better?
On this day, we were splitting a pizza with some friends of ours, so we got the Mezzo Metro option.  What's great is that if there are people who want different toppings on your pizza, that's ok!  They can split it in half.  Even on a Mezzo Metro.  This is a great option if you are with a very large party and can split one or two Mezzo Metros.  Our pizza was half pepperoni and half Quattro Formaggi.  Even with four of us eating (and we were all very hungry adults), there was still one slice of each half leftover!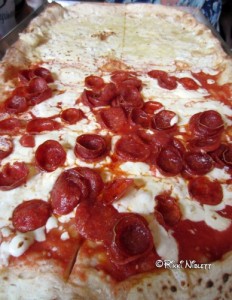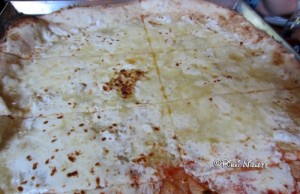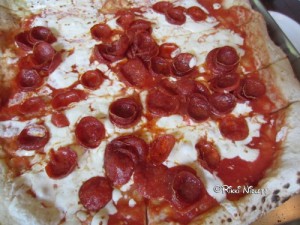 Of course, pizza isn't the only option for diners here.  They also have a multitude of pasta dishes.  Options include Lasagna Verde (spinach, parmesan, besciamella), Candele (candle-stick pasta, sausage ragu, polpettine
meatballs, mozzarella, ricotta), Spaghetti E Polpettine (hand-crafted veal meatballs & tomato sauce) and Mezze Rigatoni alla Crema con Pollo (Cream, chicken, peas).
There is a limited children's menu here, with offerings that should appeal to even the pickest of eaters.  They include Pizza Margarita, Spaghetti, and Calzoncino.
Who can leave without looking at the dessert menu?  You are on vacation.  And of course, what else would you expect to see on the menu at an Italian restaurant but tiramisu (mascarpone cream, espresso coffee, lady fingers and chocolate).  Such a wonderful treat!  Also on the menu are Gelato e Sorbetto- vanilla, chocolate, pistachio, lemon sorbet and Torta di "Mamma Rosario" – apple cake with almond sorbetto.
In the past, I've also had the Zeppole di Ricotta (ricotta cheese fritters, served with whipped cream and chocolate sauce).  These suckers are addicting!  They are round balls (similar to sweet hush puppies), that you can dunk in chocolate sauce and whipped cream.  It is a nice, semi-light option if you are really full, but want a little something sweet to finish off your meal. (I would suggest sharing, so you can go snack more around World Showcase afterwards!  Don't want to get too full!)
Check out the full Menu:  https://www.themouseforless.com/walt-disney-world/dining/menus/via-napoli-menu/
By the time our lunch was over, we were too full for dessert.  (Well, that and we wanted to try out the new France bakery Les Halles Boulangerie Patisserie.  I had to do some more research!)  It was another delightful meal.
Keep in mind, since the restaurant can be a bit busy, I have noticed that they are not always the most attentive to the table.  They did a decent job of keeping my water glass full, but I felt there was a little something lacking.  I have noticed this a couple of times now, so it is something you should be aware of.
Overall, this restaurant is a really great option for those looking for delicious food in Epcot.  Of course, there are many great options to choose from in World Showcase, but seriously, this should be at the top of your list.  It certainly is at the top of mine.