This post may contains affiliate links for your convenience. If you make a purchase after clicking a link we may earn a small commission but it won't cost you a penny more! Read our full disclosure policy here.
Disney Springs has really become a fantastic spot for those looking to grab a meal. I mean, there are a ton of options to choose from and most are pretty darn delicious. But there are a select few that rise to the top and one of those is Art Smith's Homecomin'. This restaurant takes home cooking to the next level. It's just like what your grandma would have made for you, but it's plussed up enough to be a little more upscale. It is classified as farm-to-fork cuisine, and trust me when I say that it works, incredibly well.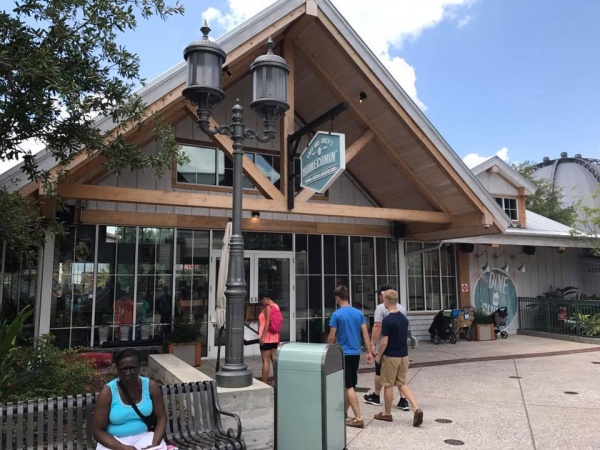 The restaurant has a very homey feel, as one would expect, but it also fits the new Disney Springs mold well too, feeling very modern. And who knows…you might actually see celebrity chef, Art Smith at the restaurant. (He does live in Florida, after all and this restaurant is clearly very special to him.)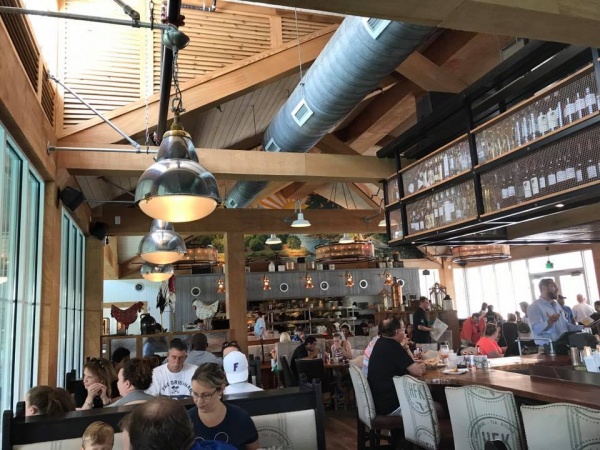 So, what's on the menu? Well, this is one restaurant where you won't want to skip on the appetizers. But be warned….you really do want to come here hungry, and you will leave exceptionally full. One of the famous things from Art Smith's restaurants is some sort of charcuterie board. Here it's the Jasper Board with Pimento cheese, Buttermilk crackers, smoked sausage, shaved ham, bread and butter pickles, and candied pecans. You also don't want to miss out on the deviled eggs.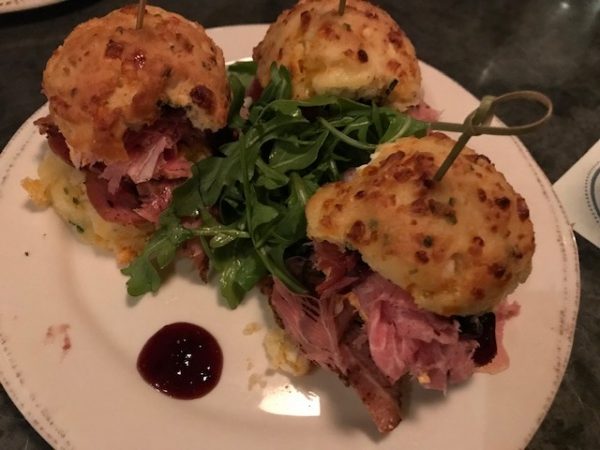 But on this trip, we tried the Ham and Jam – Three drop biscuits (which this restaurant is famous for, by the way) layered with pimento cheese, Tasso ham, shaved country ham and blackberry fig jam. These were delicious. And if you really wanted to, you could easily make a meal out of these. Maybe add a side and you're good to go!
Oh and if you like to imbibe, you are going to want to make sure you order their moonshine! It's famous and delicious.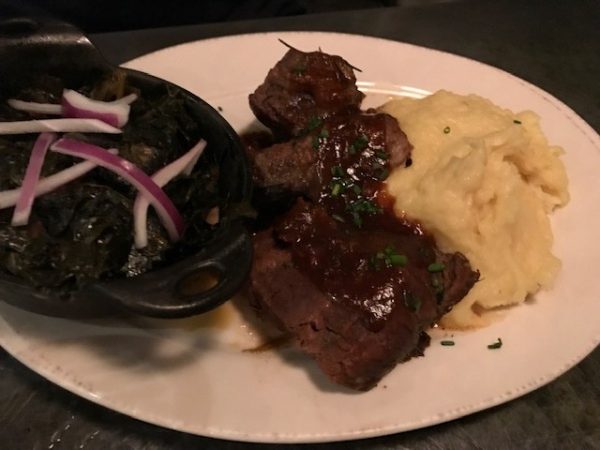 Now it's time for the entrees. I decided I wanted to try a couple of them, so a friend of mine and I split our options. We started with the Braised Short Ribs, which was a fancy "pot roast" that is made by slow-cooking boneless beef short ribs until they are fork tender. These were served over creamy mashed potatoes and we got collard greens. This really was fork tender and delicious. The gravy was perfectly flavored and the mashed potatoes were creamy.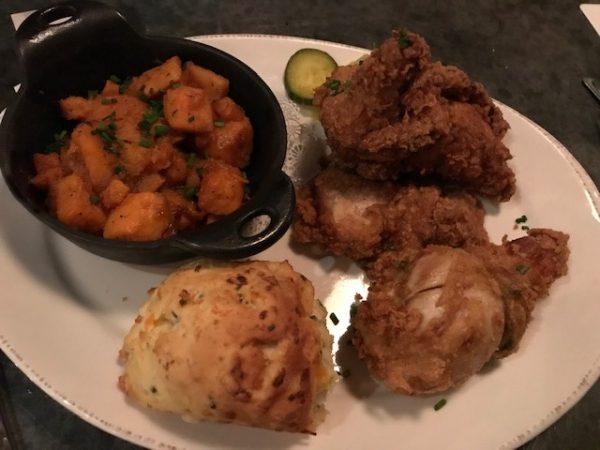 Moving along, we also wanted to get the dish that the restaurant is famous for and that's their fried chicken. It's buttermilk-brined for 24 hours then perfectly fried and served with creamy mashed potatoes, cheddar drop biscuits, and I got the sweet potatoes. This is really some of the best fried chicken you'll have. It's so incredible. The sweet potatoes are fantastic and yes…I'm in love with the biscuits.
The only problem with Homecomin' is that I'm so stuffed that I never have room for their famous desserts….like their Hummingbird Cake! I want to try it someday though.
I would highly suggest you put Homecomin' on your radar because it's really worth the visit. On second thought…forget I told you any of this…I want to be able to dine here and if more Guests go here, I won't be able to get in! 😉
Have you tried Homecomin'? What did you think? Share your suggestions in the comments, or on Facebook or Twitter!
Did you like this article? Make sure to share it with your friends! Check below for easy ways to share!
Want to visit Walt Disney World? Contact The Magic for Less Travel for more information and a free, no-obligation quote.