This post may contains affiliate links for your convenience. If you make a purchase after clicking a link we may earn a small commission but it won't cost you a penny more! Read our full disclosure policy here.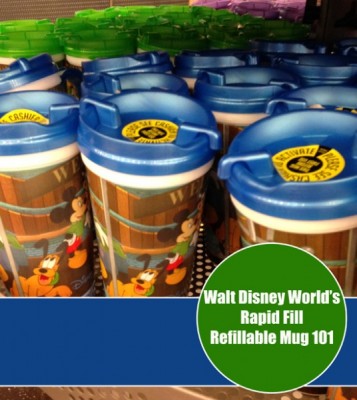 It's a great question…should I consider purchasing the Rapid Fill Refillable Mug at my Walt Disney World resort or not? Wait…what is Rapid Fill? How does it work?  Let's head back to the beginning.
What is the Rapid Fill Refillable Mug?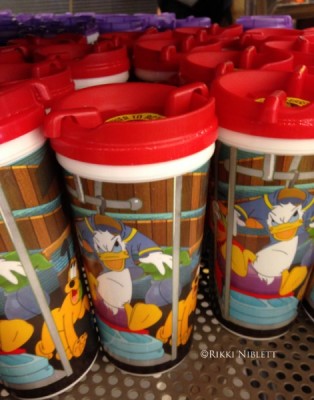 It's a hard plastic mug that can be found at Walt Disney World resort hotels.  They come in four different colors (as of this posting):  red, green, blue, and purple. Each mug has an RFID (radio frequency identification) chip in the bottom of the cup.
Mugs can be purchase and programmed based on the number of days you choose.  Guests can choose to purchase the mug for either one day, two days, three days, or the length of your hotel stay and use days are consecutive. The length of stay option can be up good for up to 14 consecutive days.
One thing to note when purchasing your mug:  They are activated for a full calendar day, not based off a 24 hour period.  This means that if you bought your mug at 10:00 p.m. and used it, the first use day will end at 11:59 p.m. that evening, not really giving you the full value of your mug.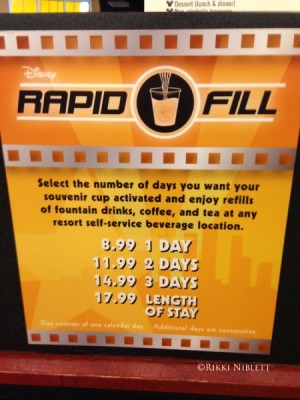 Once activated, in order to use the mugs, guests should head to the refillable mug self-service beverage station, where they will need to place the Rapid Fill refillable mug on the tray located on the beverage station.  This allows the machine to read the RFID chip in the mug.
The soda dispenser allows you to fill your mug up one full pour. Once the mug has reached its capacity, the dispenser's screen will alert the guest with a message that says the fill is complete. If you want to refill immediately, you must wait for 2 minutes to refill the same mug. You will not be allowed to refill before that period and you will be alerted to how much time remains until your next refill is available.
So, what beverages can you fill with the Rapid Fill mugs? Options include Coke, Diet Coke, Coke Zero, Sprite, Sprite Zero, Fanta Orange, Barq's Root Beer, HiC Punch, Minute Maid Lemonade, Powerade.  Of course, options change, so do keep that in mind and make sure to look at the offerings before purchasing the mug to make sure what you really want is indeed being offered.
In addition, guests can also choose to refill their mug with coffee, hot tea, hot cocoa and iced tea. The best news is that these beverages really are available as unlimited refills.  There is no timer set up for these drink options.
Another nice perk is that Rapid Fill mugs can be used at any Rapid Fill machine at any Disney resort, but keep in mind that you must still be within your usage days. So, if you're staying at Disney's Beach Club, but are visiting Disney's Polynesian Village Resort, and you brought the mug with you, you can refill it at both resorts.
One common question that you hear all the time is, these refillable mugs…can you bring them back with you and still have unlimited refills?  While the answer previously was a little sketchy, the answer now is a clear hard no.  (Well, you can bring them back, but you must re-purchase the number of use days for the cups to work.  The beverage stations won't refill anything without an active RFID chip.)
What about those of you staying on site who purchased the Disney Dining Plan?  I have good news!  You get a refillable mug included in the price of your package AND you get unlimited length of stay refills! How sweet!
I previously used the Rapid Fill Refillable Mug on a recent trip.  I'm not a soda drinker, but I am a coffee drinker, drinking at least one cup every morning.  Since I was staying for seven days, I decided that it worked out to be a decent deal for the refillable mug.  But was it worth it?
Cost wise, I can honestly say that if you are staying at a resort for about 6 days and plan to consume at the very least one drink, it can be worth it.  Clearly, the more days you stay and the more stops at the fountain you make, the better your value is.  I personally found that the value was there, plus now I have a great purple-lidded, Disney-themed souvenir mug!
What are your thoughts though?  Do you typically get a refillable mug or skip them?