This post may contains affiliate links for your convenience. If you make a purchase after clicking a link we may earn a small commission but it won't cost you a penny more! Read our full disclosure policy here.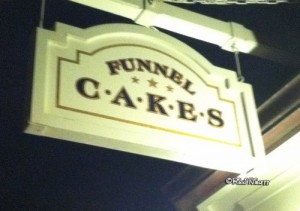 I am a sucker for a good funnel cake.  Just the smell of the deliciously sweet batter is enough to make me run to get in line.  It's greasy, it's sugary, it's my arteries worst nightmare…but one every now and then won't hurt too much, right?
With all that said, I had heard tale about a seasonal pumpkin spice funnel cake available at a kiosk that's found at the American Adventure pavilion.  Being a HUGE pumpkin lover, I knew I needed to make a stop.
This kiosk, which sits out toward the main pathway in World Showcase has a simple sign that just says, Funnel Cakes.  Ok…sold!  Naturally, the menu isn't very diverse, but you don't need to be when you sell something so delicious.
The kiosk sells traditional funnel cakes, as well as some seasonal varieties.  There is, of course, the pumpkin one I'm here to talk about that is available in the winter months, usually; there is a strawberry version, that's typically sold during summer months, and there's also a new version that's known as double chocolate.  This is a must try the next time…since I love all things chocolate.  Guests can choose to get their funnel cakes topped with ice cream, apples, or chocolate sauce.  Me? I prefer mine au natural, with a little powdered sugar.
Menu: https://www.themouseforless.com/walt-disney-world/dining/menus/funnelcakes-menu/
I walk up to the kiosk and ask for my delicious bite of heaven.  They make them here in the shop, so they come out hot.  I let it cool for a bit, because I don't want to burn my tongue.  I take a bite…and it's so good!!!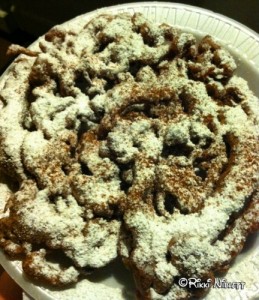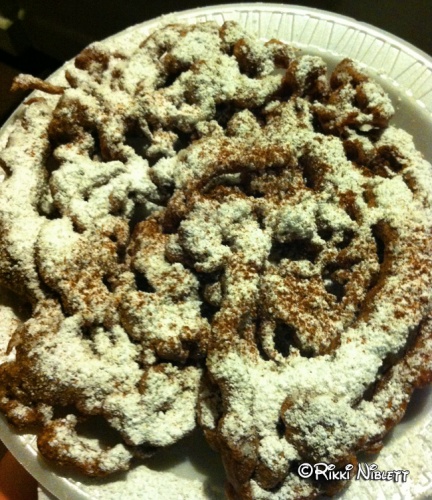 It's got enough pumpkin taste that makes it different than a traditional funnel cake (kinda reminds me of pumpkin pancakes) and the sugar is a nice touch as it melts into the warm cake. Of course, I will always run my piece I tear off through the extra powdered sugar that's found on the sides…makes it extra awesome!
I would most certainly share this among your family.  I mean, I love funnel cakes, but I certainly cannot eat a whole one by myself.  They are huge!
The pumpkin funnel cake is something that I'm glad they've added to the menu.  It's something that's such a brilliant idea and makes a stop at this kiosk a no-brainer during the holiday season.  It's the perfect treat to travel around World Showcase as you take in the sights, explore the countries, experience a concert, or wait for Illuminations.