This post may contains affiliate links for your convenience. If you make a purchase after clicking a link we may earn a small commission but it won't cost you a penny more! Read our full disclosure policy here.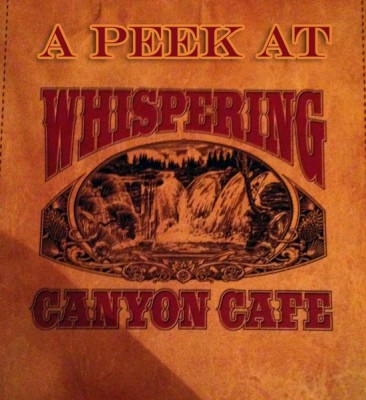 Disney's Wilderness Lodge is a favorite resort of mine. It shouldn't be. I'm not a very outdoorsy kinda gal, but something about this resort just really speaks to me.  I love the decor, the homey feel, the restaurants, everything. It is in my top 3 of favorite Deluxe Resorts.  Whispering Canyon Cafe is one of the table service restaurants that can be found at this resort. (The other table service location is Artist Point.)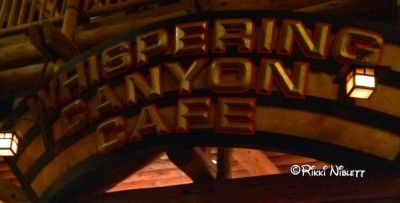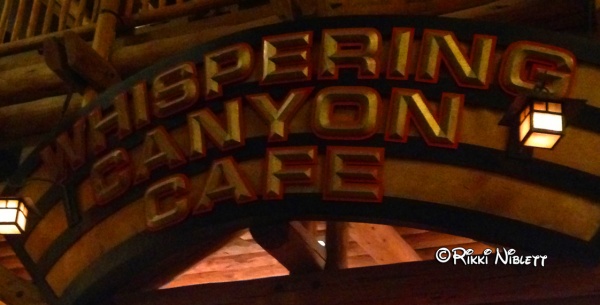 Whispering Canyon Cafe is more or less a rootin', tootin', gallopin' good time.  It's just good, old fashioned fun for all, no matter what age.  This is not a place I would go for a romantic meal, (it's kinda loud) but if you've got the family together, then I wouldn't ever hesitate to make a visit. The restaurant is themed much like the rest of the resort. It reminds me of Lincoln Logs, but I think the official name of the design choice is arts and crafts design.  The restaurant has touches of cowboys and Native Americans.  It's very heavily decorated with woods, and greens, and reds. When you arrive, you will likely have to wait a little bit.  The good news is, there's a great place for your kids to play while you're waiting.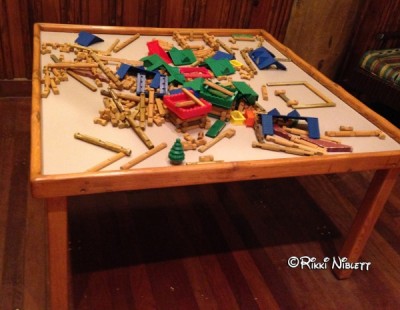 Once you get seated, the Cast Members then get to have fun with you.  You see, they'll joke with you, throw your straws at you, bring you LARGE drinks if you order them (the size of a very large mason jar), the kids (or adults who are like kids) can participate in the pony races (I have before), and yes, they will even have the guys up to perform "I'm a Little Teapot."  (One time, my husband got in trouble for texting at the table, so the Cast Member took him and put him in timeout.  Honestly one of the BEST dining experiences I've ever had at Disney anywhere.  Hysterical!)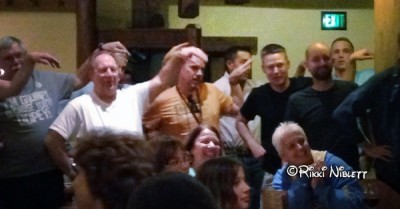 The most common thing you'll hear when dining here is the beckon for ketchup.  If you happen to need it, the call will be put forth ("We need ketchup") and bottles upon bottles will be brought to your table.  When the next table calls for it, it's your job to take your bottles over to the next table.  I told you…this is not your average restaurant.  But it is a lot of fun! Now that we've gotten to the fun stuff, let's get to the eats! Whispering Canyon Cafe offers up breakfast, lunch, and dinner.  They are famous for their all you care to eat skillets (which are available at both breakfast and dinner.)    I've never dined here for breakfast, but can imagine how incredible a skillet filled with eggs, bacon, waffles, biscuits, potatoes, and more would be. I have dined on the Family Platter for dinner.  Here, you get to choose from three different types of meat like Kansas City-style Smoked Pork Ribs, Barbecue Pulled Pork, Roasted Chicken, Hand-carved Oak-roasted Beef Strip Loin and more.  You will then be supplied with four different sides, which include Seasonal Farm Fresh Vegetables, Mashed Yukon Gold Potatoes, Cowboy-style Baked Beans, Corn on the Cob.  The veggies that I had were green beans, but they do change.  I really liked the mashed potatoes and the corn, but could leave the Baked Beans.  I really much prefer a sweet baked bean and these were more of the tomatoey variety.  Not my favorite by a long shot. With your meal, you brought a salad with an apple vinaigrette dressing.  (I don't like salad a lot, but holy cow, was this good!  That dressing is just phenomenal!) They also bring out a basket of cornbread.  Now, I'm  a sucker for cornbread and this version was incredible.  It was not too sweet, but moist. So delicious. Honestly, I think I could have just eaten this and been happy.  (Not very balanced, but happy.)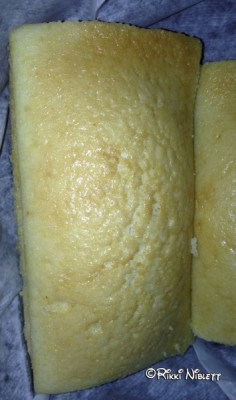 Now, on my last trip, I decided to try something a little different.  I wasn't super hungry, so the Platter was certainly not the way to go.  I decided to try the Citrus-glazed Rainbow Trout served on a bed of Seasonal Greens Salad, Potatoes, Roasted Mushrooms, and Grape Tomatoes.  Again, I really enjoyed the salad.  It was perfect.  And the potatoes were great too.  I personally could have left the fish though.  To me, it didn't really have much flavor.  It was moist, but just tasted like plain fish.  Nothing about it wowed me.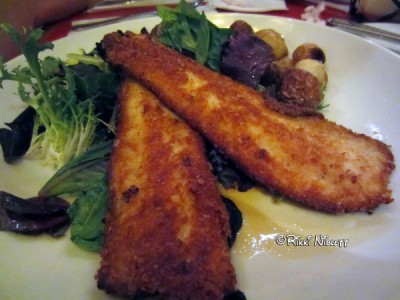 Of course, for dessert (which I was too full to eat by this time), they offer a variety of choices.  But perhaps their most popular is the All You Can Drink Milkshake. Here is a look at the restaurant's full menu:  https://www.themouseforless.com/walt-disney-world/dining/menus/whispering-canyon-cafe-menu/ Overall, Whispering Canyon Cafe is a fun restaurant to head to.  It's a great family experience, where everyone can get in on the entertainment.  And remember…be careful when asking for ketchup.