This post may contains affiliate links for your convenience. If you make a purchase after clicking a link we may earn a small commission but it won't cost you a penny more! Read our full disclosure policy here.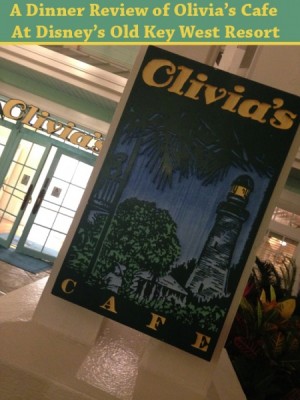 One of the restaurants that not many people think about, especially for dinner, is Olivia's Cafe which is found at the Disney Vacation Club property, Disney's Old Key West Resort.  There could be quite a few reasons behind it  — like there are a ton of table service restaurant locations at nearby Downtown Disney or it's at an off-the-beaten-path resort.  However, I was on a mission to try this not often discussed dining option.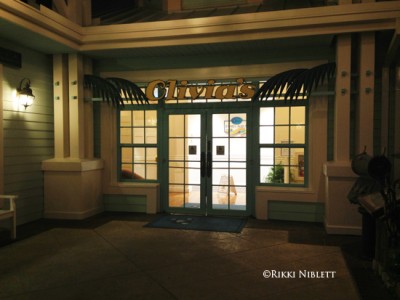 Olivia's is a nautical-themed restaurant with a very laid back atmosphere. Having been to Key West, it's actually very reminiscent of some of the restaurants that you'd experience on the island.
As with all Disney experiences, there is a great backstory to be told and Olivia's Cafe is no exception. According to Disney, the story of Olivia's is as follows:
Olivia Farnsworth lived in a small cottage along Turtle Krawl, upwind of the strip. Almost daily, she would invite curious passersby who smelled her cooking to come on in and pull up a chair. People loved her vibrant flavors and earthy personality, and, before long, she found herself setting more tables.

Eventually, Olivia opened the doors to her eponymous cafe, which has been a haven for locals and a must-visit for out-of-towners ever since.
The restaurant is extremely colorful, with photos of actual Disney Vacation Club members scattered throughout!  There is also a fantastic outdoor porch area, and given that it was a warm night, this is where we chose to sit and dine.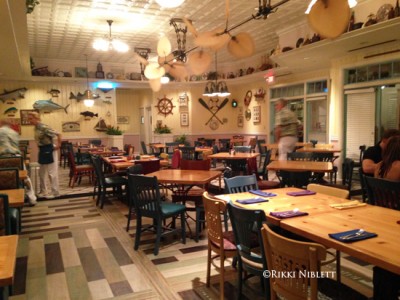 As far as the dining goes, given its tie to the islands, the restaurant focuses a lot of both seafood dishes, as well as Key West-themed entrees.
Given my love of all things sea scallop, I zeroed in on my entree selection quickly.  I opted for the Seven Mile Sea Scallops with Creamy Polenta, Seasonal Vegetable (green beans, though sometimes it's asparagus), Prosciutto Crisp, and Roasted Tomato Sauce.  The waiter informed me they they did not have the regular, larger-sized scallops at the time, so I would be served somewhat smaller ones.  Ok…I thought.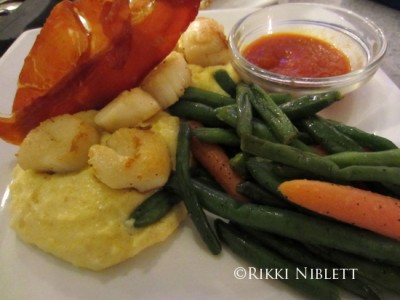 This is a circumstance where size, I think, did matter.  The scallops were delicious and seared wonderfully, but thanks to their smaller size, I think that they were over cooked.  They were just a touch rubbery and tough.  The flavor was great though.  I think if I had been served the regular scallops, they would have been cooked to perfection.  (Guess I need to go back and test them again, right?)
As far as the rest of the dish, the green beans were delightful.  They were crisp and fresh, with great flavor and seasoned well.  I also loved the prosciutto crisp, which was perfectly salty and very light; very reminiscent of bacon. I liked that it was substantial in size as well.  My favorite part of the dish though? The polenta!  Oh wow!  This was so good!  It was buttery and and super creamy.
There was one part that left me scratching my head….and that was the tomato sauce.  I'm not sure it was necessary.  Mine came with the tomato sauce on the side, for some reason. (I did not request it that way.)  I tried dipping my scallops in the sauce, but it was just too much; I prefer my scallops more au natural.  Dipping it made the tomato sauce covered up the taste of the scallop, so all I tasted was tomato. After trying the sauce, I decided to just forgo it.  Though thinking about it now, I'm not sure if it would have been so overwhelming had it been drizzled over the scallops, as it appears is the normal method of serving the dish, but either way, I really don't get the necessity of the tomato sauce.
I clearly didn't have too much of an issue with my meal, as I stuffed myself to the brim.  I was even too full for dessert!  Though, if you are looking to grab a nice sweet treat, may I suggest the Key Lime Tart? Key lime pie is a staple of Key West, so if you're looking for authentic, this is where it's at!
Overall, I was most impressed with Olivia's Cafe.  I enjoyed the food, I loved the laid back atmosphere, the cost is not super exorbitant, and because it's not such an overwhelming hot spot, it seems pretty easy to get an Advanced Dining Reservation, even at the last minute.
Have you visited Olivia's Cafe at Disney's Old Key West Resort?  What's your favorite dish to get?