This post may contains affiliate links for your convenience. If you make a purchase after clicking a link we may earn a small commission but it won't cost you a penny more! Read our full disclosure policy here.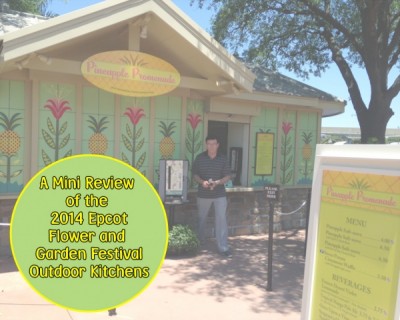 So, earlier this year, I had planned to give you all a rundown on this year's Epcot Flower and Garden Festival's Outdoor Kitchens. I had visited the year prior during this festival and tried quite a few delicacies. Unfortunately, almost none of the dishes I tried last year made it on to this year's menu offerings!
Well, this past weekend, I made a quick get away to Walt Disney World and while I know that there are only 2 more weeks of this Festival, I wanted to share with you what I tried this time out, in case you'll be making a visit here soon! (And for those of you planning for 2015, hopefully these items will be returning. I have a suspicion that two of them will be, one may not.)
This year's Flower and Garden Festival has 11 Outdoor Kitchens, which line the World Showcase promenade. They include:
Jardin de Fiestas – Mexico Pavilion

Lotus House – China Pavilion

Florida Fresh – Near Germany Pavilion

Primavera Kitchen – Italy Pavilion

The Smokehouse: Barbecue & Brews – American Adventure Pavilion

Hanami – Japan Pavilion

Taste of Marrakesh – Morocco Pavilion

Fleur de Lys – France Pavilion

The Buttercup Cottage – United Kingdom Pavilion

Pineapple Promenade – Near Canada Pavilion

Urban Farm Eats
During my brief visit to the Festival, I was able to try three different kitchen's offerings.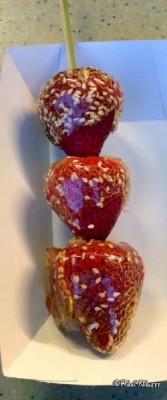 First, I stopped at the China Pavilion's booth – Lotus House. I am a very big fan of strawberries and they had these candied strawberries that I was dying to try. Called Beijing-style Candied Strawberries, I was first impressed with their size. These were not little puny strawberries.  Instead they were three very large strawberries on a skewer covered in a hard, sugary glaze with sesame seeds mixed in.  At first, I was a little taken aback.  I didn't know what to think of the sesame seeds. Then I took a bite.  Holy wow!  I was in heaven.  These were the juiciest strawberries I've had in a very long time.  The candied coating was a little hard to break into.  I was glad I grabbed a fork and knife.  But the coating worked well with the strawberries.  Very delicious.  Again, the only weird part was the sesame seeds. But they weren't super distracting from the taste. These were, hands down, my absolute favorite thing I tried. While the cost was a little high ($4.25 for the three strawberries), the flavor made it absolutely worth it.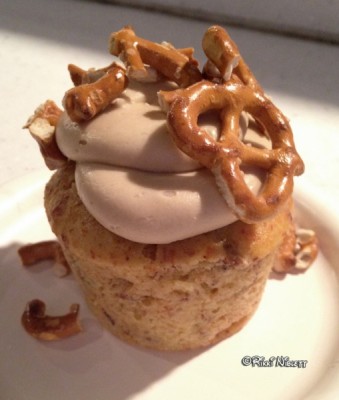 The next booth I tried was the Smokehouse, which is found in the American Adventure Pavilion. Of course, I had to try the infamous Piggylicious Bacon Cupcake. This one is divisive.  People either love it or they hate it. I fell into the it was alright category.  Not sure I'd get it again, but I'm glad I tried it. You see, it has two distinct flavors.
The bottom half is the interesting half…featuring the yellow cake and the bacon pieces. The bacon is more of a smoked bacon. It tasted very much the way Rome smells in Spaceship Earth. It was a strong flavor, but when mixed with the sweetness of the maple frosting, it was a decent combo. I much preferred the creamy maple frosting, though many claim it's very rich. I didn't think it was too bad and was very yummy when paired with the pretzels that they scoop on top. I think if they do something with the frosting and pretzels next year, and maybe take the bacon out of the yellow cupcake, they will have a winner on their hands.  (Maybe sell it as a maple pretzel crunch cupcake.  I would be all over that.)  By all means though, if you will be visiting the festival, try this treat. It's certainly worth trying, especially at a cost of $3.50 for a decent sized cupcake. (Which I split and was glad I did.  Mostly cause of the bacon flavor.  I think a whole bacon cupcake for myself would have been too much.)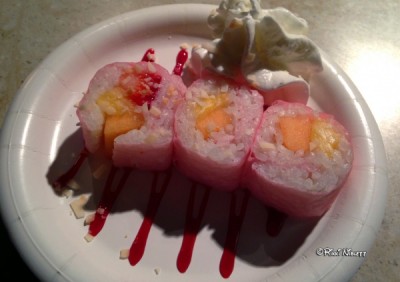 The final booth I was able to stop at was in the Japan Pavilion and it was the Hanami booth.  I was dying to try the Fruishi, which is fruit sushi. Now, I don't eat regular sushi, but knowing this one was all fruit had me excited. Unfortunately, for me, it was the biggest let down.  It was extremely dry.  I also didn't get all three pieces of fruit in all three rolls (the fruit included was strawberries, melon, and pineapple).  Two of the rolls only had the melon and the pineapple. The coconut rice had good flavor, and the only way to get any moisture in the roll was to dip it in the whipped cream.  But that didn't help much. While I think you get a good value on your plate, for $4.50, I do not think I would get this again. I do think this item will return next year, as it was brought back from last year's event.
We didn't get to try a lot of booths, because we had a reservation that evening for Beaches and Cream at Disney's Beach Club Resort (another review for another date.)  If you will be attending this year's Festival, which lasts until May 18, visit The Mouse For Less's page on all the details.
Overall, I think that the Outdoor Kitchens are a nice bonus to Epcot's Flower and Garden Festival. The lines are often short and the flavors are fresh. I do miss some of the offerings that I particularly enjoyed last year (like the angel food cake/strawberries combo and the rocky road brownie), but I feel as though Disney is still tweaking this part of the Festival to see what really works and gets people excited. It is fun to try things as you walk along the promenade. I can't wait to see what delights they bring out next year!