This post may contains affiliate links for your convenience. If you make a purchase after clicking a link we may earn a small commission but it won't cost you a penny more! Read our full disclosure policy here.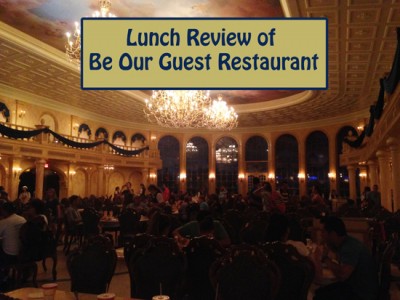 A few months back, I talked about the step-by-step process in being able to make FastPass+ reservations for being able to dine at Be Our Guest Restaurant for lunch. Well today, I'm back to tell you how the whole process worked!  (Keep in mind, the ability to make a FastPass+ reservation for Be Our Guest Restaurant is only available for guests who are staying on-site.)
First, it was very easy.  As we made it up to the podium of the New Fantasyland restaurant, we told the Cast Member that we had a reservation.  They took my name and then told my party to head to the front doors.  There were two lines available; one for those with FastPass+ reservations and one for those waiting standby.  At the time, Disney was only allowing Standby guests who were able to pick up a scheduled return time card to enter the line.  Disney seems to keep changing their mind on how they will accommodate Standby guests.  One second, they give you a card and tell you to come back at a certain time, the next second, they aren't allowing any Standby guests, the next minute, guests can wait in a Standby line. If you are wanting to dine at Be Our Guest and you do not have a reservation scheduled, make sure to get there early to see what the day's current procedure is.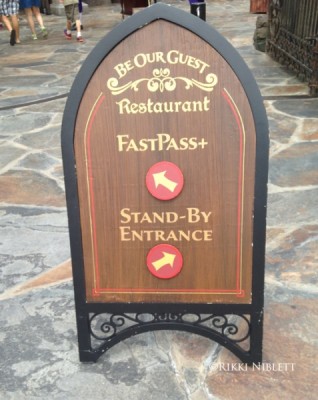 As far as our experience, we got in the FastPass line and the neat thing to know while waiting in line is that they line you through the halls of the castle, where you get to walk past armored statues. Make sure to keep an ear out, because they'll talk to each other.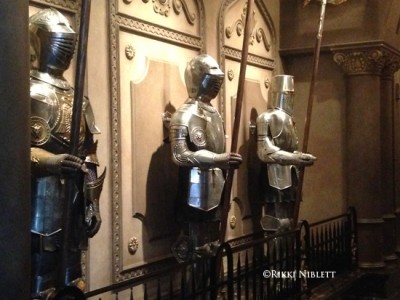 So, as we were standing there, we waited…and waited…and waited. The line to order our food was the longest we had to wait in the whole process to dine here.  (We did not pre-select our meals ahead of time…there was just no way that was going to happen in my family.)  Finally, after about 10-15 minutes of waiting, we were finally able to step up to a Cast Member, order our food, and we were led to our table.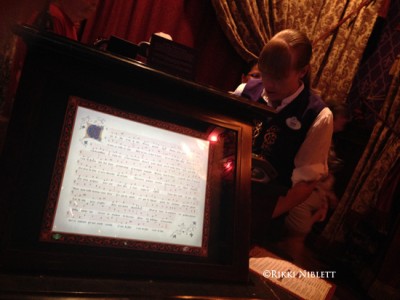 The restaurant, for those who have never been is like stepping into a scene from Beauty and the Beast.  For those of us who grew up on that movie, it is just jaw-dropping.  Being able to see the West Wing and the enchanted rose and the painting of Beast that changes, or stepping into the room with the giant music box, or better yet, being able to dine in the ballroom, where you see it's snowing outside, it's all so phenomenal.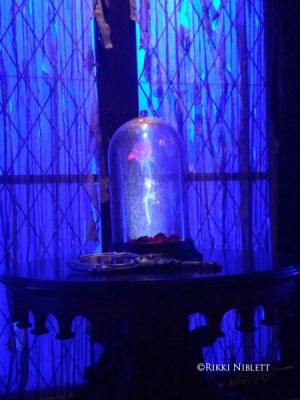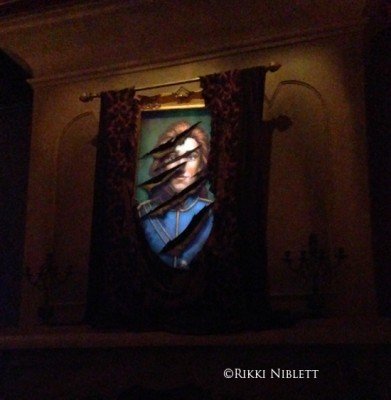 For lunch, because this is a counter service location, you are expected to grab your own silverware (which are located on carts), and you will be given a cup to fill up your drinks.  The beverages are located at different stations found inside the restaurant.  These are covered up at dinnertime.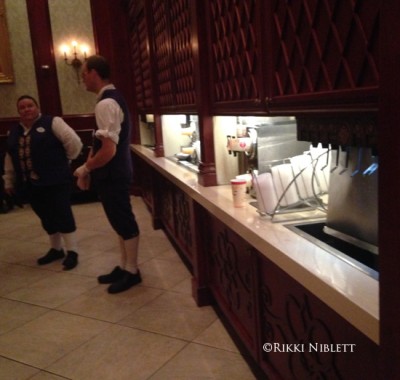 The neat thing about dining at Be Our Guest is that they know where you are seated either by your MagicBand or by a Magic Rose that you take with you to your table. (Thanks to RFID technology!) So, your food will appear, minutes after you order it, almost as if by magic.
As for my meal, I ended up deciding on the Braised Pork.  Can I just say, holy cow!  Oh my god, this was a meal that was to die for.  The pork was super flavorful and tender.  You only needed a fork to eat it. There was a great gravy that coated the meat which just enhanced the juiciness. The dish was served with green beans, which were crisp and fresh.  They featured a delicious bacony flavor.  Finally, there were the mashed potatoes.  These were simply delightful. I'm a connoisseur of mashed potatoes (I make the best at home) and while I like mine a little creamier, these were quite delicious.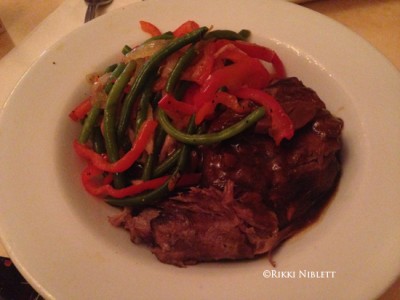 Of course, you know I had to get dessert, right? And I had my heart set on the Master's Cupcake, which is Chocolate Sponge Cake topped with Lumiere's special "Grey Stuff".  It was quite delicious, and very moist.  Oh and the Grey Stuff icing was incredible, but I'm gonna go out on a limb and say that I actually enjoyed the Triple Chocolate Cupcake that I'd had previously dined on last year just a little bit better.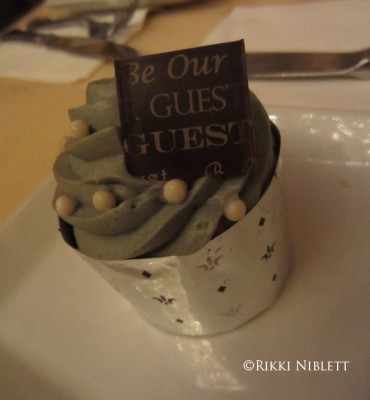 I know a lot of people clamor to dine at Be Our Guest because it is the popular new, "it" restaurant, but for me, I enjoy lunch because I think it's a great value.  I had a dinner quality meal, for lunch, at a ridiculously-awesome themed restaurant for a reasonable price. I don't think the prices are super exorbitant for lunch, especially knowing I'm getting to eat something a little bit better than chicken fingers and burgers. Hands down, if I have the chance to get a FastPass+ reservation again for lunch, I'm going to do it, because I think it is well worth the money.  (I do wish it was easier to get in here though overall and wonder if because it's a FastPass+ option that makes the ability to dine here so incredibly difficult. Of course, there is no way for me to prove that's the case.)
What are your thoughts?  Have you gotten to dine at Be Our Guest Restaurant for lunch?  Let me know your thoughts in the comments or on our Facebook page.