This post may contains affiliate links for your convenience. If you make a purchase after clicking a link we may earn a small commission but it won't cost you a penny more! Read our full disclosure policy here.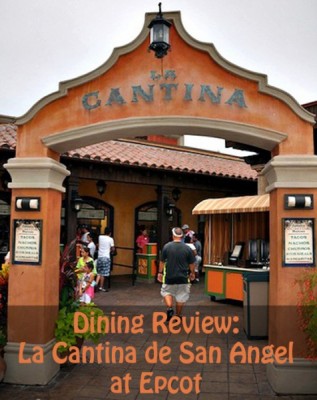 Ole!
I'm still in the Cinco de Mayo spirit, even though today is Seis de Mayo! To continue the celebration, I thought we'd take a look at one of the great restaurants located in the Mexico Pavilion at Epcot – La Cantina de San Angel!
La Cantina de San Angel is located across from the Mexican pyramid. It is a counter service location that features mostly outdoor seating. (Though if you eat here prior to 2:30 p.m., you can sometimes dine inside at La Hacienda de San Angel, which is the table service location found next door.)
Warning – This is an extremely popular restaurant! Crowds mount early and last through much of the day, especially leading up to the nighttime spectacular, Illuminations. Why? Because with its outdoor seating component is a delightful view of the World Showcase Lagoon. On the night we dined here, we had a lot of trouble trying to find a table for 4, and we weren't the only ones vying for a table. However, if you are lucky enough to get to dine here during your dinner and Illuminations, the view is spectacular.
(Mini rant: And if you are not eating and just taking up a table so you can watch Illuminations from this vantage point, go find another location to watch the nighttime spectacular from. There are a lot of great locations around the lagoon. You are taking up a table that someone who has paid for a meal is is actively looking to dine here needs. Thank you.)
Back to our regularly schedule post.
La Cantina de San Angel offers a number of delightful Mexican options ranging from tacos to nachos to enchiladas, and more.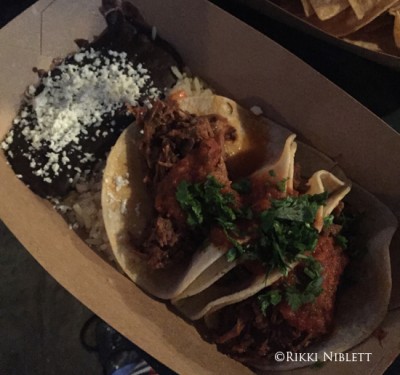 On the night I visited, I decided to try the Tacos de Barbacoa which is seasoned beef served on fresh homemade corn tortillas with Mexican rice, refried black beans and fresh salsa.
One thing that was not mentioned was that this dish is plated with cilantro. Now I am one of those people who DESPISES cilantro, however, luckily it was big enough for me to pick off. Other than that, the tacos were fantastic. The tacos themselves are sort of smaller in size, but you do get three of them with your meal. The meat was juicy and had a great flavor. The rice was just sort of your standard rice, however I quite enjoyed the refried black beans. I thought they were quite good.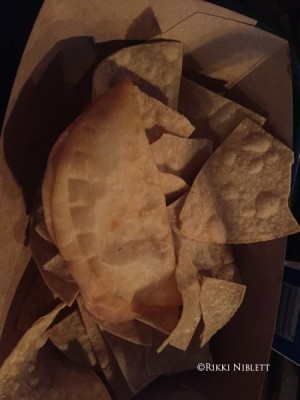 We also got the kid's meal of the Empanadas con Queso. This was a fried flour tortilla filled with cheese, served with tortilla chips and nacho cheese. I have to say, the Empanada was actually the breakout dish. The tortilla was crisp and there was a decent amount of cheese inside. It was also served with a good portion of perfectly salty tortilla chips. This really was enough food for a small appetite (like myself) and for the cost ($7.99) we also thought this was a bargain! (All things considered.)
Overall, I was quite impressed with La Cantina de San Angel and I can see why it's always so busy. Next time though, I may have to bring a picnic blanket to camp out on the floor, if I want to find a place to sit. Or hope that someone will be getting up soon. Though the large number of people who are behind me in line are also hoping for the same thing…
Have you tried La Cantina de San Angel? What is your favorite dish? Let me know in the comments!
Incoming search terms:
la cantina san angel epcot