This post may contains affiliate links for your convenience. If you make a purchase after clicking a link we may earn a small commission but it won't cost you a penny more! Read our full disclosure policy here.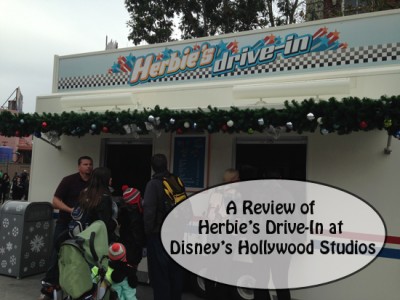 Have you heard the news? Pretty much the entire back area of Disney's Hollywood Studios will be closing beginning April 2 to make way for the upcoming construction for the park. That means we will have to say goodbye to Lights, Motors, Action: Extreme Stunt Show, Honey I Shrunk the Kids Movie Set Adventure Playground, Monsters Inc. Character Meet & Greet, Writer's Stop, Watto's Grotto, Studio Catering Co., High Octane Refreshments, New York News, Youse Guys Moychindise and Prop Shop. Of course, this also means that we must say goodbye to a little cart found just outside Lights, Motors, Action on the Streets of America called Herbie's Drive-In.
Now, Herbie's didn't offer much and it literally was a food trailer. It was a great choice for people who just needed a quick meal on the go or who were heading into Lights, Motors, Action and wanted a drink or snack. Matter of fact, most people probably walked right past it and didn't give it much of a second look.
Herbie's specializes in all things hot dog. You can choose from a plain hot dog, chili-cheese dog, corn dog, or even a polish sausage. They also offer snacks that include nachos with cheese, chili cheese nachos, chips, trail mix, frozen beverages, and more. However, the thing that interests me the most is the s'mores! This will be something that I attempt to pick up on my next trip, just to try!
On my previous visit, I was just in the mood for something to eat. I didn't want anything super fancy, but food. (It had been a long day and I was at the hangry point.)  My hubby knew I had better eat something quick, so we were walking by and he suggested Herbie's.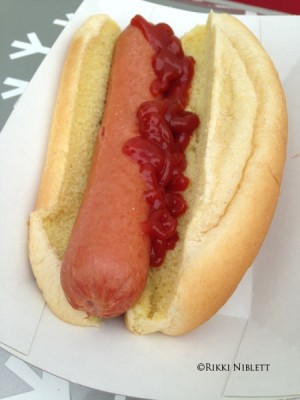 Yes…I'm aware I do hot dogs wrong, according to most. #KetchupGirl
I decided to just get the regular plain old hot dog. I found it to be a good sized dog and had good hot dog flavor. Of course, it's a known fact that Disney's buns are WAY too big for their hot dogs and this one had quite a bit of excess bread. The bun lacked a little to be desired as it wasn't the softest, either.
Either way, I found the hot dog to be satisfying to my hunger and was exactly what I needed.
While Herbie's certainly won't be something that people miss with the closure of the Streets of America, it was a necessary option for guests looking for dining options, so it absolutely fit the bill.
Had you enjoyed a snack from Herbie's? And have you tried the s'mores dessert I need to try? Let me know your thoughts in the comment section.