This post may contains affiliate links for your convenience. If you make a purchase after clicking a link we may earn a small commission but it won't cost you a penny more! Read our full disclosure policy here.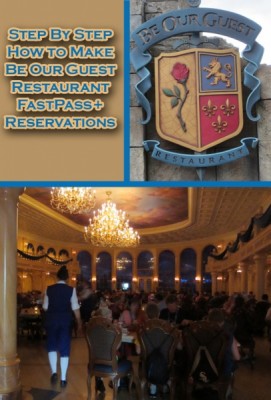 Edit:  The test for FastPass+ at Be Our Guest Restaurant will be ending on January 24, 2015.  Beginning January 25, guests will need to log into their My Disney Experience account for more information.  Advanced Dining Reservations will still need to be obtained for guests wanting to dine at the restaurant for dinner.
Did you know that guests staying on-site at a Walt Disney World Resort Hotel have the ability to make a FastPass+ reservation for the extremely popular Be Our Guest Restaurant counter service lunch option? This FastPass+ means you won't have to wait standby to dine in the restaurant! Instead, you'll be able to head right inside!
So, I know you're asking how does this work, right?  Well, I was curious too! And as luck would have it, I happen to have a trip scheduled in just a few short weeks (18 days to go…not that I'm counting) where I'm staying on-site (Disney's All-Star Movies Resort, for the first time ever), so I have the ability to take advantage of this perk.
First things first, prior to arrival, a guest will typically be sent an email, inviting them to the test, however, it now appears that all on-site resort guests are eligible, including those who did not get sent the email. Guests must visit a special website: https://beourguestlunch.disney.go.com/.  Guests must log-in with their existing My Disney Experience account. If they do not have one, they will need to create one to be able to make the FastPass+ reservation.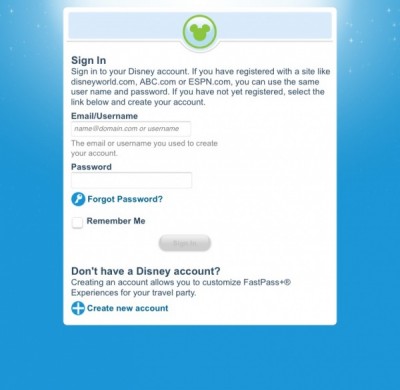 Once logged in, they will need to enter their resort reservation number.  Prior to getting the email, I had already entered my reservation number. I was excited and wanted to make sure I got in!
Which brings me to my next tip, you cannot make a FastPass+ reservation until about 27 days prior, as of right now.  Keep in mind, this isn't 27 days prior to your trip, it is 27 days prior to the day you plan on visiting the restaurant. This is subject to change, but this is the policy, it would seem, at the time of this post.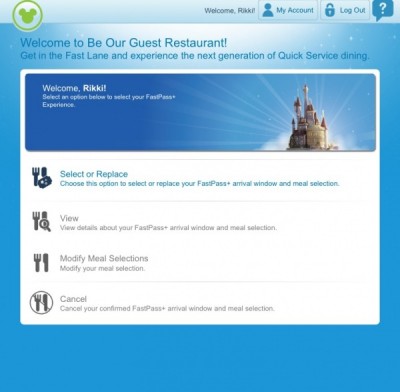 Once you are in, you will be given the option to select or replace your FastPass+ reservation, simply view it, modify the meal selection (if you choose to pre-select your meal beforehand), and cancel the reservation all together.  Of course, this time, I was looking to make a reservation, so I chose to select my FastPass+ reservation.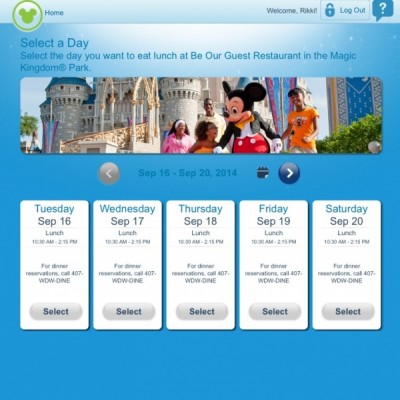 It will show you options for days when you can make your reservation, but as I had mentioned beforehand, you can only make a reservation up to 27 days ahead of time.  If you select a day before the window opens, it will say there are no reservations for that day.
So, with that being said, I chose to make my reservation for Wednesday, September 17.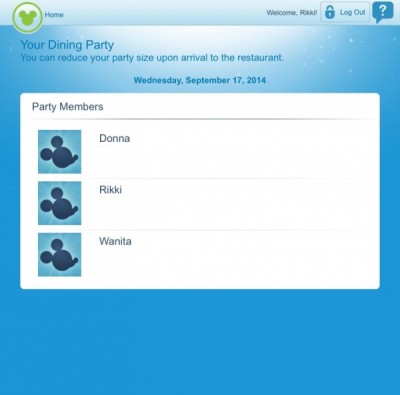 You will then be taken to a page showing your which members of your party may participate in the test. This is important, as it doesn't appear that you can add members at the time of the meal, so if you don't see a member of your party listed, you may want to contact Disney about it. At the time of your meal, you will be allowed to subtract members, if that's necessary.
As you can see, there are three of us who will be participating in the lunch, me, my mom, and my grandma. (Side note…grandma just turned 94…and it's her first ever trip to Walt Disney World…yay!)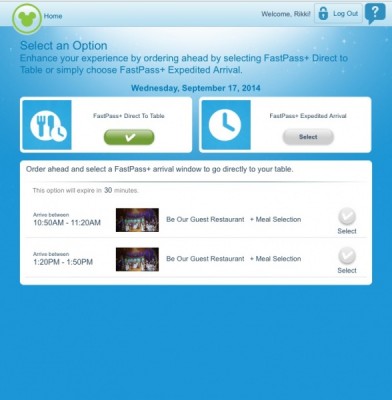 After simply clicking select on the previous page (because there is no other option currently) you will then have the option to choose one of two dining possibilities. One is to have just the FastPass+ reservation, where you order at the restaurant and are taken directly to your table. The other option is where you order your meal ahead of time and then when you taken to your table your meal you'd previously ordered will be delivered to you.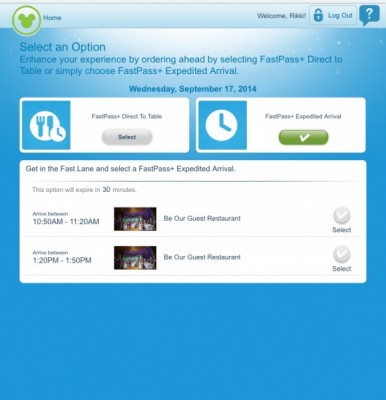 We chose not to have our meal picked out ahead of time.  We also had the choice of two dining times.  One was from 10:50 a.m. to 11:20 a.m. and the other was 1:20 p.m. to 1:50 p.m. Choose the time that best fits your family's needs and touring strategy.
After that, I confirmed my choice, and was taken to a confirmation page directing me that I could still choose to pre-order our meals.
Upon arrival, we are directed to head to the restaurant's FastPass+ entrance podium located at the beginning of the bridge, where our MagicBand will be scanned. We will only be allowed to check in during our arrival window.
One other nice tip to know is that this FastPass+ reservation doesn't count towards your others.  So if you have attraction FastPass+ reservations, don't fret! You can make and have both.
I am so excited to get to take advantage of this opportunity and I will be sure to share with you in the future how the experience goes.
What do you think? Have you been able to take part in this test? How did it go for you?