This post may contains affiliate links for your convenience. If you make a purchase after clicking a link we may earn a small commission but it won't cost you a penny more! Read our full disclosure policy here.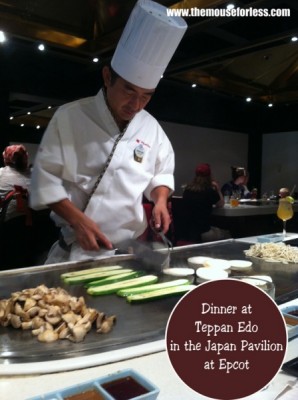 I love Epcot because it allows you to enjoy different cuisines. (This is especially true during the Epcot Food and Wine Festival…and there will be some posts coming up about the Festival soon!)  I have many favorite stops in World Showcase: Via Napoli, LeCellier, and Rose and Crown to name a few. So I was excited to try Teppan Edo. I love going to the local Japanese restaurant where they cook Teppan-style on a hibachi grill, plus Teppan Edo is a fan favorite! While I did enjoy my meal, I have to say that I was actually a little disappointed in Teppan Edo overall.
Now you all know, I'm exceptionally positive about most restaurants I visit. I am not super critical about things…and from the food standpoint, Teppan Edo hits the mark.  Everything I tried tasted delicious, so if you are worried about that as I start in on this review, don't worry!  Your meal will likely be delicious too.  What bothered me about this experience…well…I'll get to that.
Teppan Edo is located in the Japan Pavilion and can be found up the stairs, across from the pagoda where you'll see the Japanese drum show, Matsuriza. There is a main lobby which serves as the waiting area for both Teppan Edo (which is off to the right) and Tokyo Dining (which is off to the left.) The decor is extremely sleek and modern feeling with tons of unique light fixtures lighting the room. The restaurant is filled with lots of cool greys, whites, and browns.
As you enter, you are escorted down a hallway past different dining rooms and then seated at a table with a grill found at the table.  This restaurant features a show element of a very skilled chef will will be cooking your meal right in front of you, hence why the grill is necessary.  Also, seating here is communal, so unless you have a party of 8, you will be seated with other guests. Once seated and you've had the chance to browse the menu, your server then greets you and asks for your order.
Entrees here are varied and you can see the full menu for all the details, but it typically involves a lot of meat, rice, noodles, and veggies. Guests are invited to choose which main course option they would like. This is where my first gripe comes in. The menu is very limited in ways.  It's a lot of beef and chicken. I'm a seafood lover and when I dine at hibachi-style restaurants, I typically choose a seafood option.  Sometimes I will choose to mix it with a meat choice.
Here, the only seafood option you can mix with meat is shrimp.  Also, if you wanted to only choose shrimp, according to the menu, it's a no-go. There is no shrimp-only entree listed; shrimp is only a choice when paired with another meat.  Ok, fine…I much prefer scallops anyway and they have those.  So, that ended up being easy.  It would also be nice if I wanted to try three options, instead of two, that could be a choice. (Like if I wanted steak, chicken, and shrimp.)  For those who like sushi, there are a few options to choose from as well.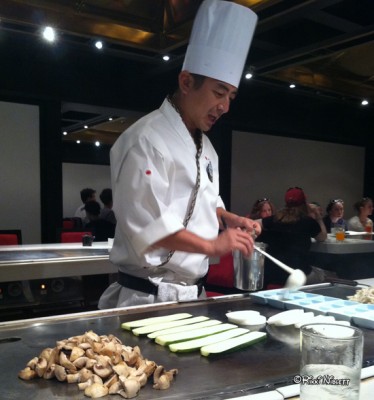 After you place your order, the show starts.  The chefs are so good at what they do!  They do all the tricks one would expect to see, and then some. The best is always the onion volcano, but they will often add some Hidden Mickeys into the routine too! It really is incredible to watch these chefs work.  They move so incredibly fast with such skill and it's so amazing how well they keep track of everything, once all the meat, noodles, rice, and vegetables are on the grill.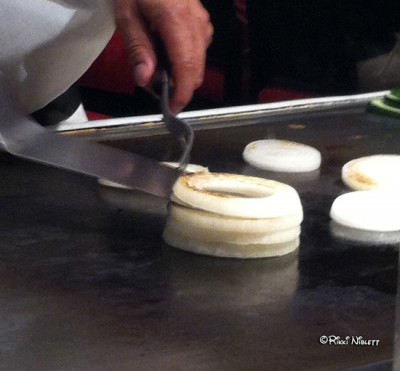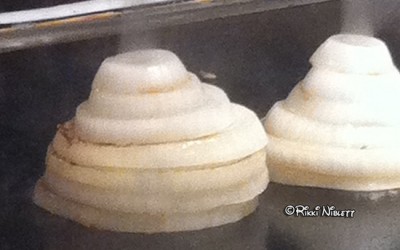 Because of the cooking style, meal components will often come in pieces.  It's best not to wait until you have your whole meal…instead, dig in, because by the time you get all of the pieces, your meal may be cold.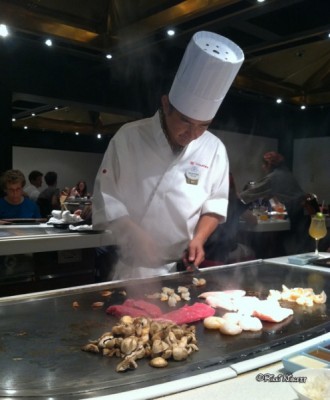 As I said, this time I'd gotten the scallops and they were prepared very well.  Not tough, just flaky enough.  They had a good grilled flavor. The rice was good, it didn't stand out, but was a nice accompaniment. The noodles and veggies were mixed, but these kinds of mixed veggies I can always take or leave.  I typically eat a few pieces and that's good enough.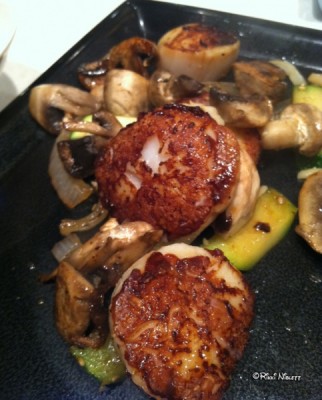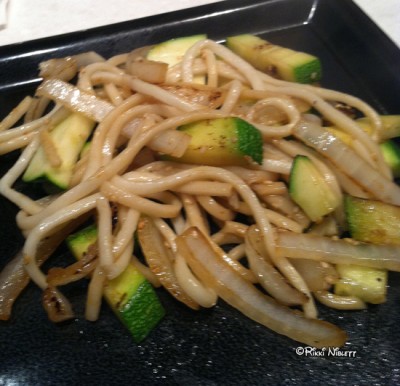 Now I'll get into my second issue.  Yes, I know I'm at Disney and yes, I know that prices are inflated, however, the meal at the local Japanese restaurant I visit also serves me a salad and soup with my meal, AND it's $10 cheaper for the exact same meal! At Teppan Edo, I get less food for more money.  I also leave my local restaurant stuffed; I did not leave Teppan Edo stuffed.
The pricing is really the bigger issue to me.  I get that I'm also paying for the show aspect, but I get the same show elements at my local restaurant. If I'm going to spend that kind of money for the same experience, I'd rather do it at the place where I get more value for my money.
I'm not saying that you shouldn't go to Teppan Edo.  I think it is a decent restaurant with delicious food and if you want to enjoy hibachi-grilled food on your vacation, by all means, do it.  Personally, I would simply rather spend my money elsewhere at Disney, on an experience that I can't get at home.
So what are your thoughts?  Am I off base about Teppan Edo?  Is it one of your favorites? Tell me your thoughts!