This post may contains affiliate links for your convenience. If you make a purchase after clicking a link we may earn a small commission but it won't cost you a penny more! Read our full disclosure policy here.
One of the places I'd always heard great things about is Sanaa, located at Disney's Animal Kingdom Lodge – Kidani Village. Given the remote nature of the restaurant, I had always just thought about trying it, but never committed, even though most people that I knew raved about it. I was a bit unsure about their menu, since they have both an African and Indian flare, and well, I had never really eaten either cuisine before. However, finally, on my most recent trip, I decided I was going to make the effort to head over to the resort and make sure to finally try the restaurant I've heard so many people rave about.
Once you get to Disney's Animal Kingdom Lodge – Kidani Village and you enter the gorgeous and breathtaking lobby, you'll need to head down the stairs to find the table service location, Sanaa. We didn't have a reservation, however, they told us that beginning at 8:45 p.m., they would begin taking walk ups. So, we wandered around the resort, enjoying the amenities, including the extremely cool ability to borrow night vision goggles that allow you to see out into the savanna in the evening. It was so neat to see a giraffe walking around in the middle of the night. There was also a fantastic fire pit with rocking chairs where we could sit and relax.
Finally, it was time to head over to Sanaa, and after a brief wait, they were able to seat us. (For Guests who do not wish to wait, there is a lounge where you can sit, if you can find a table.)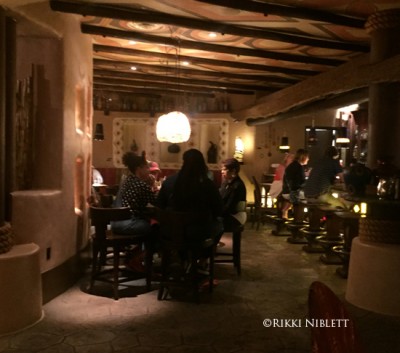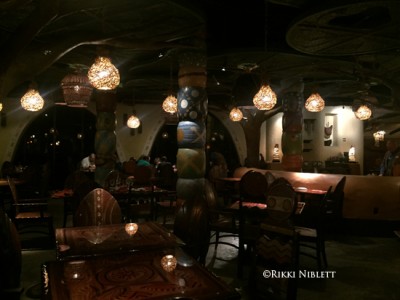 Now, there is one thing that seems to be on everyone's lips when you tell them you are going to Sanaa.  That one thing is that above all else, you must order the infamous bread service with all nine dipping sauces. (You also have the option of choosing only the breads and three of the accompaniments, if you so choose.) So, of course, that was exactly what we did.
The bread service comes with 5 different types of naan bread. They include onion, paneer, spicy, regular, and garlic. The dipping sauces included Cucumber Riata, Roasted Red Pepper Hummus, Mango Chutney, Tomato-Date Jam, Tamarind Chutney, Coriander Chuntey, Garlic Pickle, Red Chile Sambal, and Spicy Jalapeño-Lime Pickle.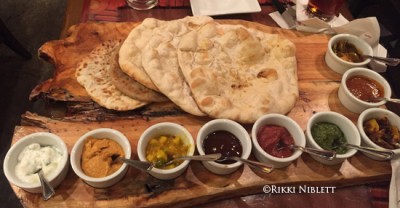 When they arrived, the Cast Member informed us that they were in order, from least spicy to most spicy. So, if you have an aversion to super spicy, you know which ones to avoid. I do have an aversion to spicy foods, so I skipped the Jalapeno-Lime Pickle options, however tried all of the rest of the options. I have to say, they all had very unique flavors, and there was only one that I really didn't like, which was the Coriander Chutney. The rest were all quite good, however, my favorites were the Roasted Red Pepper Hummus, the Garlic Pickle, and the Tamarind Chutney. And even though the Red Chile Sambal was spicy, I could eat it just fine.
We also decided to split a main dish (this was our dinner, after all, however, after finally sampling the bread service, I can say that if you are looking for a light meal, that should cover you. It is exceptionally filling.) For our dinner, we decided on the choice of two meats and rice. We opted for the basmati rice with butter chicken and braised beef.
The braised beef was quite good. It had a bit of a sweet flavor, and the gravy was plentiful. In addition, the rice was light and fluffy. It was the perfect side accompaniment. However, the clear winner of the entire evening for me was the butter chicken. Oh my god. This was to die for. It was incredible. It had a rich, velvety flavor. I fell in love with it so much that I actually even went to the local grocery store, picked up some butter chicken sauce, and made butter chicken and basmati rice this week for dinner.
So, did I enjoy Sanaa? Suffice to say I did and now I am kicking myself for waiting so long to get over to try this delicious restaurant. I can guarantee you that I most definitely will be back.
Have you ever dined at Sanaa? What were your thoughts?