This post may contains affiliate links for your convenience. If you make a purchase after clicking a link we may earn a small commission but it won't cost you a penny more! Read our full disclosure policy here.
One of my all-time favorite restaurants at Walt Disney World is Kona Cafe! It's a popular stop for many at breakfast, due to the exceptionally famous Tonga Toast, however my favorite meal here actually has to be dinner!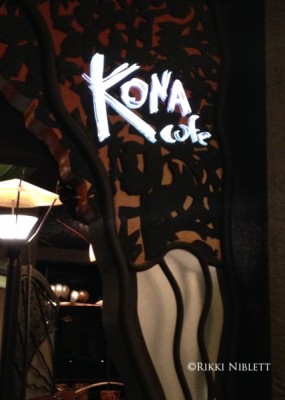 Kona Cafe is located at Disney's Polynesian Village Resort and it's on the second level of the Grand Ceremonial House. While not as popular as its sister restaurant, 'Ohana, it is gaining in popularity due to the fact that the food is just plain good.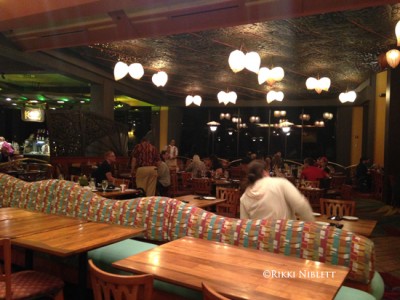 The feel of Kona is that of comfortableness. It's warm and inviting, with it's red and brown color palette. The vibe is extremely chill and relaxed. I love the tropical touches that can be found all around the dining area. The restaurant isn't huge, but it can handle parties of size, given the fact that I've dined here with about 40 people before. Granted, they couldn't seat us all together, but the restaurant is set up so that even if you aren't with everyone in your party, you'll still be able to have a fantastic meal. One thing to keep in mind is that Kona is open to the Grand Ceremonial House, so this maybe isn't a place for a quiet dinner.
The restaurant features menu items inspired by Asian flavors mixed with American dishes.
Let's start out with the bread. Kona delivers a complimentary bread to each table and if I wasn't careful, I could fill up just on this. It is a sweet pineapple-infused bread, and served with a wonderful macadamia nut butter. While it doesn't look like much, I promise you that the flavors are out of this world. They mesh together so perfectly. It's sweet and salty all in one!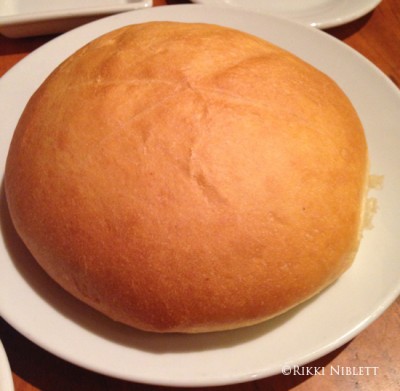 One of my favorite things to do is to make a meal out of a couple of appetizers.  The Pot Stickers are to die for! They are wok-seared Pork & Vegetable Dumplings with Creamy Ginger-Soy Sauce. These pot stickers are so flavorful and are filled to the brim with pork and veggies.  They have a great crispness due to the searing, but not in a crunchy way.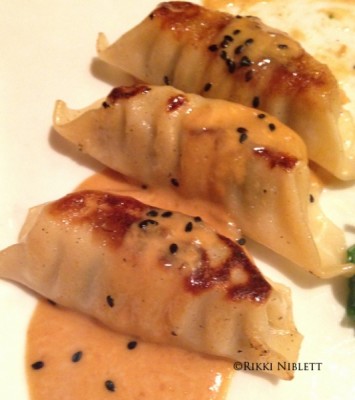 I'll pair the pot stickers with the Sticky Wings, which are Glazed Chicken Wings with tangy Mustard Drizzle and Toasted Sesame Seeds. Again…perfection. These are meaty wings with a sweet delightful glaze. Just wonderful!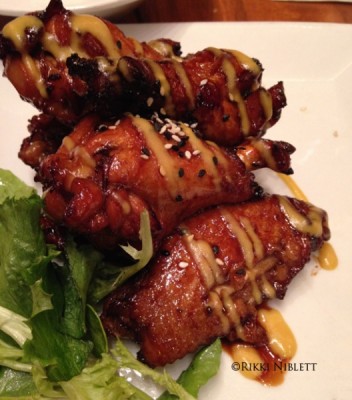 However, as much as I love pairing both of those together as my meal, Kona Cafe offers up one of my all time favorites and that's scallops! The Sesame Seared Sea Scallops  served with Rice, Wakami Salad, and Tarragon-Champagne Beurre Blanc. The scallops were cooked to perfection. They were not chewy and had a good charring. I adore the beurre blanc and the rice is a sticky white rice that makes a great accompaniment. The only thing I don't care for is the Wakami Salad. It tastes too seaweedy for my taste.   (Which makes sense…it's what it is.)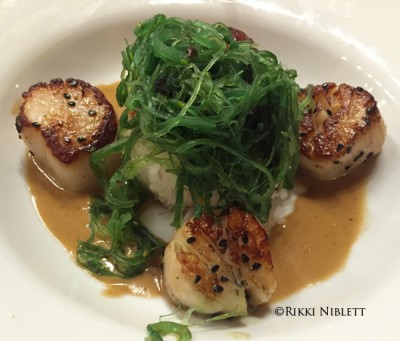 Kona is great for the sushi lovers, as they also make fantastic sushi right there. My husband loves sushi and has never been disappointed when he's ordered it here.
Looking for dessert? The chocolate lovers won't be able to resist the Kilauea Torte which is warm liquid Chocolate inside Chocolate Volcano. This dessert is so rich and incredible. The crunchy outside shell leads the way for the ooey gooey insides. Drool….Pair it with some Kona coffee and you have got yourself something!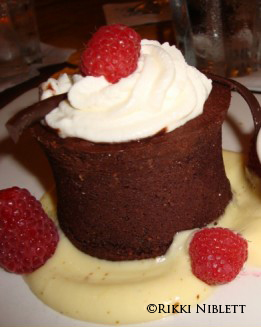 So…should you go to Kona Cafe? Well I'm torn. Yes…you should definitely go. But if you go…then it makes it harder for me to get in…ack…the conundrum!
What are your thoughts of Kona Cafe? Share in the comments!