This post may contains affiliate links for your convenience. If you make a purchase after clicking a link we may earn a small commission but it won't cost you a penny more! Read our full disclosure policy here.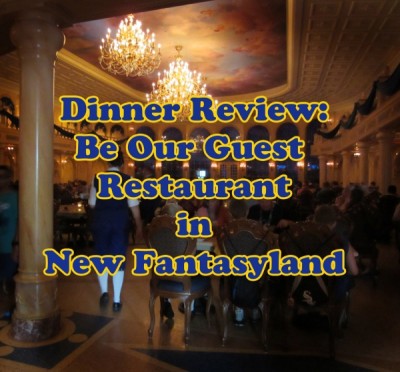 So, this week on the Be Our Guest Podcast, we discussed The Be Our Guest Restaurant and everything this brand new Fantasyland restaurant has to offer.  For those who have been unaware, the Be Our Guest Restaurant opened in December 2012 as a part of New Fantasyland's Grand Opening.  The restaurant was highly anticipated and serves up delicious cuisine that gathers inspiration from French cooking.
Be Our Guest is different than any other restaurant in Walt Disney World.  You see, at lunch, they offer a quick service meal, but at dinner, it changes over to a table service location.
At lunch, because of it's counter service nature, the restaurant often sees larger waits to get in.  People will often be seen lining the bridge to get inside. Dinner accepts Advanced Dining Reservations and if you want to dine here, you likely need to make them 180 days out, since this restaurant is still quite a hot ticket.
Another thing that sets Be Our Guest Restaurant apart from other Magic Kingdom restaurants is that it is the very first establishment to sell alcohol.  Guests may choose to imbibe on French and Belgian beers and wine selections during their dinner only.
Leading up to our meal, I was so anxious to dine here, because you see, as a kid, I had grown up with Belle.  I wanted to be her.  She was just like me.  She was brunette, and was a book worm and smart.  I simply loved the songs and the story of Beauty and the Beast.  I was just so excited!  So you can imagine the jubilation I felt when I walked into the Ballroom!  I had dreamed about seeing this since I was a little one and now I was actually here!  Wow!  The details here just blew me away!
I think that is just one of the many big draws for this restaurant's popularity.  Other reasons for it's popularity include that the restaurant is new and the prices really aren't that bad.  Surprisingly, they are much more reasonable than one would expect.  Also, the food is much better than most other Magic Kingdom restaurants.  So, you can easily see why this is such a hard restaurant to get an Advanced Dining Reservation for dinner.  (And, yes, lunch too.)
The restaurant has three different rooms.  The first is the main ballroom area.  This is exactly like what you saw in the movie when Belle dances with The Beast.  Make sure to take a look outside…you'll notice that it's snowing.  The room to the right is the Rose Gallery.  Here you'll find a beautiful twirling, larger-than-life figures of Belle and Beast situated on top of a music box that Maurice (Belle's father) made for them.  The room to the left is the mysterious West Wing.  This room is much darker than the other two rooms and features the Enchanted Rose.  You'll also see a portrait of The Beast which transforms into the Prince every 15 minutes.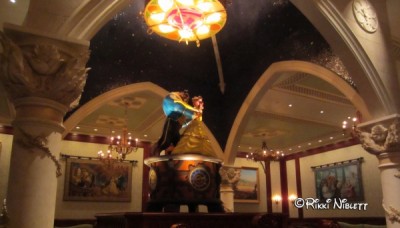 A quick suggestion.  We were seated near the front of the restaurant in the Ballroom area.  If you want to be immersed in the whole experience, ask to be seated either closer to the windows in the main ballroom or in the West Wing.  (Keep in mind, the West Wing is very dark, so if you have trouble seeing, you may want to ask to be seated in another room.)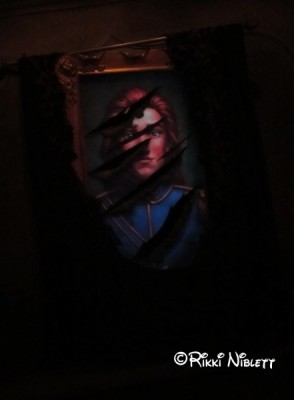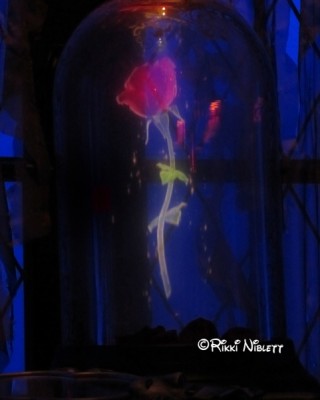 Now, onto our meal.  In looking over the menu, there were a lot of dishes that appealed to me.  The menu has something for everyone, it seems.
Menu:  https://www.themouseforless.com/walt-disney-world/dining/menus/be-our-guest-menu/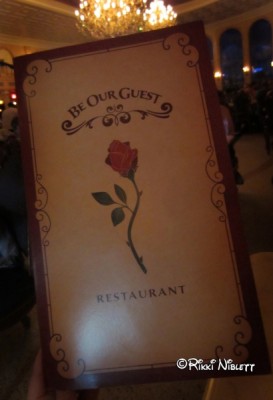 I decided to try the Thyme-scented Pork Rack Chop served with Au Gratin Macaroni, Seasonal Vegetables, and Red Wine Jus. I enjoyed the pork, but it wasn't my favorite thing I've ever eaten.  If I'm being honest, I actually much preferred the macaroni!  It was cheesy and the crust on top was perfect.  Not too burnt.  I also loved the seasonal veggie of green beans!  They were flavored wonderfully and were extremely fresh.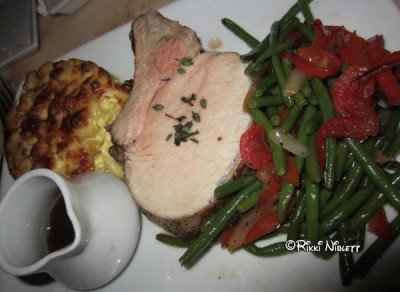 My husband got the Pan-seared Salmon on Leek Fondue served with Creamy Saffron-crushed Potatoes.  He got the Leek Fondue on the side, because he wasn't sure about it.  Overall, he absolutely loved the dish.  (Leeks and all.)  Said it was incredibly delicious.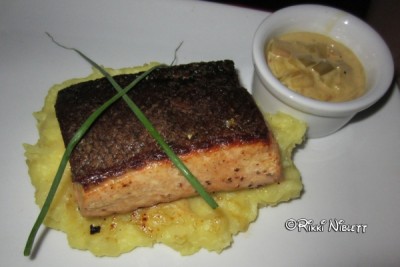 For dessert (yes, I had to get dessert), they wheel over this cart full of wonderful delicacies.  Oh! How am I supposed to choose?!  They all look so good. To me, getting dessert here at dinner is one of the best values.  Most desserts around property for dinner cost anywhere from $8 – $15…but here, the desserts are a bargain (for Disney prices) at $4.19!  (The desserts are a little cheaper during lunch.)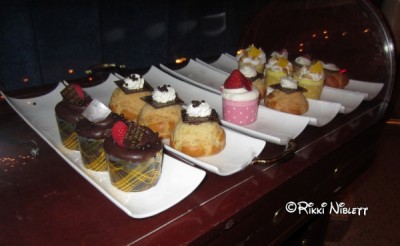 I decided to try the Triple Chocolate Cupcake!  I mean this thing is a chocoholics dream cupcake.  Chocolate Sponge Cake, Chocolate Mousse Filling, and Chocolate Ganache…hello sugar rush!  I feel like Anna from Frozen just stuffing chocolate in my face! (And I was ok with that.) The cupcake was so rich and moist.  It was sinfully good.  (Oh my god, now I want a cupcake…)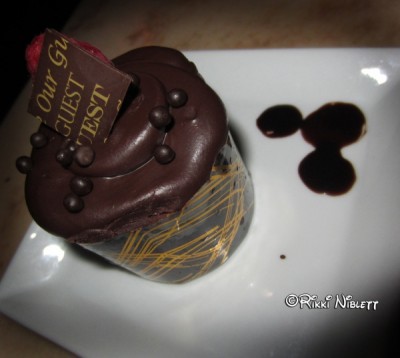 I only have one little gripe about the cupcakes that are served here.  While I think the presentation is quite gorgeous, the wrapped part that is on the outside of the cupcake is incredibly difficult to take off.  It's made of plastic and I certainly didn't want to smash my cupcake to get it out of it's cover and I couldn't stick the fork inside.  I'm not sure how I manged to take the wrapper off, but I did.
Since we were celebrating my birthday, they brought out The Grey Stuff!  Which, albeit is delicious.  (You know I had to go there.)  It tastes sort of like cookies and cream icing.  It's very sweet and yummy.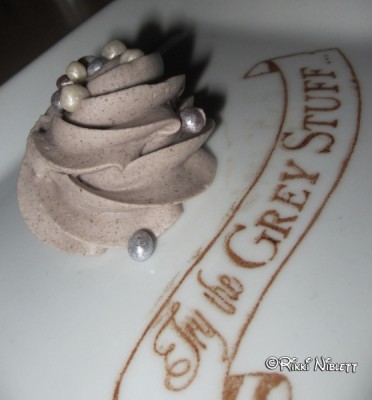 After our meal, we wondered around the restaurant to see the rooms we didn't get seated in.  Then, we made our way to the Beast's Study to meet the master of the castle.  The Beast was a perfect gentleman.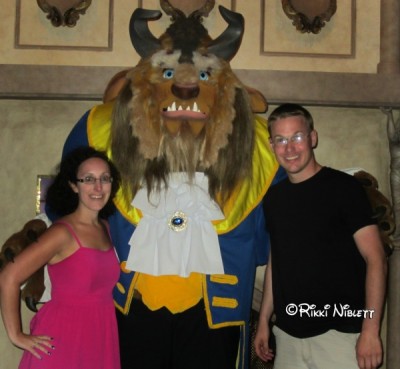 I would certainly head back to Be Our Guest Restaurant, but I'm not sure that I would get the pork again.  I think there are too many other things listed on the menu that I would like to try first before settling on the pork as my go to choice.  (Like the Grilled Strip Steak, and the Sautéed Shrimp and Scallops.)  I would also really like to try this restaurant for lunch, which is obviously another experience in itself.  Also, I'm dying to try The Grey Stuff cupcake which sounds incredibly delicious too!
As you can see, there's just so much that makes this restaurant unique that it's popularity is certainly warranted.  Now…when is my next 180 day mark so I can make another reservation?