This post may contains affiliate links for your convenience. If you make a purchase after clicking a link we may earn a small commission but it won't cost you a penny more! Read our full disclosure policy here.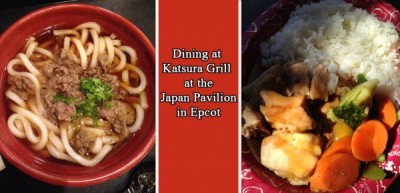 Are you someone who explores the World Showcase pavilions or do you skim the outer edges? It's a legitimate question and I ask because a lot of people don't actually explore the different countries situated around the lagoon. I used to be one of them! (I know…take away my Disney card right now.) For many, especially those on a first time visit, they don't stop to see what each country has to offer and when you do that you miss out on some hidden gems.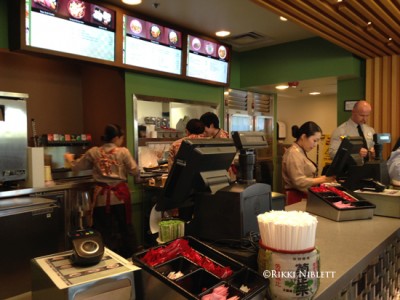 One place that you may actually miss out on is the delightfully tranquil Katsura Grill, the counter service restaurant that can be found up the stairs in the Japan Pavilion. This quaint stop offers quite a few options including  Sushi, Japanese Curry, Teriyaki, Udon Noodles, Miso Soup, Edameme, and Green Tea Ice Cream.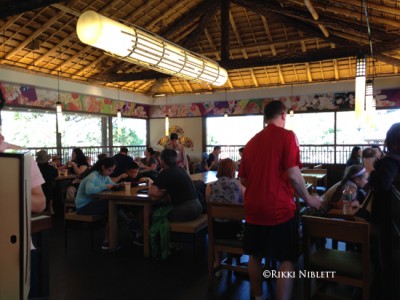 Here guests can choose to eat indoors or outdoors. If you choose indoors, know that seating is very limited and it's extremely close together. When we chose to sit inside, we were right next to the table behind us; we were so close our chairs practically touched. If it's a very busy time, consider going outside, which is really the true gem anyway.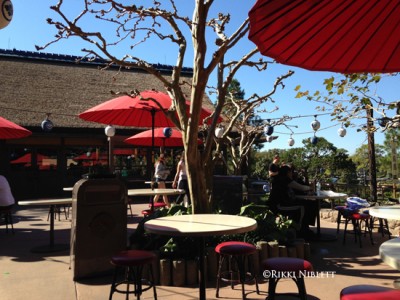 Outside, guests have the option of sitting under an umbrella-ed table, but the best part? You get the opportunity to sit in a beautiful koi pond garden. There are also these gorgeous blue and white hanging lanterns, which if you are sitting back here at night, make this kind of a romantic destination. This seating area is tucked back away, so many people don't really know this it's even here. I've sat both inside and outside and trust me, outside is where it's at!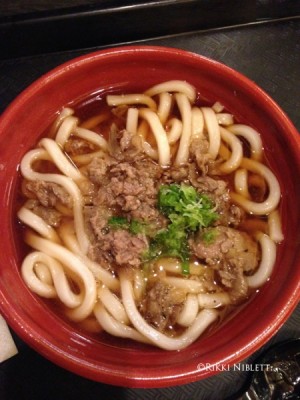 On my last visit, I was able to try the beef udon noodles. For $10.99, you get a decent sized bowl of delicious noodles, beef, and broth. I thought that the beef was not the best quality; it was just alright.  The broth was good (a touch salty) and the noodles were quite filling.  Maybe next time, I will try one of the other Udon options, because that part was quite enjoyable.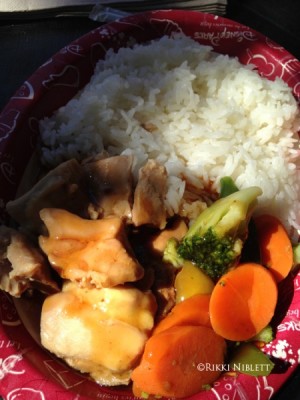 On a previous visit, I decided to try the kid's chicken teriyaki. This meal is served with vegetables and rice.  If you don't eat large portions, this is a great sized meal, because it still allows you to still snack around World Showcase, if you so choose. Again, I had a tiny problem with the meat.  I found the chicken to have quite a bit of fat on it. Usually, that type of thing doesn't bother me…if there's a piece here or a piece there, but this seemed to be a majority of the dish. I did really enjoy the teriyaki glaze; it was quite flavorful.  The rice was cooked well and the veggies were the perfect crispness; not soggy at all.
Overall, I think that Katsura Grill can be a satisfying stop, however, I think that the quality can sometimes be spotty. There are good aspects of the meals here and there are things that are just ok.  If you're in the mood for Japanese food or sushi though, then make sure to make a stop here.
Oh and make sure to sit outside and enjoy the tranquility, because while you're back here, it's hard to believe you're in one of the busiest theme parks in the world.
What's your favorite thing to get at Katsura Grill?
Incoming search terms: