This post may contains affiliate links for your convenience. If you make a purchase after clicking a link we may earn a small commission but it won't cost you a penny more! Read our full disclosure policy here.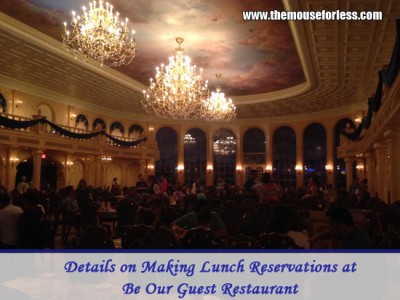 Have you heard the news? Officially this week, Be Our Guest Restaurant now offers guests the option to make Advanced Dining Reservations for lunch!
So let's get down to why this has occurred as well as the details of what that statement means for you.
Let's start at the beginning.  Be Our Guest Restaurant was a recent addition to the Magic Kingdom, courtesy of New Fantasyland. The restaurant is unique in that it serves a counter service lunch option, while dinner is considered as a table service meal. The restaurant specializes in French-inspired cuisine and has become a super popular choice for vacationers because it strongly resembles Beast's Castle from Beauty and the Beast! It's almost as if you are standing in the ballroom and the West Wing from the movie; that's how detailed this dining establishment is!
Be Our Guest Restaurant is the hot ticket meal around these parts. It is almost impossible to obtain an Advanced Dining Reservation for dinner and up until recently, being able to eat lunch here wasn't particularly easy and was handled a just bit different than most counter service locations.
For the most part, the only guests who were able to dine here were those who were staying on property, thanks to a FastPass+ test that had occurred over the past couple of years.  Guests could choose to try to join the standby line, however, due to the restaurant's extreme popularity (and the fact that most couldn't obtain a dinner reservation), the standby line was often hours long, oftentimes with guests waiting in the hot sun or pouring rain. Disney attempted to alleviate this by handing guests cards and asking them to come back and the time specified, but really all this did was mean there was a mad dash for return time cards in the morning and anger guests who were unable to obtain one. (The cards were often all gone for the day by like 10:30 a.m.)
So, that brings us to this week, when Disney decided that the smart thing to do was to remove the FastPass+ option for just resort guests and instead, open up ADRs to all guests, therefore allowing a more fair chance for all to get to dine at the ultra popular restaurant.
How does it all work? Well I'm glad you asked!  Let's go through it step by step!
You see, guests are invited to make their reservations up to 180 days in advance by visiting www.mydisneyexperience.com or by calling (407) WDW-DINE. As for me, I decided to do it via the website.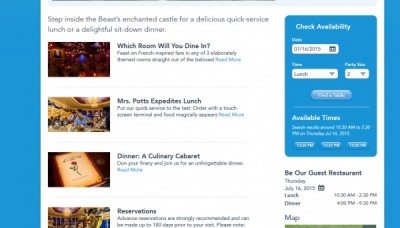 I chose the date I wished to eat lunch and was given a few times to select from.
Once I chose my date and logged in, I was then asked who would be in charge of the reservation (who the name would be under) and who would be amongst my dining companions.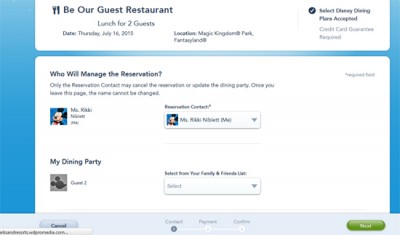 In order to make a reservation, a credit card guarantee is required. Your card will not be charged…that is, unless you don't cancel 24 hours in advance.  Any guest who cannot make their reservation and does not cancel the day before will be charged a $10 no-show fee per guest on their provided credit card.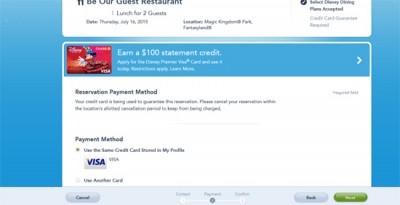 From there, I was asked to glance over the reservation to make sure everything was correct and submit it.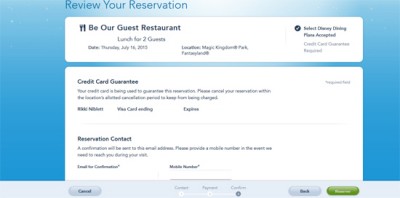 Success!  I have a reservation for Be Our Guest Restaurant for lunch!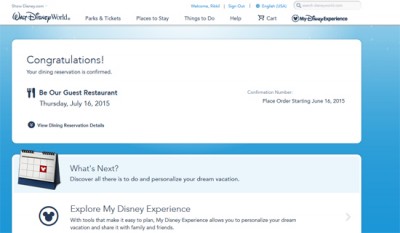 One nice perk is that guests will have the option to pre-order their meals, if they so choose.  Guests may take advantage of this option anywhere from 30 days prior, to 5 minutes in advance, and those who are pre-ordering should keep in mind that payment will be required at the time of the arrival to the restaurant. OR guests may choose to place their order at one of the kiosks when they arrive at the restaurant.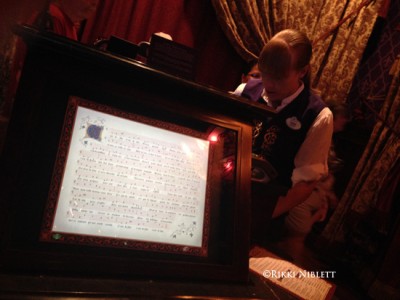 Lunch options will remain the same as before; the restaurant will offer the same fantastic menu.  Such as the delicious braised pork that I recently tried. Yummy!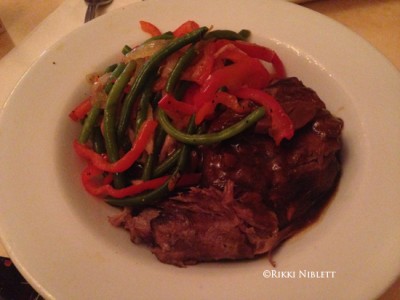 And don't forget to order dessert! They have a wide selection to choose from!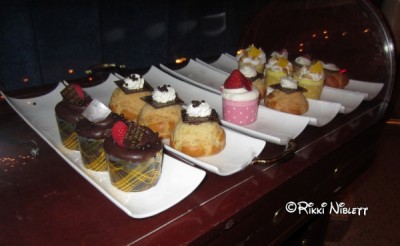 The only difference for the restaurant is that now all guests can finally make a reservation ahead of time.
But what about those of you who just want to try to walk in without a reservation?  Will that be possible?  So yes, technically walk-ups will be accepted on a first-come, first-served basis, but given the extreme popularity of the restaurant, I would expect that actually obtaining a walk-up will be very hard to actually achieve.  My suggestion is that if you really want to try to score a walk-up, either arrive early or better yet, see if you can dine right before the restaurant closes its doors for lunch.
Have you been able to make your reservation for lunch yet? Let me know your thoughts on this new way to dine at Be Our Guest Restaurant in the comments!