This post may contains affiliate links for your convenience. If you make a purchase after clicking a link we may earn a small commission but it won't cost you a penny more! Read our full disclosure policy here.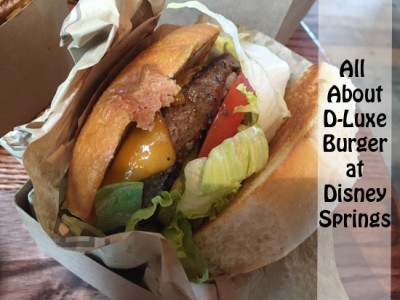 The Town Center at Disney Springs recently opened on May 15 and with it came quite a few new restaurants and food kiosks. You have everything from cakes, to sausages, to gourmet french fries, to steak, to cupcakes, to crepes, to burgers, and that's just to start. More restaurants will be opening up soon! However, on my most recent trip, I knew there was one place I wanted to try, which was D-Luxe Burger.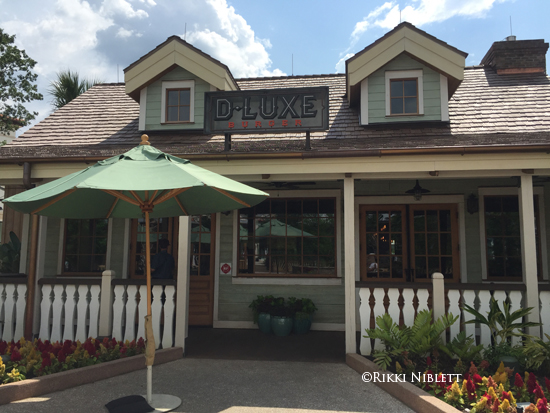 Now, as with all of the shops and restaurants at Disney Springs, D-Luxe Burger has an intriguing backstory. The restaurant is the "oldest" building in the complex. It used to be a cattle ranch, however, it has since been turned into a burger location.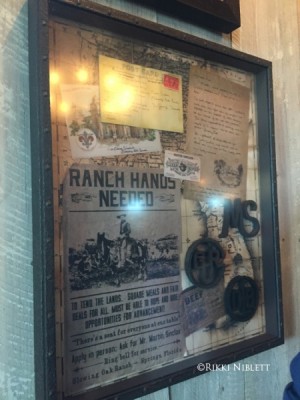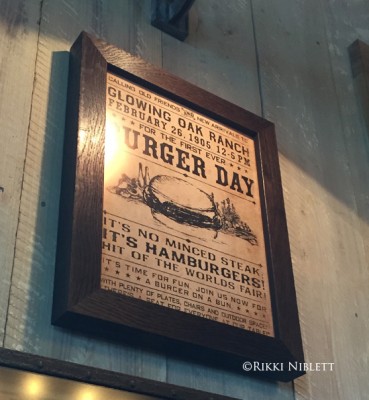 D-Luxe Burger has a very simple menu – burgers, fries, and shakes. How can you go wrong?  D-Luxe offers an assortment of gourmet burgers that utilizes a signature blend of beef. Each burger is topped with unique toppings and freshly baked buns. The menu also features all-natural chicken and veggie burger options. In addition, their fries are hand-cut and come with house-made dipping sauces.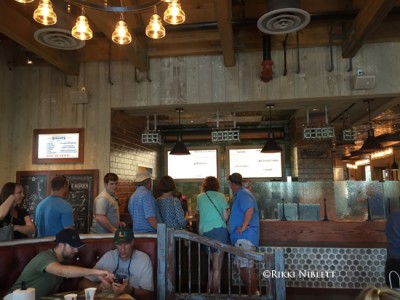 When Guests arrive, they should be prepared to wait in line. D-Luxe Burger is exceptionally popular and there are only two registers, so Guests back up as they wait to place their order. Once your order is placed, you will be given a pager and will be instructed to find a table. There is seating both indoors and outdoors. There are also counter-top tables where Guests can choose to sit. These feature USB ports for charging devices. Again, due to the popularity of this restaurant currently, it may be difficult to find a table at first. Beverages are self-serve at soda fountains, so make sure to stop and fill up, unless you've gotten a shake or an adult beverage.
Once your pager buzzes indicating that your food is ready, you can then head up to the pick up window. In addition, you will want to make sure to stop at the condiment counter to pick up any mustard, ketchup, or mayo you may need for your burger or fries.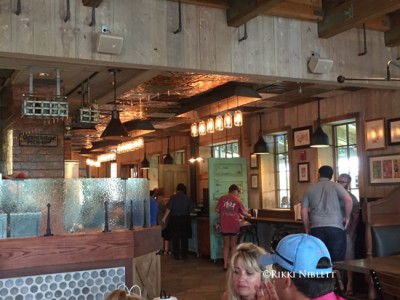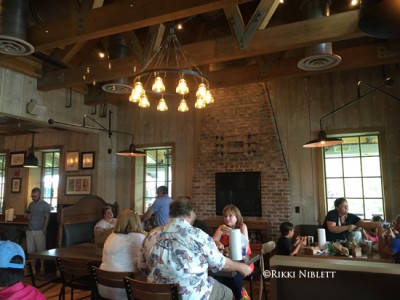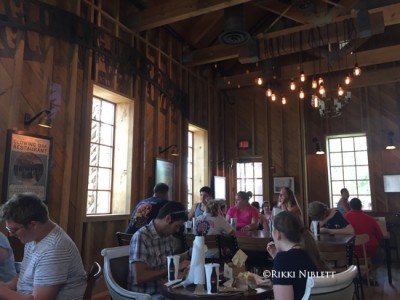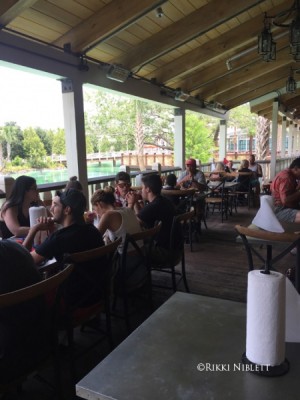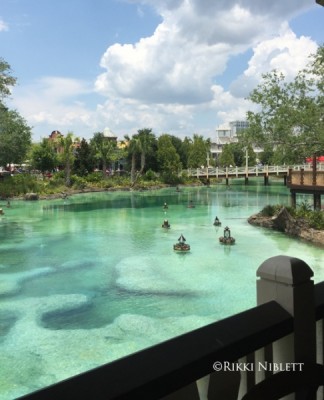 Outside you have a great view of the Springs.
Meals are not served on trays. Instead, they are served in these fancy bags!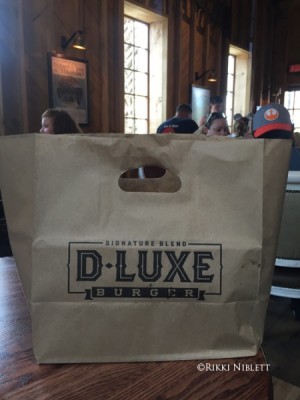 On my visit, I decided to start with the classic cheeseburger for $9.99. The burger is cooked with a little pink remaining and is served with cheddar, lettuce, tomato, and pickles.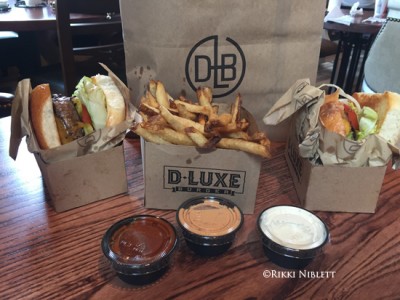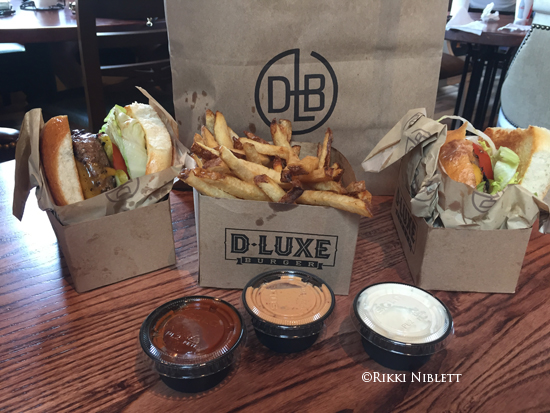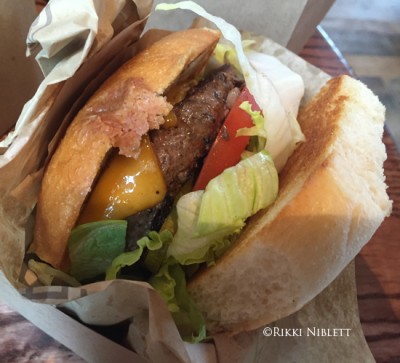 I thought the burger was fantastic! It had a good fresh flavor (no freezer burgers here!) and was juicy. I did wish that the burger had a bit more pink to it. (I'm a medium rare type girl, and I think this was closer to medium to medium/well.) The veggies were fresh, with a thick tomato and long grilled pickles. In addition, the bun had been toasted, though there was a touch too much bun overall. The burger was a good sized burger and very filling.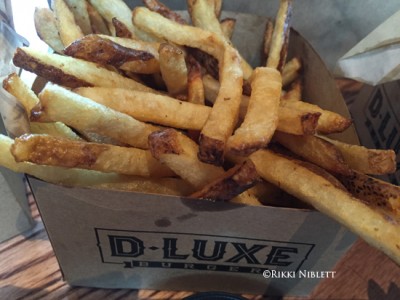 For me the stand out was the fries. I hate the puffy, potatoey fries. These had enough potato, but weren't overly puffy. They had the skins still on and were crisp, not mushy. The fries actually had a semi-sweet taste to them, as well. They weren't overly salty.
The fries come with choice from 6 dipping sauce. We opted for three…the Chipotle Mayo, the Garlic Ranch, and the Curry Ketchup. The Chipotle Mayo was good and had a bit of a kick to it. The Curry Ketchup had a very strong curry flavor to it (which makes sense), and thought it was just ok. However, my favorite was the Garlic Ranch! This had a great garlic flavor and I actually frequently dipped my burger in the ranch too!
Now, we got the large fry and split that between two people, but honestly, I think that the large fry could be able to feed at least 3, maybe 4, depending on how much everyone at the table likes fries. What we should have done was just ordered the small fry, which certainly could have fed the two of us.
Overall, I think that D-Luxe burger was exceptionally good and I would certainly go back again. Pricing is not terrible, given the gourmet status of the food, albeit, it is Disney, so they do charge a few extra dollars just for that fact.
Does D-Luxe Burger sound like an intriguing option to you on your next visit to Disney Springs? Let me know your thoughts in the comments.