This post may contains affiliate links for your convenience. If you make a purchase after clicking a link we may earn a small commission but it won't cost you a penny more! Read our full disclosure policy here.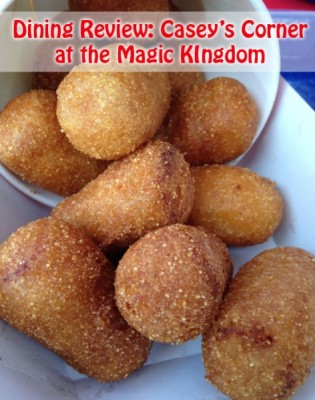 Hot dogs! Get your hot dogs here!
One of the most infamous places around at Walt Disney World is Casey's Corner. This quick service dining location found at the Magic Kingdom's Main Street U.S.A. is a fan-favorite and a staple. Many look forward to picking up a delicious, juicy hot dog, add in some crispy fries, and wash it down with an ice cold Coca-Cola.
Now, if the thought of hot dogs alone doesn't draw you in, there is one surefire thing that will. The smell. You can smell Casey's Corner from a mile away. It's the sauerkraut. I don't even like sauerkraut, but it draws me in like a moth to a flame. The smell is intoxicating.
Casey's Corner is themed after the infamous poem, Casey at the Bat, which means the restaurant features a heavy baseball motif. It's everywhere.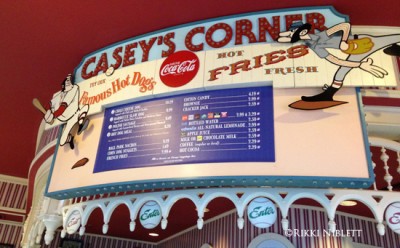 Casey's features main ordering windows and a small section where you can dine inside. Most of the seating for Casey's is situated outside. Keep this in mind when you decide that you want a hot dog in the middle of July when it's 1000 degrees outside. In addition, tables here are quite small; so you aren't going to fit your large family of 8. You will have to split up amongst the tables.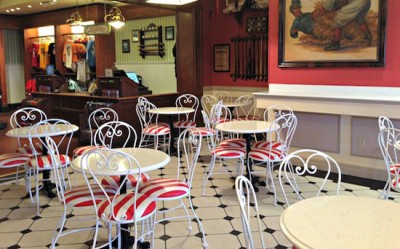 If you are sitting outside, you don't want to miss the piano stylings of the ragtime piano player who plays fantastic tunes periodically throughout the day.
Casey's features many specialty dogs, in addition to the regular hot dog. You can choose from a chili cheese hot dog and a barbecue slaw dog. All are delightful and filling in their own right.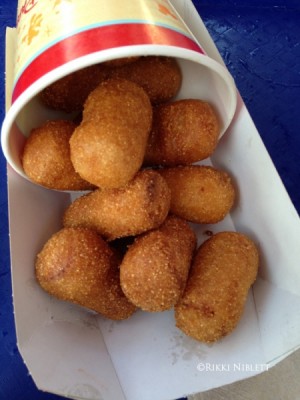 However, my favorite meal is the corn dog nuggets! These bite-size morsels are incredible. They are simply mini corn dogs, but they are so yummy. The juicy hot dogs are battered in a semi-sweet cornmeal batter than is then fried to a golden crispness. They are a great treat whether you are looking for a full meal or even a small snack.
I like to dip mine in ketchup, but you have other topping choices at the toppings bar including mustard, relish, and yes, sauerkraut.
If you're looking for dessert, you can never go wrong with some Cracker Jacks! Though they also have brownies and cotton candy.
What are your thoughts of Casey's Corner and which is your favorite hot dog? Share your thoughts in the comments section.