This post may contains affiliate links for your convenience. If you make a purchase after clicking a link we may earn a small commission but it won't cost you a penny more! Read our full disclosure policy here.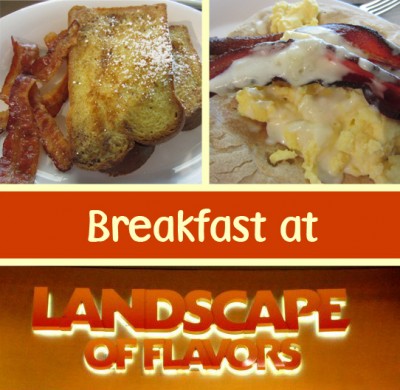 Ever since Disney's Art of Animation opened, it has become the standard that all Disney value resorts compete against.  It is a truly fabulous hotel that has learned what its brother and sister resorts did well and then plused it by about a thousand. One of the areas where Art of Animation has just blown the other value category resorts out of the water was with its food court.
Called Landscape of Flavors, this food court gives people what they want and that is the option to choose and specify their own meals, their way.  (For the most part.) It has also taken the idea that a counter service location like this, which services thousands each day, has to be bland and boring…instead it serves up dishes you would never expect to see, like tandoori-style dishes, a surf-and-surf burger, Portuguese sausage, and multiple create-your-own stations, where guests can pick and choose what ingredients go into their meal.
I have actually never dined here for lunch or dinner (ack!) but have been here for breakfast twice and I have to say, that even for breakfast, the variety and uniqueness of meals is top-notch.
The restaurant is themed after the four different Disney movies that are represented throughout the resort.  You will see sections themed after The Little Mermaid, The Lion King, Finding Nemo, and Cars.  Each section has different coloring and carpeting, as well as these ridiculously cool light fixtures.  Guests will find a large beverage station in the middle of the room, which is where you will be able to refill your Rapid Fill refillable mug, if you have purchased one.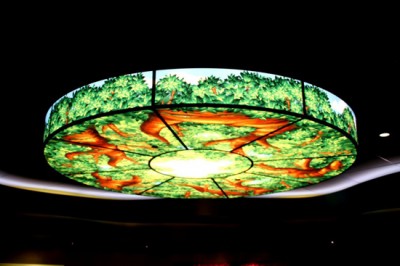 Of course, the main draw is the actually food court area.  This is where things get fun.  There are different stations which represent different sections of food.  For breakfast those sections include a waffle, create-your-own yogurt, and create-your-own cereal station (mmm…Mickey waffles); a World Flavors section featuring french toast and breakfast sandwiches; a breakfast burger and pancake station featuring chicken and beef breakfast burgers and pancakes with toppings; an omelet station; and a bakery section. Check out the entire menu here.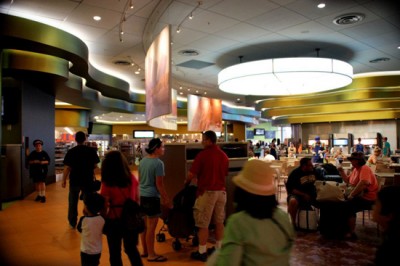 As for me, I am a french toast fiend.  So, I got the Challah French Toast with Bacon.  I love the fact that they used challah bread and thought the french toast was flavored well.  It wasn't super dry, thanks to the addition of the maple syrup.  I did wish that the bacon would have been a touch crispier; despite asking, mine was a little limp for my tastes. I also wish that their version with fruit allowed you to pick which kind of fruit you got.  The version they currently have mixes strawberries with blueberries and raspberries and I am not a fan of two of those.  It would be nice if they could do the create your own french toast here…cause a strawberry-banana option would have delightful.   I do appreciate the fact that it's real fruit that's served on top and not a compote though.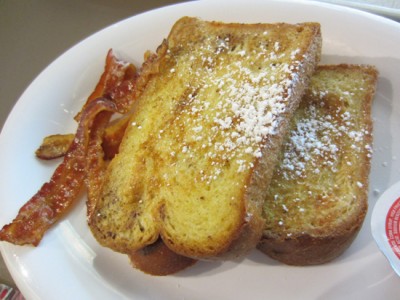 The hubby decided to choose the breakfast sandwich and at $5.59, this thing is a steal! It's also one of the more interesting and unique options that you can get.  The sandwich is served on naan bread, with scrambled eggs, slab bacon and cheese sauce.  Holy cow. Was this amazing.  The bacon had great flavor, the eggs were fluffy, and the cheese sauce helped to tie it all together. Also, the use of naan bread was genius! The dish was so big, it was overflowing!  We legitimately could have probably split this, especially if we maybe added a side of potatoes. While I usually prefer the sweeter breakfast options, if I'm ever in the mood for something with a bit more protein, this would be it!
Also, I would be remiss to not mention, but one additional way that Landscape of Flavors stands out over its food court brethren is that everything is served on real plates and with real silverware.  Nothing plastic or paper here!  Just make sure to clean up after yourself and put the dishes in the proper receptacle.  Don't leave them on the table please.
Landscape of Flavors truly is the next generation of food court.  It has become such a smash success that it has even helped to influence the previous renovation of Disney's All-Star Sport's End Zone Food Court and will likely inspire the upcoming refurbishment of Disney's All-Star Music's Intermission Food Court. (Which begins on August 1.)
Landscape of Flavors is certainly in my top 5 of favorite counter service locations in all of Walt Disney World because of sheer variety and uniqueness of flavors…or should I say its landscape of flavors.