This post may contains affiliate links for your convenience. If you make a purchase after clicking a link we may earn a small commission but it won't cost you a penny more! Read our full disclosure policy here.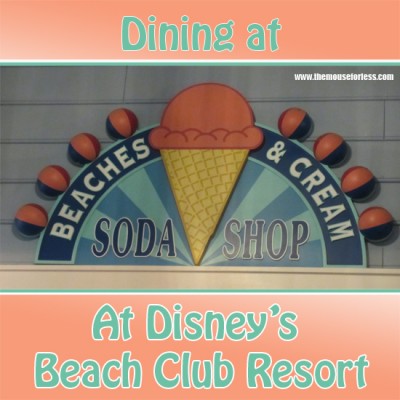 One of my all time favorite restaurants to visit when I'm at Walt Disney World is Beaches and Cream located at Disney's Beach Club Resort.  I make a stop about every other trip to this fun restaurant themed after a soda shop.  I love the feel of the place. It's so vibrant and always hoppin'.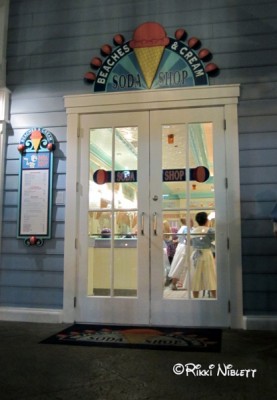 The restaurant is themed with a classic 50's beach sort of feel. There are jukeboxes on the tables, ice cream lamps (which are awesome), "beach balls" used in decoration, and lots of pink, teal, and white.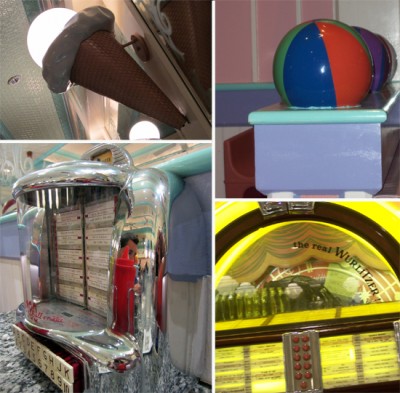 This restaurant, is extremely small.  There's only a handful of tables (I think I counted one time and came up with number the 11) but there is also a counter where guests can choose to sit as well.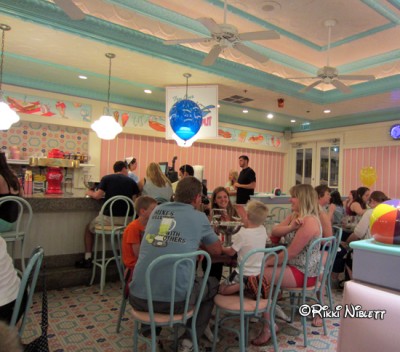 Of course, the counter is really only a good option if you are party of 3 or less, or don't care about carrying on a conversation with your traveling party.  Though one of the best aspects of sitting at the counter is that you can watch them make all the ice cream treats…including the famous Kitchen Sink…but more on that later.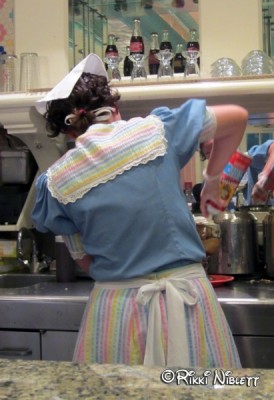 What I also love about the place (besides my favorite ice cream dish, the No Way Jose) is that this is one of those few Disney restaurants where I can find something different on the menu to dine on, depending on my mood. Most other Disney restaurants, I know what's a favorite of mine and get just that. I don't stray from tradition. (I do that at home too.  If I go to a favorite restaurant at home, I'm almost always getting the exact same thing every time.) But here, I always just sort of go where the wind takes me and I love it.
Of course, hands down, Beaches and Cream has the best burger on Walt Disney World property! The burger is just your basic burger, cheese, lettuce, tomato, but it is so yummy. It's juicy and flavored well.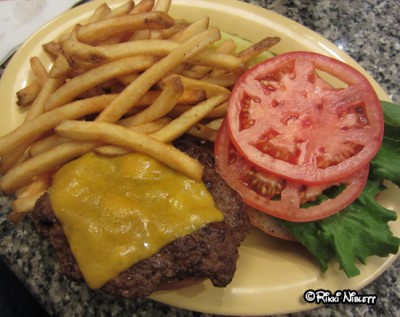 In the mood for a hot dog? They offer up a great choice with the Beaches Hot Dog. You can choose to order it plain, or with sauerkraut, cheese, or chili. (Though those items cost an extra  $.99 each). I prefer to get my dog as a chili cheese dog myself. The chili has good flavor and isn't too spicy, while the cheese helps to add a smooth flavor.  Now personally, I prefer to eat this with a knife and fork.  It's literally covered, so picking it up would result in a very large mess!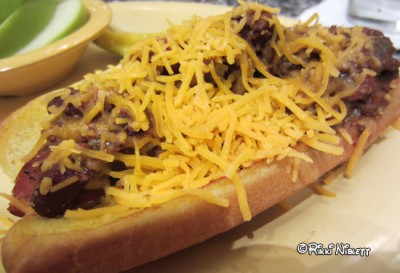 I've also tried the grilled cheese sandwich with the tomato bisque soup. This is an extra cheesy grilled cheese, made up of 6 different cheeses.  While I was a big fan of the grilled cheese, what I really enjoyed was the tomato bisque soup! It was perfectly tart with a very creamy taste. Of course, it may be hard to eat soup when it's the middle of July, but trust me…this soup is totally worth it. You can order just the soup, all by itself too.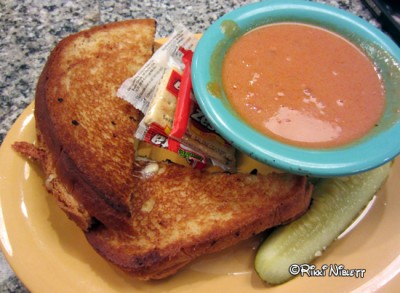 One of the things I like best about Beaches and Cream is that they do offer some unique options too. Such as the Turkey Meatloaf Sandwich with apple craisin, and arugula salad with a shallot mayonnaise or the Salmon Sandwich  served on a multi-grain croissant with arugula, dill mayonnaise, and pickled cucumber and onion. They even have vegetarian options with the Vegetable Falafel which is served on a flatbread with black olive hummus, cucumber, tomato, lettuce and topped with a soy tzatziki-style sauce. As you can see, it's way more than just burgers and fries!
Speaking of fries, if you would prefer something a bit healthier, they do allow you to substitute them for fruit (the fruit seems to change, as last time I was there, it was apples).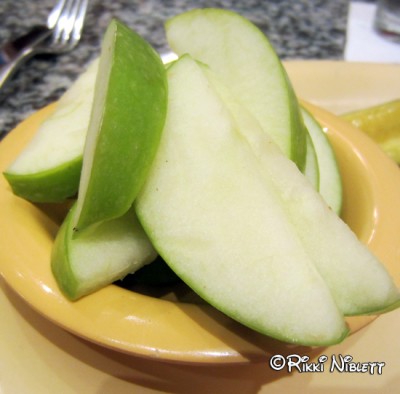 However, if you're looking for something a bit more diner-y, consider the incredible onion rings, which are huge!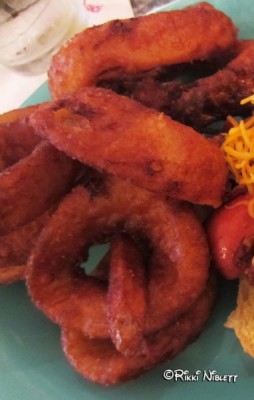 So, now I must talk about dessert…you see when you come here, it's almost mandatory that dessert be some part of your meal.  Beaches and Cream's famous Kitchen Sink is literally served in a kitchen sink!  It includes every single ice cream and topping in the place, plus it used a whole can of whipped cream. (A whole can!)  This is absolutely something you split with a very large group.  So bring in the family and get eating! Personally, I've never been one brave enough to challenge this monster!
My favorite though, as I mentioned before, is the No Way Jose. It's made up of vanilla and chocolate ice cream, peanut butter, hot fudge, peanut butter and chocolate chips, and topped with whipped cream and a cherry. It's also HUGE.  This is a treat you get to share among two of you.  (Maybe three.) Peanut butter is my jam (haha) in ice cream, so it was going to be a hands down slam dunk that this is my favorite dish here.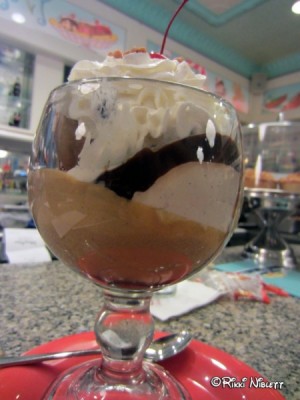 Before I knew about the joys of the No Way Jose, I'd gotten the Fudge Mud Slide which includes a brownie covered with hot fudge, vanilla ice cream, Oreos, whipped cream, chocolate syrup and a cherry.  This is a chocolate lovers dream. It is delightfully rich and again, I would absolutely split this with someone else in your party.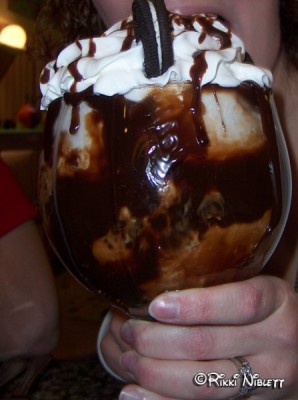 For those of you who aren't into dining on a huge heaping vat of ice cream, never fear! Beaches and Cream has something for you too! They offer a chocolate cake, but the most intriguing option is the grilled banana bread served with peanut butter, caramelized bananas, whipped cream and a scoop of ice cream. It's certainly got interesting flavors put together that work.  The bread really is grilled too!  If you like bananas…this is a great dessert for you to get.
For those of you considering making a trip to Beaches and Cream (come on…I made you hungry) make sure to check out their menu to see all of the delightful options.
The good news, for those of you who just have a hankering for ice cream, there is a to-go window which offers up most of the wonderful ice cream treats…including now, the No Way Jose!  Disney has also added the mini Mickey Sink, which includes vanilla, chocolate, and strawberry ice cream, topped with pineapple, strawberry, hot fudge, peanut butter, whipped cream, Oreos, a brownie, sprinkles, and whipped cream, served in a dish that resembles Mickey's pants!  Of course, both the restaurant and the to-go window offer single scoops too.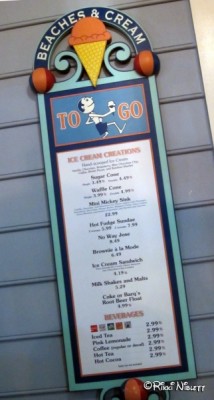 So, if you're in the mood for good diner food or an ice cream sundae the size of your head, Beaches and Cream is where you want to stop on your next trip.  More than likely, I'll be there!