This post may contains affiliate links for your convenience. If you make a purchase after clicking a link we may earn a small commission but it won't cost you a penny more! Read our full disclosure policy here.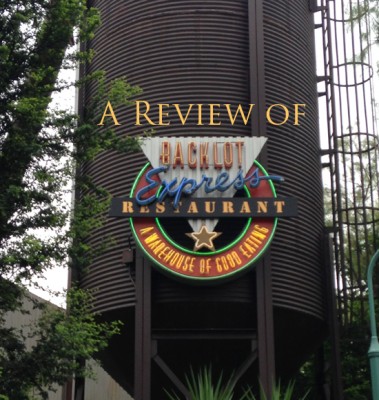 Backlot Express at Disney's Hollywood Studios is an extremely themed environment. Don't believe me? The area is set up to be like a workshop for all the "productions" that are taking place.  There are painting areas, building areas, props, knick-knacks, and more. It's so neat to explore because you really never know what you'll find; the place is loaded with visual goodies.
The counter service restaurant, which is located near Star Tours and the Indiana Jones Epic Stunt Spectacular (it's so close you can clearly hear the explosions when the show is taking place), offers both indoor and outdoor seating and there is ample room in both sections for guests dining.
The restaurant is set up like most other counter service locations; guests wishing to order can choose to step up to one of the ordering kiosks to place their order.  One nice tip is that both sides of the cashier are open for guests, so if you walk up and one side has a shorter line, you are more than welcome to join that line.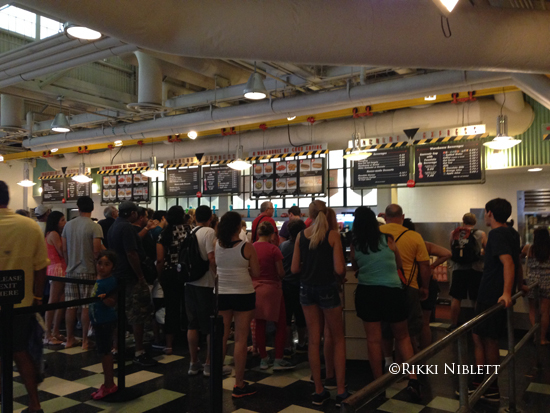 Options here are pretty pedestrian. If you are looking for the traditional theme park meal of hot dogs, chicken nuggets, and hamburgers, this is the place. (Though, the traditional choices are a little fancier, meaning you have the option of things like Buffalo Chicken Nuggets or a Bacon Angus Cheeseburger.)  The restaurant does offer a couple different choices, like the Pressed Turkey Club or the Southwest Salad with Chicken. Vegetarians have a few options as well, like the Cantaloupe and Cucumber Salad and the Grilled Vegetable Sandwich.
On my recent visit, I decided to go for a traditional standard: a chili dog with a side of fries.  The nice thing about their chili dogs is you can choose what goes on top of it, so they do allow you to choose to add cheese or onions. I chose just to add the cheese. (I didn't want onion breath!)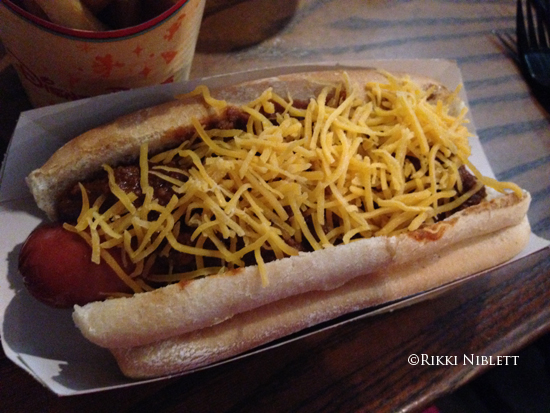 The chili cheese dog ended up being just ok.  It didn't stand out as one of the best meals I've ever had and it didn't make it to one of the worst meals I've ever had.  The chili didn't stand out much, but the cheese was a nice addition.  They actually gave me a cup of cheese to pour over the dog so I could add as much or as little as I wanted.  The hot dog just wasn't anything to write home about.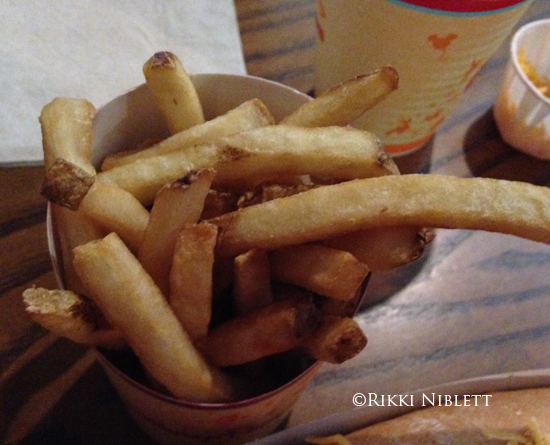 Conversely, I thought the fries were good, which is unusual because I'm actually very picky about my fries.  I don't like them to be too potato-y and I like them to have a good crunch.  These fit the bill.  They also weren't overly salty.  These were simply solid fries.
Overall, Backlot Express is a decent choice if you are looking for more traditional theme park fare.  It's neither bad, nor outstanding; it is just is a meal. However, if you are looking for a place to explore and catch some of those great Disney Details that we all know and love, you should absolutely make a stop here!
I've noticed as time goes by that I really do have a lot of trouble with counter service locations at the Studios.  I try to like what is offered, but honestly, I feel that they don't offer a lot that is terribly unique and what they do offer is just alright.  The one place that I am a fan of is Pizza Planet, though I know many are not.  This is the one park where I honestly have trouble deciding where to eat lunch.  And it's a shame that the Studios has just alright counter service because I feel that their table service locations are incredible.
It will be very interesting to see what happens as things progress within the park, as I think we all know that big changes are looming here.  One can only assume those big changes also include some more unique counter service dining establishments. Only time will tell.
What are your thoughts on Backlot Express?