This post may contains affiliate links for your convenience. If you make a purchase after clicking a link we may earn a small commission but it won't cost you a penny more! Read our full disclosure policy here.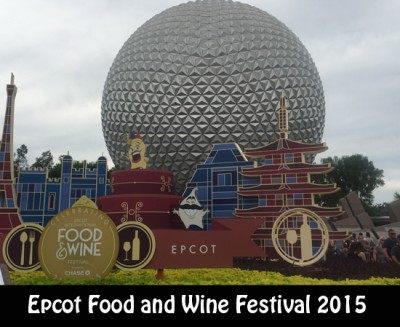 In my previous blog post two weeks ago, I mentioned how I would be returning to the Epcot Food and Wine Festival for a second time this year. This past weekend, I made a stop at the event once again and partook in the deliciousness that was available.
As I had mentioned in the previous post, I avoided visiting on the weekend which tend to be extremely crowded, and instead I went on a Monday at 11:00 a.m. when the Marketplace Booths opened and it made a huge difference. The crowds were much smaller and more manageable.
In addition, this time, I made an action plan of which booths I wanted to make sure to stop at, so I made sure I didn't miss any thing that I wanted to make sure that I enjoyed.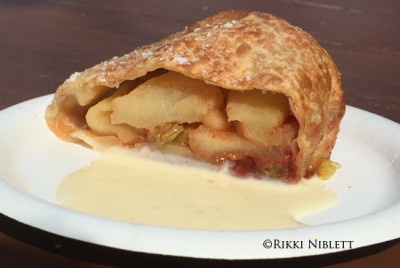 The first booth I stopped at was the Germany Booth.  Here, I decided I couldn't pass up the Apple Strudel. This was quite delicious, with good cinnamon flavor. As a note, there are raisins present, so if you don't like those, be forewarned. I did have one disappointment with this dish though.  I clearly got one that had been sitting on the counter for a bit because the crust was a little tough. I was also disappointed that they decided to just pour vanilla sauce on the plate next to the strudel instead of drizzled on top. I think that would have helped a lot.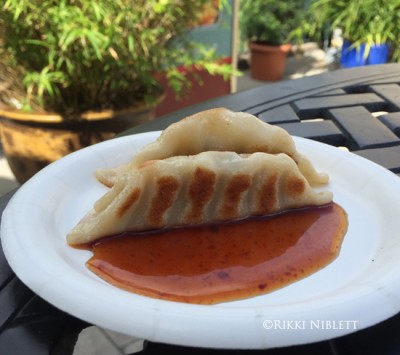 Next, I moseyed over to the China Booth where I figured I would try to Chicken Potstickers. I wasn't expecting much from these, to be perfectly honest, but I am happy to tell you that the potstickers were my surprise winner of the day. These were incredible and the sauce that came with it had amazing flavor to it. I actually seriously considered going back for a second plate of potstickers, that's how good these were.  I was also mad at myself for not trying them sooner!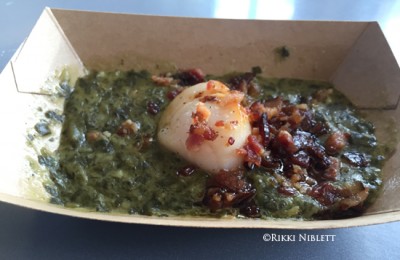 My next stop was the Scotland Booth. This is where I had the seared sea scallop with spinach-cheddar gratin and crispy bacon. Again, this was a standout. The scallop wasn't rubbery, it sliced easily. The spinach was quite good and the bacon added a nice flavor.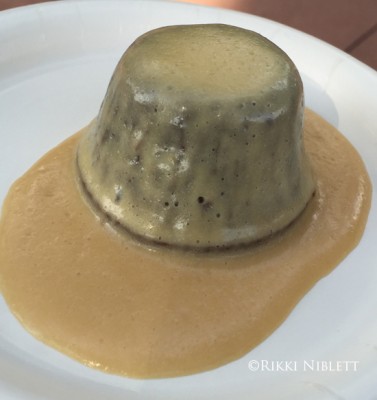 The final destination I made sure to visit was the Ireland Booth.  This time it wasn't for my favorite, the Fisherman's Pie (it felt like it was 1,000 degrees out that day, so a blazing hot Fisherman's Pie wouldn't have been the best choice) and instead I tried the warm chocolate pudding with Kerrygold Irish Cream Liqueur Custard. Holy cow! This one was rich.  It was sort of similar to a very undercooked cake, not so much a pudding, but I didn't care what it was. It was so incredibly yummy. Again, I wished I would have gotten it sooner in the trip, because i would have eaten like a thousand of those.
So, those were my expriences at the 2015 Epcot Food and Wine Festival. There were some great dishes this year, as well as a few misses. As a reminder, if you are in the Orlando area this weekend, this is your last chance to make a stop at the festival for the year.  Make sure you take advantage of it, because it is so worth it, but remember, because it is the last weekend, the crowds will be large, so keep that in mind and pack your patience.
Which dish did you enjoy the most at this year's Epcot Food and Wine Festival? Let us know in the comments!