This post may contains affiliate links for your convenience. If you make a purchase after clicking a link we may earn a small commission but it won't cost you a penny more! Read our full disclosure policy here.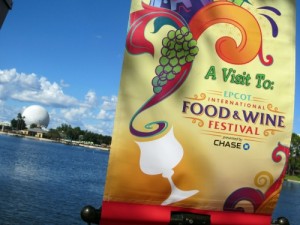 Well, I just got back from another whirlwind trip to Walt Disney World and this time I spent quite a good chunk at the Epcot International Food and Wine Festival.  Boy do I have some great information for you!
While we didn't try everything (cause let's face it, my stomach and budget certainly couldn't handle that) I tried WAY more than I originally expected to.  I believe that's due to the fact that I brought my husband, a first timer to the festival, along with me on this trip.  (Usually, his work prevents him from coming with me during Tower of Terror 10 Miler weekend.)
When I started my trek around World Showcase promenade, I decided I wanted to grab a gift card to make things easier and so I didn't spend too much money during my eating adventure.  I started with $40, but overall, we ended up putting $60 on the card and by the end of the weekend, we spent approximately $70 trying the different food and drink options.  Now some of you may be thinking, that's a lot…and some may be thinking, that's it?  I reason it out because we used our Food and Wine day to serve as both our lunch and dinner, so, when you look at it that way, we didn't do too bad, all things considered.  It was certainly cheaper than eating both lunch and dinner in most cases.
Here are the countries that I stopped at and what I tried from each of them, as well as photos for most of the items.
Australia
Pavlova (Crispy Meringue Shell with Fresh Driscoll's® Berries and Vanilla Custard) ($3.25):  This was something that had been on my radar but wasn't sure if I was going to get it.  I'll admit, I really liked it.  The berries were flavorful and the shell which was crunchy, surprisingly melted in your mouth.  It was a great light and airy option.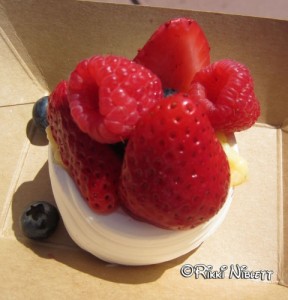 Garlic Shrimp with Roasted Tomatoes, Lemon Myrtle and Rapini ($4.50):  I happened to try this because this smelled so good as I was walking past.  Garlic is a favorite of mine and so I knew I had to try it.  I was served three decent sized shrimp and while good, they were a little tough.  The dish had a bit of kick (at least to me) too.  The presentation was gorgeous, with lots of color.  If you're a fan of garlic, I suggest this one.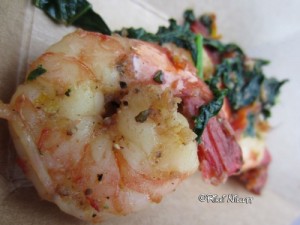 China
Silk Ice Cream Ribbon (Mango Flavor) ($3.95):  This was another one I wasn't going to originally try.  Online they said that there were three flavors being offered, coconut, strawberry, and chocolate and I really wanted to try the chocolate.  Unfortunately, when I got to the booth, they were only serving one flavor that day…and it was mango.  Not a flavor I would normally jump for.  I actually even got out of line when I was told they only had the mango flavor.  But a friend of mine got it, so I decided to be adventurous and try it.  And I liked it.  A lot actually.  It was one of the biggest surprises.  It actually tasted like peaches to me and was so wonderful on this warm, warm day.  I'd totally get this again in a heartbeat…even the mango version.  Just be aware that I think the flavors change out daily, so you may not see the flavor you originally wanted.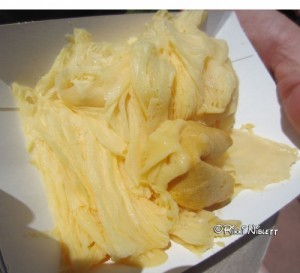 Germany
Apple Strudel with Werther's Original Karamel and Vanilla Sauce ($3.50):  I've gotten this before and while it's quite good, it was a bit unmemorable this time.  It's like apple pie, so it's delicious.  (I mean, you can't go wrong with apples and cinnamon and caramel and vanilla). I just think that there were far more standouts this year, that this one didn't really pop for me.    And to be honest, I thought it was kind of a small piece for the cost.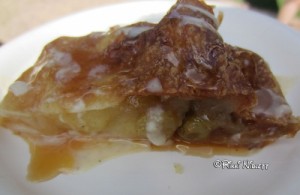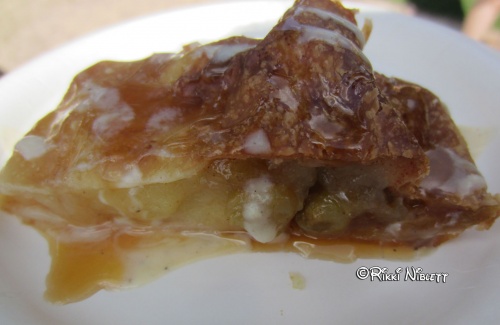 Italy
Ravioli de formaggio all'emiliana (Baked cheese ravioli with creamy beef bolognese sauce, Parmesan, and mozzarella)  ($5.75):  This was another dish I hadn't intended on getting, because I eat Italian food all the time.  But my husband decided he wanted to try it, so I obliged him.  It was quite delicious…and I'll say, it had a lot of yummy cheese.  With it's good flavor, I'm not sure why I've put off trying this for so long.  However, I will admit, I still readily think that if you get Italian all the time, you are better off getting some other options at the Festival.  This one is great for the really picky eaters though.  It's a perfect option for the kids too!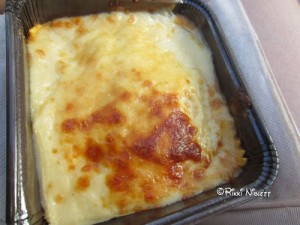 Hops and Barley
Griddled Lobster Tail with garlic herb butter ($7.50):  I am a sucker for seafood.  Whenever I see lobster, I immediately gravitate towards it.  Unfortunately, this one was a big miss for me.  (And probably the only really big miss.)  The lobster tail was tiny, we had it down in three bites…it was an awful dish to share because it was so small (something me and my husband intended to do.)  The lobster was also very rubbery and tough.  It was really hard to get out of the shell.  I wished I would have gone back for a new one.  Seriously, save your money or if you want lobster, you may have better luck with the lobster roll, which offers a few pieces of meat on a bun with lemon herb mayo, but at least it's a more substantial option for your money.
Florida Local
Florida Grass Fed Beef Slider with Monterrey Jack and Sweet & Hot Pickles ($3.75):  My husband is a sucker for burgers like I am for seafood.  (Seriously…on our first date…he ordered a burger…at Longhorn!) After wrestling this burger out of his hands so I could try it and picking off the pickles, cause I hate them, I have to say, this was a darn good little burger.  It was juicy and had good flavor.  The cheese was great and from what I hear, the pickles were sweet at first, but then had a little punch to them at the end.  I think this burger was a great value and perfect for pickier eaters.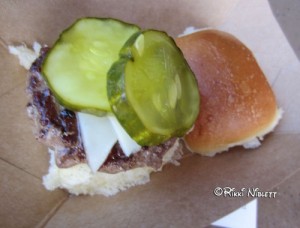 Morocco
Baklava ($2.95):  Another thing I'm a sucker for…Baklava.  I love this stuff.  This one…while good, at first tasted a little frozen…until it sat out in the heat for a few minute while I walked around with it eating it.  This is a great dish though and really inexpensive, so I would go ahead and try it.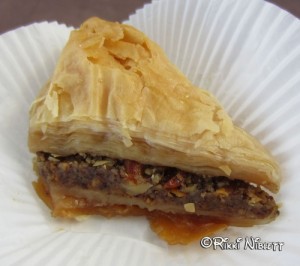 France
Boeuf Bourguignon (Braised Short Ribs in Cabernet with Mashed Potatoes) ($5.50):  This was a dish that I went back and forth about.  I'd heard good things, but wasn't sure.  I decided to try it once the sun went down and it wasn't blistering hot outside.  Honestly, this was THE BEST thing I had during the entire Food and Wine trip.  The meat was full of flavor and not overcooked, the gravy tasted amazing on top of it, and the mashed potatoes were decent.  (You should know that I personally make the best mashed potatoes…so I'm kind of hard on other people's.)  It was a hearty dish that I cannot wait to get next year, already…or better yet, learn how to make at home.
Ireland
Lobster and Seafood Fisherman's Pie ($6.75): This has been a perennial favorite for me in past years and I'll admit, it's still darn good.  I feel as though there wasn't a lot to the lobster and seafood part…only one large chunk of lobster.  It was mostly broth and mashed potatoes and cheese.  Not sure if I just got the short end of the stick on this one or if this is a change in the way it's prepared.  But, I also feel that you can't go wrong with this substantial dish.  It's still a favorite and one you can certainly share.
Desserts and Champagne
Frozen S'mores ($3.00):  Lately, I've been on a s'mores kick.  I have no idea why, but I crave this dessert all the time.  However, this was the other sort of miss for me.  It was good, don't get me wrong.  I liked the flavor and loved the fact that they included real marshmallow, chocolate shavings, graham cracker dust, and a real graham cracker.  I will be honest though…I think that a certain national restaurant that's famous for it's burgers and shakes actually makes a better (and essentially cheaper) version of a s'mores milk shake, so with that flavor in my mind, this one just wasn't there for me.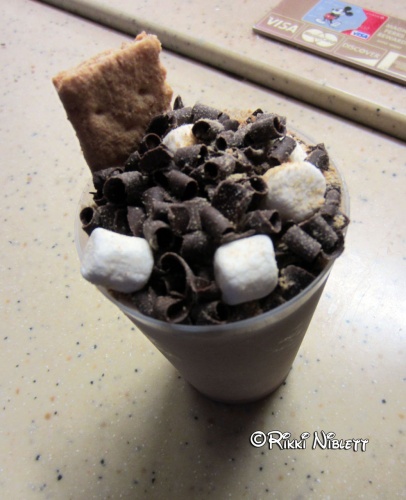 Hazelnut Chocolate Cheesecake ($1.75): this was a surprise for me.  I figured I'd like it, it's chocolate, it's hazelnut, how can you go wrong?  I will tell you, I absolutely loved this.  It had a great great nutty flavor, mixed expertly with the chocolate.  While, small, it's quite rich in reality.  And I loved the little chocolate square.  Totally worth it.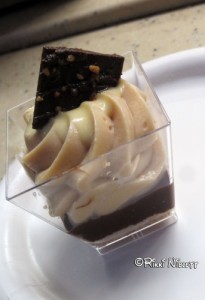 Hawaii
Kahlua Pork Slider with Sweet and Sour Dole® Pineapple Chutney and Spicy Mayonnaise (3.50):  I have been a fan of this since they introduced it in 2011.  It's got great flavor with the pineapple chutney, the meat is tender and it doesn't cost an arm and leg.   I could make a meal on just these and be happy.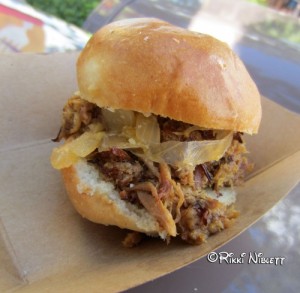 Scotland
Scottish Banoffee Tart with Bananas, Scottish Whisky Toffee, Walkers Shortbread Crumbles and Sweet Cream ($3.25):  This was my second favorite thing I had at this year's festival.  It was so, so yummy.  The toffee poured out of it when it was sliced open.  The taste of bananas were fantastic and great mixed with the cream.  I hope they bring back Scotland next year so I can get this again.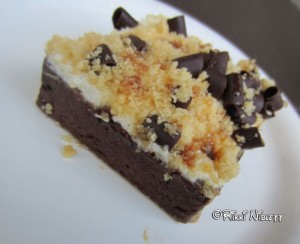 Whew…I'm full again!
Really, this year's Food and Wine Festival was fantastic.  I feel that the food was extremely fresh and had great flavors.  I'm already counting down to my chance to get to visit again next year.  For those who haven't yet had the chance to stop by, the Epcot International Food and Wine Festival will be running daily until November 11.
For more info about the Festival, please visit: https://www.themouseforless.com/walt-disney-world/planning/events/food-and-wine/
Also, while in the parks, use this handy little Food and Wine Checklist!  http://a.pgtb.me/N2TqKx