This post may contains affiliate links for your convenience. If you make a purchase after clicking a link we may earn a small commission but it won't cost you a penny more! Read our full disclosure policy here.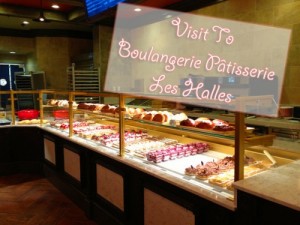 Last week, I discussed with you all the brand new (and from what I'm hearing) delicious, L'Artisan des Glaces, which just debuted in Epcot's France Pavilion.
Another recent change at the pavilion has seen a brand new version of the bakery called the Boulangerie Pâtisserie Les Halles.  Having only made a brief stop over in the previous version, where the ice cream shop now sits, the one thing I could say about it was that it was very small, pretty dark, had not a lot of seating, and was extremely busy!
This new version, which opened early this year can be found all the way in the back of the France Pavilion in the same area as the shop, where the Impressions de France movie lets out. It feels a lot brighter inside, with warm beiges with hints of peach.   In addition, there is a large seating area in the front section of the bakery and guess what?  It's inside!  In the air conditioning!  The location is also much bigger than the previous location, so it's not nearly as cramped.
While there is an ample amount of seating, be prepared.  The bakery is still extremely popular, which means that seating can still be very hard to find.  Seating also seemed a bit cramped, so you may be sitting close to your neighbor.  It was so busy when we walked in that we actually stood at the counter space that is also available.
The bakery also has the distinction of being open at 9 am when the park opens, which is nice, as the rest of World Showcase doesn't open until 11 am.
You start out in line where you can read the menu boards to see what kinds of goodies the place has to offer.  The best news is that they have more than just sweets for that sweet tooth!
There are great sandwich options like the Jambon Beurre  (ham and cheese, dijon mustard butter on a demi baguette); Dinde BLT (turkey, bacon, lettuce, tomato and garlic ailoi); Croissant Jambon Fromage (ham, cheese and bechamel in a croissant); and Poulet au Pistou (chicken breast with cheese, tomato, red onion and pesto).
There are also multiple salad options to choose from, delicious soups (I'm dying to try these…a lobster bisque and a pumpkin…both sound amazing, but harder to eat on those all too often warm days), and of course, some amazing specialties, like the quiche options (Quiche Florentine, which is a spinach and goat cheese quiche and Quiche Lorraine which contains ham and gruyere cheese) as well as the Croque Monsieur which is essentially toasted ham and cheese.  You can also pick up things like croissants as well as cheese plates.    There are just a ton of savory options here to choose from!
Thirsty?  They have you covered by offering up options include alcoholic beverages like wines and beers.  And of course, you can't go wrong with an espresso or latte.
Once you go through the line you will have the option to fork left or right to place your order with a Cast Member.  From there, you move along until you get to the cash registers.
Of course, on my visit, I had already had lunch (see my Via Napoli Review), so we came here for the delectable sweets they offer.
There are a TON of options.  It is like dessert overload!  What should I choose!  It is a line of amazing goodies, each more decadent and delicious than the next.
Should I go with a Napolean; a favorite of mine, Creme Brulee; an apple turnover; or a chocolate croissant?  This time, I got the Duo Au Chocolate which was white and dark chocolate mousse cake.  It was quite yummy, but there are so many options that I'm not sure it would be my first choice the next time.  (I'm eying that Napolean.)  Speaking of the Napolean, a friend of mind ended up ordering that, as well as the chocolate eclair, both of which she said were absolutely delicious.  Another friend ordered the Framboise (raspberry mousse cake).  She really like the taste of the raspberry mousse mixed with chocolate cake.
Menu:  https://www.themouseforless.com/walt-disney-world/dining/menus/boulangeriepatisserie-menu/
In all, the new bakery seems like a wonderful stop to grab either breakfast, lunch or a quick snack.  It really seems like it has it all.  Tons of options that suit everyone's needs. I honestly cannot wait to visit there for a lunch visit.  That soup is seriously calling to me!  (And maybe the Napolean for dessert!)