This post may contains affiliate links for your convenience. If you make a purchase after clicking a link we may earn a small commission but it won't cost you a penny more! Read our full disclosure policy here.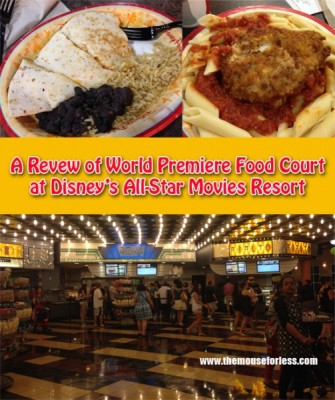 The World Premiere Food Court is your one and only stop when staying at Disney's All-Start Movies Resort. This section of the resort offers up everything you could want all in one convenient area.  Say you're craving pasta, they have it. Looking for a burger, you're covered. In the mood for a good salad? Got that too. Craving a sandwich, look no further. Oh and did I mention that they have a multitude of dessert options to?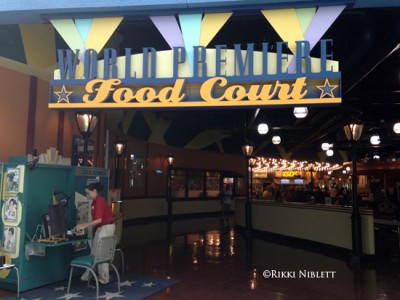 The World Premiere Food Court is a great place to go whether you're looking for breakfast, lunch, dinner, or an evening, "I just got back from the parks and am hungry" snack.
The food court itself is divided up into different sections, each one offering up a different style of food, from Italian, to sandwiches, to ice cream.  Guests place their orders at each individual section.  Do keep in mind that if someone wants pasta and someone else wants a hot dog, you will likely be standing in two separate lines to order both. In the back, you will find the bakery and refrigerated sections with grab-and-go treats.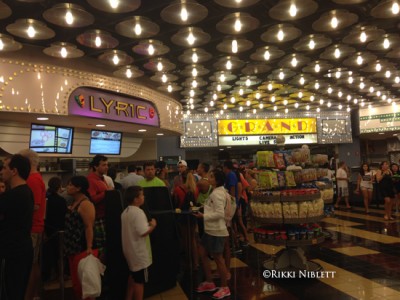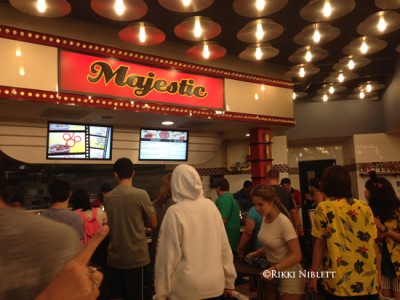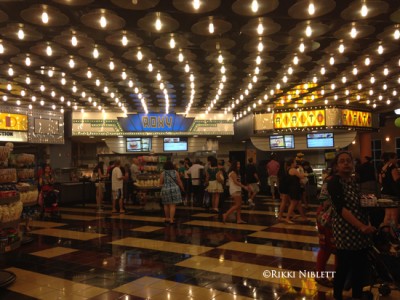 After you get everything your family wants to eat, you then head up to the cash register to pay.  From there, you grab your condiments, drinks, and silverware and find a table in the very spacious dining section.
You may remember a few months back that I wrote about my experience trying breakfast here one morning, however, I was also able to sample a few dinner options.
The first dish I tried was sort of my own creation.  That's kind of one of the nice things about Disney…you can ask for substitutions and adjustments.  What I ordered was the Chicken Penne Alfredo, but I wasn't in the mood for alfredo sauce at the time.  Instead, I was really craving marinara, so I asked if they could put that on top instead.  They happily obliged and I had a great dish.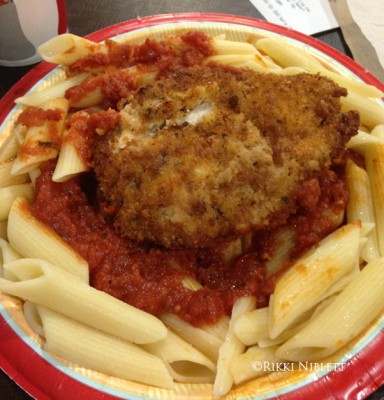 The noodles were a little limp and the sauce was your traditional marinara sauce with nothing fancy to it, but the chicken was cooked well and was a decent size and the breading was fantastic on it.  It was exactly what my very hungry stomach was craving.
My second meal was much better.  I got the chicken quesadilla which came with rice and black beans.  This meal was fantastic.  There were large chunks of chicken in the quesadilla and it was extremely cheesy.  The black beans had great flavor to them. The rice was just a traditional rice; it didn't really stand out. I would actually gladly get this meal again! Oh and I thought this was a great deal for the price, because the dish was certainly plentiful.  You weren't walking away hungry after eating this one.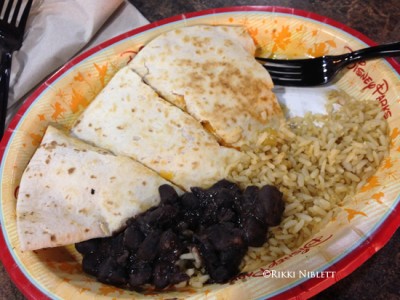 One thing I will warn you about if you choose to dine at World Premiere Food Court.  When this place is busy, the lines can move exceptionally slow.  We dined here at the end of the night after touring the parks and I will tell you that I was hangry while waiting and the line seemed to take forever.  The lines also seemed to move very slowly at breakfast too. The payment process went smoothly, it was just the stations were they prepared the food where things crawled.  If you are in a hurry to get to the parks, depending on the time of day, this may not be the place to stop.
Overall, I was very happy with my meals at World Premiere Food Court.  It was a nice stop to get some decent food while staying at the hotel, but I certainly wouldn't be making a special stop over here just to try it out either.
Have you been to World Premiere Food Court? What do you enjoy?