This post may contains affiliate links for your convenience. If you make a purchase after clicking a link we may earn a small commission but it won't cost you a penny more! Read our full disclosure policy here.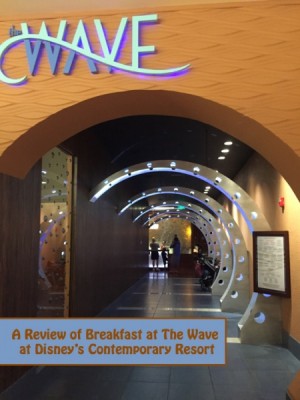 Do you want to know one of the best hidden gem restaurants in all of Walt Disney World?  I'll let you in on a little secret. It's The Wave…of American Flavors which is located at Disney's Contemporary Resort.
Most people don't even know that The Wave exists, but it is located on the first floor of the resort hotel.  This restaurant sees Guests entering the stylish space through a brushed steel arch "tunnel" into The Wave's lounge.  The restaurant offers up a nice lounge/bar area, as well as a regular dining section and serves breakfast, lunch, and dinner. The restaurant's main dining area features a lot of browns and reds that is very welcoming, although in a weird way kind of average. To me, it doesn't have any remarkable features and feels like a traditional contemporary hotel restaurant, similar to what you would see in a Hyatt or Hilton. That is the only thing that is unremarkable about the restaurant, because the food is ridiculously top notch.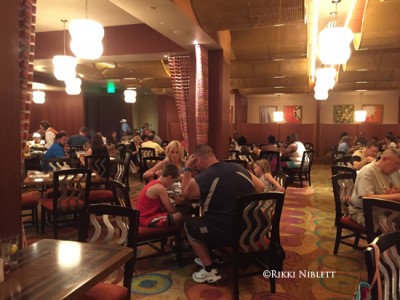 While I have tried dinner before and it was quite lovely, I am here to discuss the breakfast option, because breakfast at The Wave is one of the best breakfast options I've had.
Breakfast is served two ways; one is via menu offerings and the other is via the all you care to eat buffet. The buffet here is one of the best values, in my opinion. What's so great about it is that it offers a lot of unique choices AND just about everything that's on the menu can be found on the buffet, plus additional breakfast options are available as well.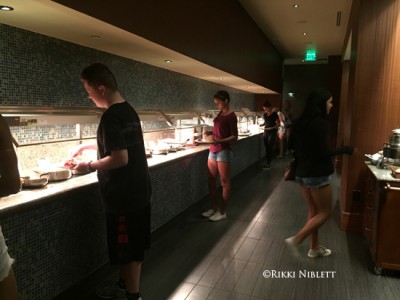 This also means that you can order an omelet as an option, because it's on the menu! If you're looking to enjoy an omelet, make sure to order it first thing, because me and my husband did, however my parents did not and their omelet didn't arrive until much later in the meal and they were almost done eating.
The buffet is set up along the back wall of the restaurant. It is set up with a cold meat option, including ham and salmon (which my husband says is the best salmon he's ever eaten.) Then there's fruit and create-your-own yogurt choices. Keep in mind the fruit options available do depend on the season. From there, Guests can choose from pastries and danishes. There is also a cart that features bagels and a toaster with jams and another cart with oatmeal and topping options.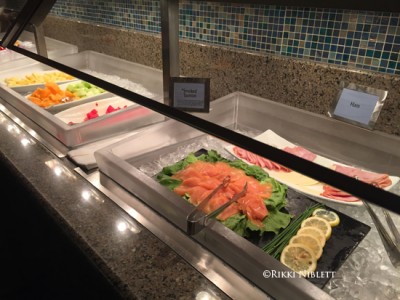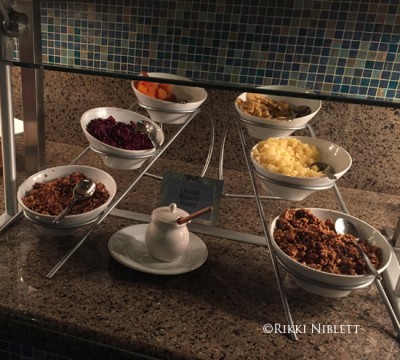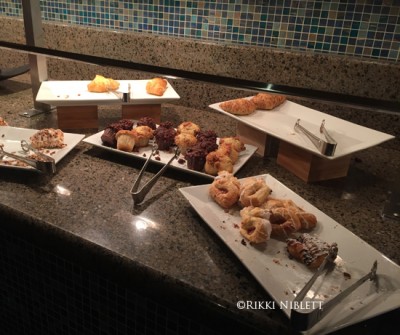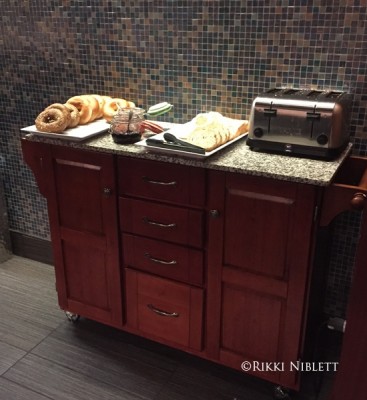 For the hot option choices, there's biscuits and gravy, scrambled eggs, a frittata of the day, eggs Benedict, grits with tilamook and bacon, hashbrown casserole, bread pudding (which changes with the season), bacon, sausage, sweet potato pancakes, and of course, Mickey waffles.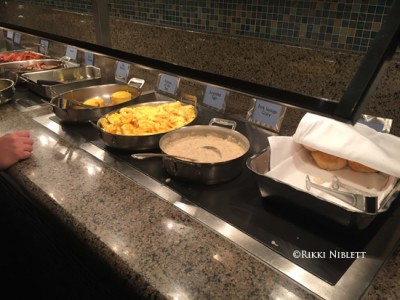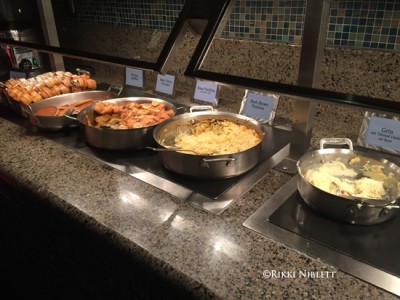 I filled up my plate and enjoyed everything! The eggs were not runny, they were cooked just right; the hashbrown casserole was very cheesy; the bread pudding was excellent and the vanilla sauce was incredible; the Mickey waffles were their usual great, malty delight; the oatmeal was filling and the omelet had the right amount of cheese and bacon. However, let me tell you about the best part of breakfast at The Wave. It's the sweet potato pancakes with honey butter. Holy cow! These are similar to pumpkin pancakes served at places like IHOP, but just a touch different and the honey butter takes things to the next level.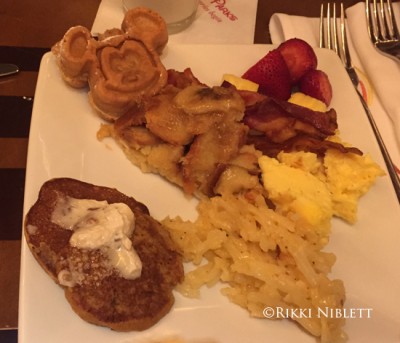 Overall, I would absolutely suggest that on your next trip to Walt Disney World, you try The Wave. On second thought…maybe I shouldn't suggest it…because right now, it's still semi-easy to get a reservation, however if word gets out, then it may be harder for me to get to dine here!
Have you ever tried The Wave's breakfast? What were your thoughts?