This post may contains affiliate links for your convenience. If you make a purchase after clicking a link we may earn a small commission but it won't cost you a penny more! Read our full disclosure policy here.
I was a little apprehensive about making my first visit to this culinary landmark unaccompanied. I mean, nothing screams "solo dining" like the most elegant and romantic restaurant in Central Florida, Victoria & Albert's, right? But once I passed through those heavy double doors, every Cast Member made it very clear that this was going to be an unforgettable event, no matter the size of my party.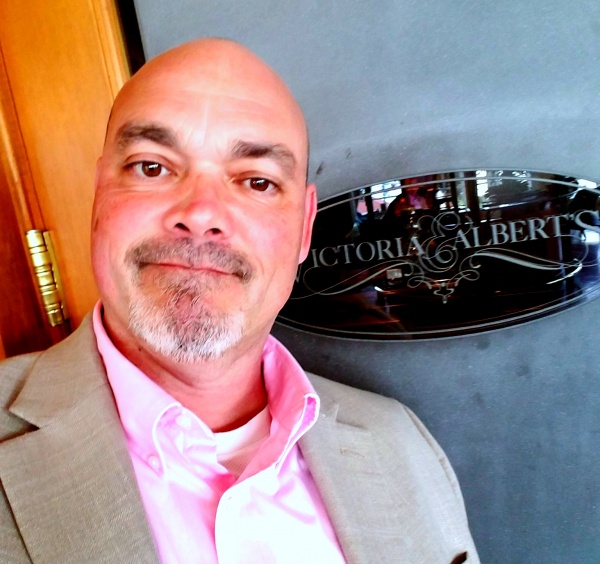 Greeting me at the podium was Israel Perez, the Maitre de Hotel. Tall and impeccably dressed, he could not have been more welcoming.  I was shown to my small table just inside the dining room. Not the best in the house, but it did offer a nice vantage point to observe all the activity in the rest of the room.  As I was being seated, the harpist in the center of the dining room was playing a classical version of The Beatles' "In My Life." Awesome. (Later that night, I practically begged her to play "Stairway to Heaven", but no dice.)
The dining room itself is gorgeous. Light colored hardwoods trimmed the off-white columns and walls, and a large chandelier hung from a domed ceiling in the center of the room. Over-the-top luxurious, but not the least bit stuffy. The hospitable staff helped to make this a very relaxing space.
Al, a 15 year veteran, was my captain for the night. Cheerful and friendly, with a slight Brooklyn accent. Matt, his assistant, was working his way up the ranks, and I was his very first table. Both were professional, yet approachable. They complemented each other very well. When one of them was away assisting another table, the other was always nearby, anticipating any needs I may have.
The menus at Victoria & Albert's change often, based on seasonal fresh ingredients. There is a 7 course menu, wherein a few of the courses are customizable with two or three choices.  This allows the less adventurous diner to make some safer choices if needed. There is also a 10 course prix fixe menu that is created by the Chef. I always enjoyed conceiving these special menus when I was a Chef. Just knowing that your guests have put their full trust in you was very rewarding.
Scott Hunnel has been at the helm of the Victoria & Albert's kitchen for over two decades, and is highly decorated. I figured I could count on him to dazzle me, so the 10 course was my obvious choice. There were two courses on this menu that offered upgrades for an additional fee (it is still Disney after all). One of the fish courses could be swapped for a Wild Turbot, which I declined. There was also an add-on available for the beef course which I did jump on. More on that later.
I also opted to add the recommended wine pairings. It offers a small pour of carefully selected wines with each course. I highly recommend adding this. I do consider myself fairly wine savvy, but again, why not leave everything in the hands of the best of the best?
Dinner kicked off with an Amuse-Bouche. A silky cauliflower panna cotta scented with truffle lined the bottom of a wide, shallow bowl. A generous quenelle of domestic caviar rested on top.  A mother of pearl spoon was presented with the caviar. Metal utensils are never used for handling caviar, as they will react with it, making for a less desirable flavor. It's the small details like this that take a dining experience to the next level.
The first official course was a Loch Duart Salmon with Cucumber and Dill. The fish was lightly smoked, served chilled and raw. I thought it lacked any real salmon richness and was a little under-smoked and bland. The dill came in the form of a cream reduction, and it packed a nice herby punch. Thin ribbons of cucumber curls garnished the salmon. This dish was the only real miss of the evening.
The second of the fish courses was an Alaskan Sablefish also known as Black Cod. Perched on a bed of baby bok choy, it was sauced with a coconut curry that was spot-on. Creamy, spicy and acidic, it was a perfect match for the oily fish. I would have eaten a bowl of the curry sauce as a soup course had they let me.
New Zealand Langoustines finished the fish courses. Related to the lobster, these little crustaceans are valued for their sweetness and tender texture. This pair was lightly poached, and served in a pool of buerre blanc scented with their roe. The butter sauce was rich and delicate, a perfectly balanced version of this French classic. A reduction of the poaching liquid or "Nage" was scented with espelette pepper and garnished the dish. The pepper spice highlighted the buttery sauce. Excellent dish.
NEW ZEALAND LANGOUSTINES
The veal course exceeded even my lofty expectations.  Marcho Farms Veal was served two ways. A nice portion of the loin was seared and presented mid-rare, and was accompanied by hen of the woods mushrooms. It was superb.  The other half of this veal duo, however, was among the best few bites of food I have ever had. Braised cheek, wrapped in housemade puff pastry, then baked. The fact that they are making their own puff dough is remarkable in itself. Very few places are still doing this,  as it is very tedious and time consuming. The meat was deeply rich and tender, with subtle red wine flavors. The utterly flaky crust that cradled this meat was ethereal. Mind blown! Both versions of the veal were served on an earthy wild mushroom espuma(foam). This is one of those food moments that one remembers forever. Best. In. Show.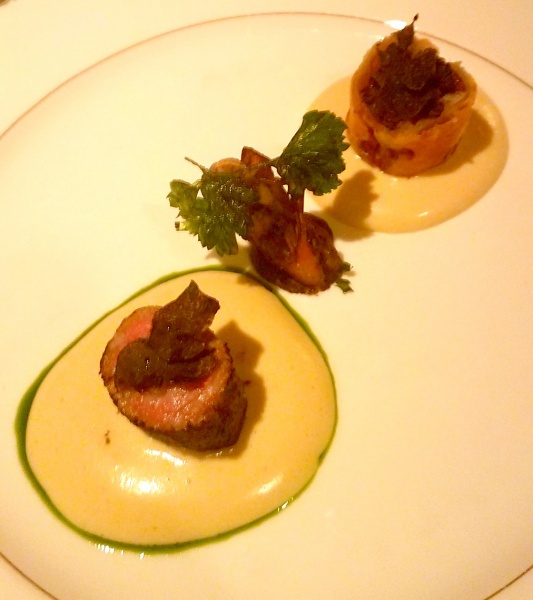 MARCHO FARMS VEAL TWO WAYS
Never do I pass on a chance to order duck when I am dining, so I was thrilled to see it on this menu. This version was brought to the table on a large black plate under a small glass dome. As Matt swirled the lid off of the plate, a cloud of Applewood smoke filled the air. The duck breast was seared to crisp the skin. Two plump slices, lightly kissed by the smoke, were presented rare. Some of the best I have had. The duck confit that served as the base for the breast was chunked with Fuji apples and braised celery root. Confit is a process of braising the dark meat in a pool of duck fat. This makes the meat fall-apart tender and ridiculously moist. So moist in fact, that there was no sauce needed here. The real kicker for this dish, however, was the garnish…duck prosciutto!! Best duck I have had on property. (sorry Tiffins)
Australian Kobe-Style Beef headlined the final course before desserts. OK, let's quickly talk about the terms "Kobe" and "Wagyu". The two are frequently misused. Wagyu is a breed of Japanese black cattle known for its intense marbling. It can be raised anywhere, and still be called Wagyu. For a beef to be called Kobe, it must be raised to exacting standards in the Japanese region in which Kobe is the capitol. There is also another region, Miyazaki, which produces a beef so marbled, that it is barely held together. Even more highly prized than the Kobe. On this night's menu, there was an option to add a small portion of Miyazaki to the plate for an upcharge. Once Al assured me that theirs was of the highest grade(a5), there was no way I was going to pass on this.
Both beefs were cut from the striploin, seared and presented side-by-side. The Miyazaki was so delicate that no knife was needed. Quite frankly, my teeth barely ever got involved. Beefy, fatty, melty, beefy, fatty. Heaven.  The Australian version held up very well to its competition, and if offered alone would have been a big hit. A delicate portion of whipped potatoes and some cute little baby veg were plated as well. The sauce for the pair was a Bordelaise that takes the kitchen four days start to finish. Veal bones are roasted, stock is made, wine is added and the reduction begins. If you ask any Chef what he is most proud of in his kitchen, I would bet that most of them would say it's their veal stock.  This version of the classic sauce was exact. Kudos to the Chef, and kudos to that cook in charge of watching it simmer for days. A thankless job. This was a rock star beef dish.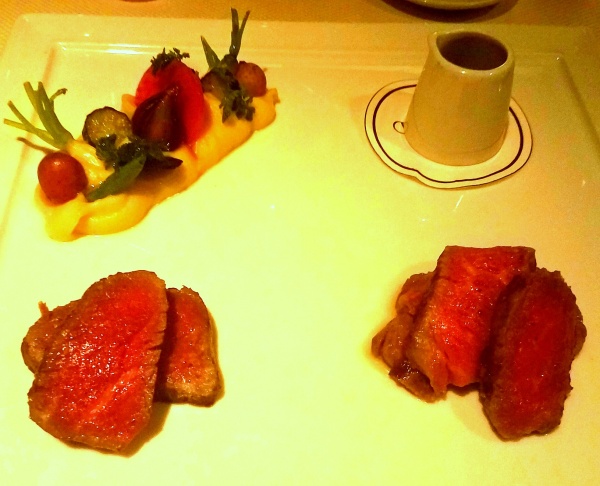 AUSTRALIAN STYLE KOBE BEEF AND JAPANESE MIYAZAKI BEEF
Before dessert, Matt rolled out the cheese cart. A fine selection was displayed under a glass roll-top lid. The cheeses rotate daily, so I won't go into great detail. Suffice it to say, these are some of the finest in the world. This is a fun little interactive part of the meal, and it gives you an opportunity to try some cheeses you may never see. I asked to try them all. Matt carved a small taste from each block, and served them on a long plate. Garnish was a chewy little hunk of honeycomb and some crunchy Marcona almonds.  The wine paired with the cheese was a Pedro Ximenz Jerez 30yo Sherry. By far the star of the wine flight. Thick and jammy, it was like drinking raisin juice. A couple extra pours got me through the desserts too!
As for desserts, the first was a Mango Dome with raspberry meringues and a blackberry coulis. Very pretty. Fruity mousse, crunchy meringues and a slightly bitter sauce. Light and delicious. The Peruvian Chocolate Crunch was also presented well. A chocolate crunch base, cocoa dusted ganache and a crispy chocolate garnish. There was an oddly tart saffron mousse that topped the dish, but I thought it was a miss.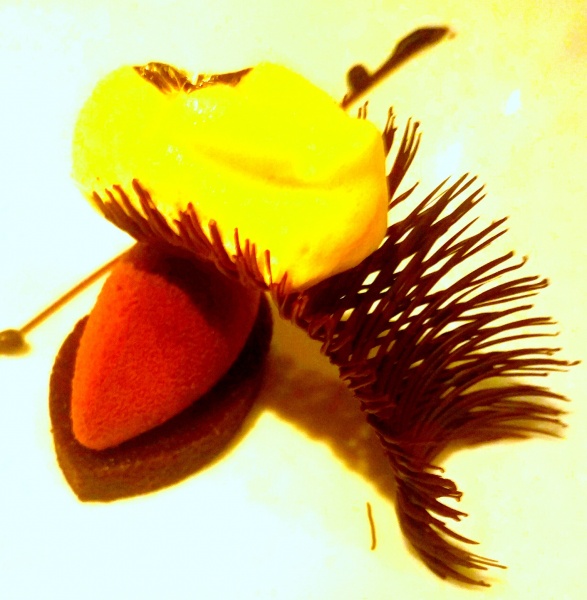 PERUVIAN CHOCOLATE CRUNCH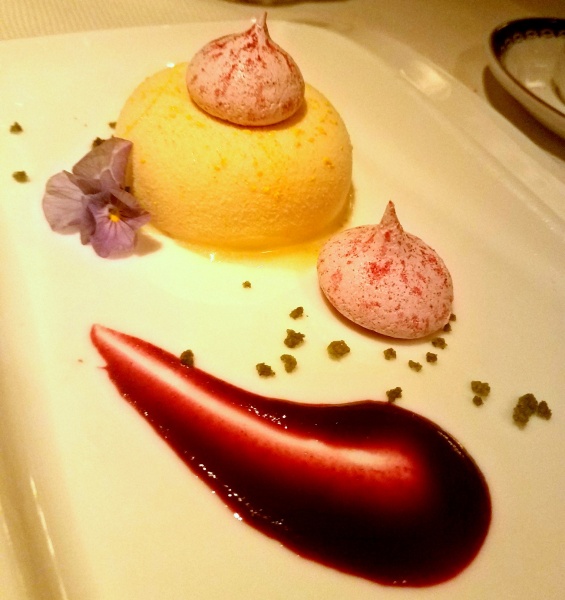 MANGO MOUSSE DOME          
Just when I thought the meal was over, Al wheeled up a large mahogany box. His black-gloved hands opened the lid, and inside was the most beautiful display of hand-crafted friandises. Perfect little chocolates filled with everything from hazelnut, to Grand Marnier, to Kirsch and raspberries. Stunning. I could have eaten them all, but one of each was enough. I enjoyed them with a couple double espressos, and just like that, my four-hour journey had come to a perfect finish.
Al presented the hefty check in a handsome leather box. While Victoria & Albert's is in a different price stratosphere compared to any other restaurant in WDW, I have to say that it does represent an excellent value, all things considered. If four full hours of world-class food and service is something that you enjoy, then this destination is certainly worthy of the price tag. As I was settling up (no Tables in Wonderland, by the way) Chef de Cuisine Aimee Rivera came by the table to check on my evening. I wonder if she ever gets tired of people lavishing praise upon her? Probably not. That is definitely one of the perks of being a Chef, instant gratification.
So, as you can now tell, I am enthusiastic about my love for this place. There is almost no way you could come away from this experience feeling any differently.  I will have a hard time fitting this into my budget very often, but will certainly make every effort to return as soon as I can. I do think, however, that I will definitely be bringing my wife on my next visit. I am already having enough trouble trying to explain this one to her!
Have you ever visited Victoria & Albert's? What was your experience like? Share in the comments.
Did you like this article? Make sure to share it with your friends! Check below for easy ways to share!
Incoming search terms:
https://www themouseforless com/blog_world/flying-solo-at-victoria-and-alberts/