This post may contains affiliate links for your convenience. If you make a purchase after clicking a link we may earn a small commission but it won't cost you a penny more! Read our full disclosure policy here.
I recently had the opportunity to visit the new and improved Disney Springs and it was exciting! When a name change for Downtown Disney was announced, I had no idea that so many more changes were in store. I couldn't wait to check everything out!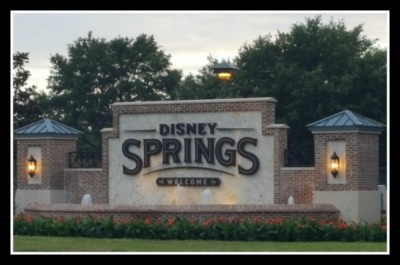 Having been to Downtown Disney many, many times before, I expected Disney Springs to be familiar territory.  Parts of it were, but the new sections were so different, I actually got lost! Fortunately, I was happy to wander around and admire my new surroundings and there were cast members stationed near maps of the area to help direct guests.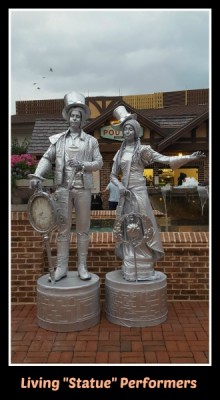 I was staying at a hotel in the Disney Springs area, so I opted to walk over rather than park in one of the new parking garages. Parking has improved significantly now that the majority of the construction is done, so if you do arrive by car, I hope you will find parking more manageable than it has been for the past few months.
As I approached the Disney Springs area, I walked up to a pedestrian overpass to cross the busy street. This has made the flow of traffic better and it is also safer for those walking in the area. As I descended the stairs (I didn't take the elevator, but there is one available), I had a great view and couldn't wait to explore.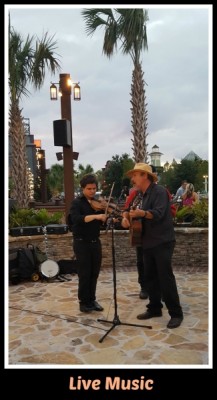 I started at the familiar end of Disney Springs, near World of Disney and Pin Traders.  There was a dance party going on when I arrived and I definitely got the sense that this was the place to be on a Friday night! Live music was going on in several different areas and there was a happy, party atmosphere.
I walked along to the new section where I found many interesting stores. I was worried that it would feel too much like an outlet mall, but the storefronts looked more upscale than what you might expect at your typical outlet mall. I heard another guest comment on how open the area is and I have to agree. This section did not feel nearly as crowded as the rest of the Springs. I think that vast majority of the crowds were in the restaurants since it was dinner time.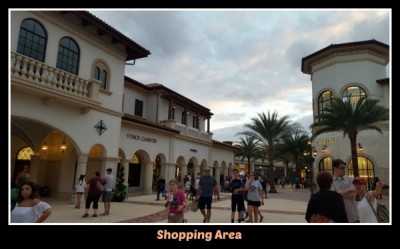 I made a pit stop to check out the "springs" part of Disney Springs and it was beautiful. The water is such a pretty color and I managed to find a peaceful place to look out over the water before getting back to the shopping crowd.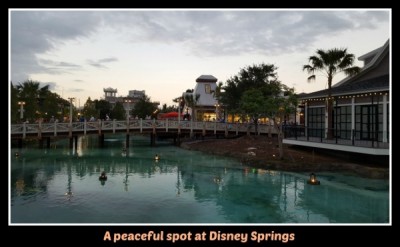 There are quite a few restaurants that I would like to try in the future, like D-Luxe Burger, Morimoto Asia, and STK. On this particular night, however, I was there for dessert. I decided to check out Sprinkles and grab some cupcakes.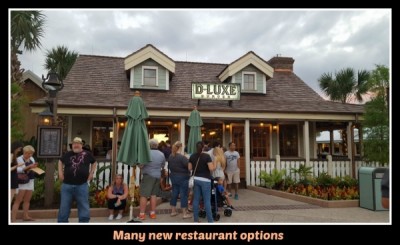 I wanted to visit the cupcake ATM, but opted to wait in line because I wanted to see the inside of the shop. The wait was about 30 minutes which is a long time to wait in the heat, but it was Memorial Day weekend, so I wasn't surprised by the wait. I was entertained by the young boy in front of me who asked how much it would cost to buy one of everything in the store. Kid after my own heart!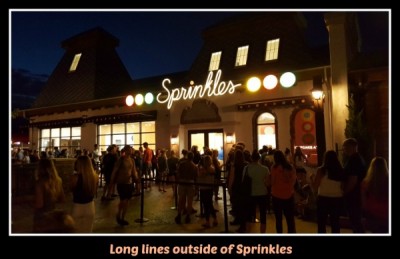 The inside of the store is plain, but clean, and the cupcakes are displayed in a case so that you can have a look as you make your selections. I chose a few different flavors to take home with me. I was a little disappointed because they were out of the doggie cupcakes and I was looking forward to taking some home to my pups. I guess they will have to wait until next time.
I liked the Sprinkles cupcakes, but I have heard mixed reviews, with some people complaining that the cupcakes are dry. I enjoyed mine and I will certainly visit again and hope to try out the cupcake ATM next time.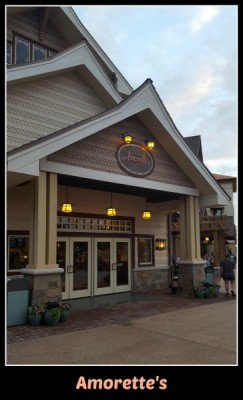 If you are looking for a dessert that is a little more fancy, stop by Amorette's. I loved this cute, little shop. They have so many delicious handmade desserts. All of the options looked gorgeous and yummy. I can't wait to go back!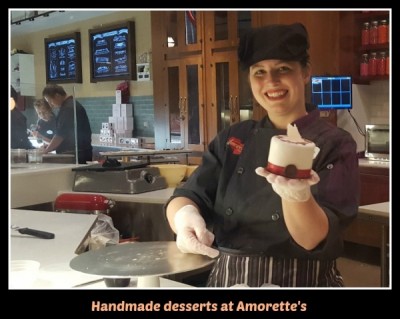 By the time I left Amorette's I was worn out.  I stopped by Starbucks to grab a drink and although this Starbucks is not new, they had some specialty drinks specifically for the Disney Springs location. I chose a drink called the Mad Hatter. It was fun and refreshing.
All of the new shops and restaurants have breathed new life into Disney Springs and I know that more exciting additions are yet to come.  If you are visiting Walt Disney World in the near future, definitely plan to stop by!
Have you seen the new additions at Disney Springs?  What did you like best?