This post may contains affiliate links for your convenience. If you make a purchase after clicking a link we may earn a small commission but it won't cost you a penny more! Read our full disclosure policy here.
As much as I love a scoop of chocolate gelato or a brownie drizzles with buttery caramel, sometimes I'm looking for a lighter and more nutritious snack while on a Walt Disney World vacation. While healthy snacks used to be hard to find at The World, they're becoming more and more available, which is definitely exciting news for me, a dietitian! Here, I've outlined my favorite healthy snack at each park in Walt Disney World! Bon appetit!
Magic Kingdom, Liberty Square Market
One of my very favorite spots in the Magic Kingdom to grab something lighter to snack on has to be the
Liberty Square Market
. Located in the middle of Liberty Square, you'll find this small open-air market full of energizing, healthy treats. When trying to stay fueled up on a busy park day, I always look for a combination of protein and fiber, and this is easy to find at the Liberty Square Market. You'll see lots of fresh fruits and vegetables, both sliced and whole, such as apples, oranges, grapes, pineapple, carrot/celery sticks, and more here. I also love the mini Babybel cheeses and greek yogurts available for some quick protein. You'll also find some nice calorie-free beverages, like sparkling water. Grab a piece of fruit and some cheese and you'll have plenty fuel to survive those lines!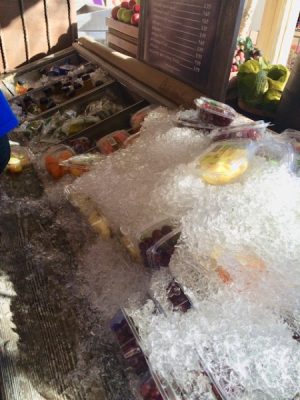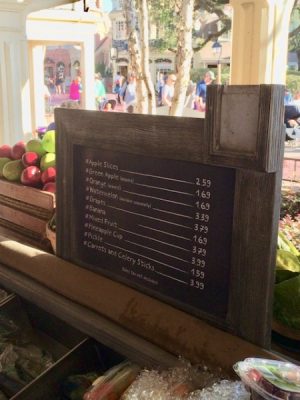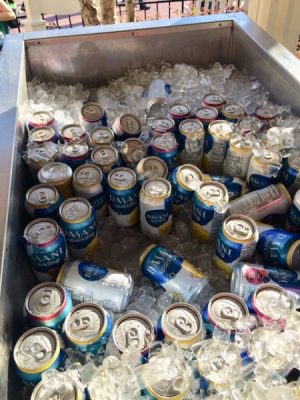 Epcot, Sunshine Seasons
Sunshine Seasons
, found in The Land pavilion, is a go-to for many guests, and I can see why! This food court-style counter service restaurant has a variety of different snacks outside of the typical pretzels, apples, or cupcakes (though you can find these here, too!). Among my favorite nutritious treats are the tomato cucumber salad (served with a refreshing balsamic vinaigrette), and the fruit and cheese plate (strawberries, grapes, and cheese). If you're looking for something a little larger, there are plenty of nutritious entrees you could split with a friend!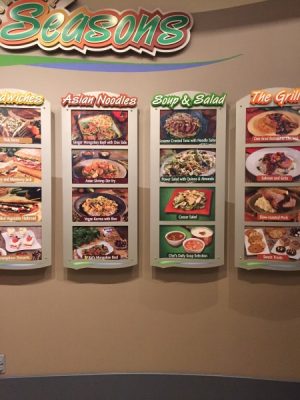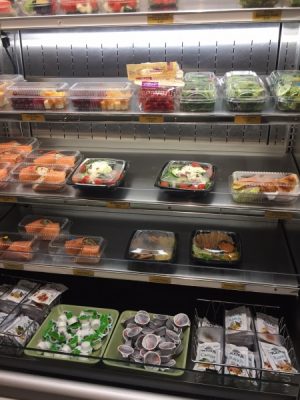 Disney's Hollywood Studios, Anaheim Produce
Admittedly, the pickings are slim at Disney's Hollywood Studios when searching for a nutritious and energizing snack. I did find some fresh produce options at
Anaheim Produce
, which will get the job done when the carrot cake cookie just isn't cutting it! Pick up some clementines, fresh fruit cups, sliced carrots/celery, or even a dill pickle at this Sunset Boulevard quick service spot. If you're looking for a little fiber and a little something sweet, you'll also find a sliced granny smith apple with caramel dipping sauce! Everything in moderation, right?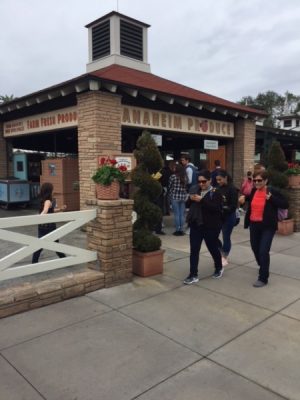 Disney's Animal Kingdom, Harambe Fruit Market
There are quite a few great options for lighter, nutritious snacks at Animal Kingdom, and I'm truly tied between two spots for my top pick! I had to go with
Harambe Fruit Market
because of the variety of treats that will give you energy without added sugar. Among the options here, you'll again find lots of fresh produce, such as fresh fruits, mixed fruits, and more. You'll also find greek yogurt, mixed nuts, and dried fruits. I also had to mention the Terra Treats stand in Discovery Island. Here' you'll find hummus with vegetables and chips. Stick with the hummus and veggies for fiber and protein on the go!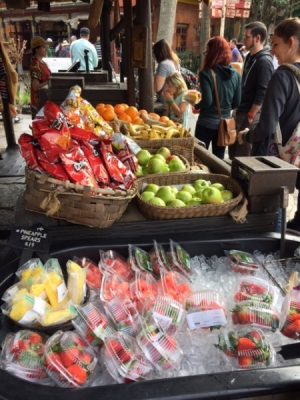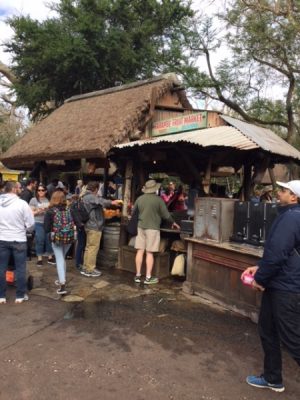 Summary
When you least expect it, the craving for something fresh and healthy might strike on a Walt Disney World vacation. Though the options for splurge-worthy foods definitely outnumber healthy treats, there are still plenty of fresh, nutritious snacks at Walt Disney World.
What are some of your favorite healthy snack places at Walt Disney World? Share in the comments.
Did you like this article? Make sure to share it with your friends! Check below for easy ways to share!
Incoming search terms:
chip n dales deli polynesian
https://www themouseforless com/blog_world/favorite-healthy-snack-spots-walt-disney-world/
healthy snacks at walt disney world