This post may contains affiliate links for your convenience. If you make a purchase after clicking a link we may earn a small commission but it won't cost you a penny more! Read our full disclosure policy here.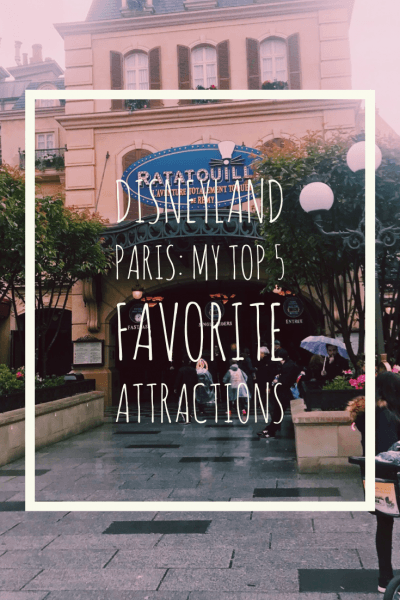 My mom and I recently took our 4th annual mother-daughter vacation, and we decided to go international and check out Disneyland Paris! This was absolutely a trip of a lifetime! While Disneyland Paris and Walt Disney Studios are smaller parks, we found them to be absolutely magical, full of beautiful detail, clean, and totally unique from the American parks! While I'll always be a Walt Disney World girl, there were some highlights in Paris that I'll never forget! Here, I'm bringing you my top 5 favorite attractions in Disneyland Paris!
1. Ratatouille: L'Aventure Totalement Toquee de Remy
I'm sure you're all shocked that this attraction made my number one pick, right? This trackless attraction is located in Walt Disney Studios park, right across the street from Disneyland Paris, and shouldn't be missed! Hop aboard your rat, don your 3D glasses, and head into Remy's kitchen while he cooks up a storm (but don't get caught by the health inspector!). You'll spin around the larger-than-life kitchen, smell some delicious smells, and meet lots of other rats on your way. I can't wait for this attraction to come to Epcot!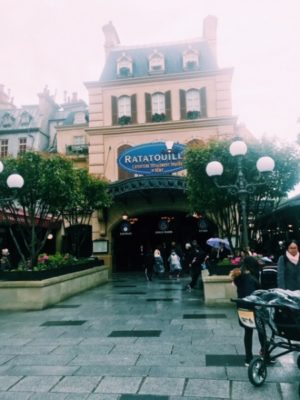 We found that getting to the parks 1. on a weekday and 2. early in the day made it a piece of cake to walk right on! We also utilized the paper FastPass system on a busier weekend day to minimize our wait time!
2. Phantom Manor
Disneyland Paris' version of the Haunted Mansion is one that should not be missed! I actually enjoyed this attraction more than that of Walt Disney World (don't tell my husband!), as it added some great storytelling elements. Follow the story of the beautiful Melanie Ravenswood, doomed to never marry, and meet lots of ghosts and goblins along your way! Some of the animatronics were much creepier than those in Florida or California, which I really enjoyed!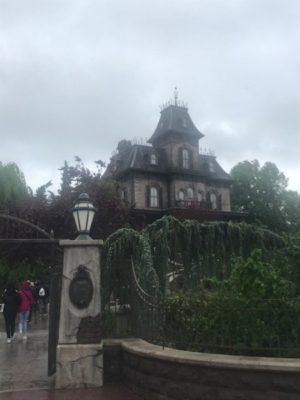 3. It's a Small World
Okay, I'm one of those people who genuinely enjoy It's a Small World in Walt Disney World (nope, I don't find the song to be annoying, and I think the attraction is a must-do on all of my trips!), so if Small World isn't your thing, you'll most likely feel the same way in Paris. If you are a fan of the original or the WDW version, stick with me! I thought, visually, this was the most attractive Small World of the three attractions! Freshly painted scenes, animatronics working perfectly, and the addition of many other cultures and countries, I loved the many updates on this ride! Also, being a NYC resident, I loved seeing the Statue of Liberty, Chrysler Building, and Empire State Building during the United States scene!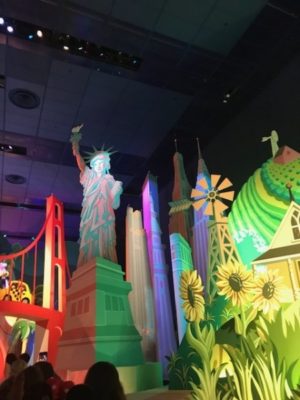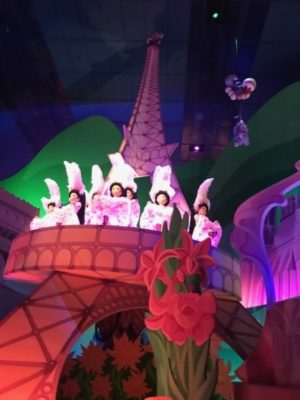 4. Sleeping Beauty's Castle
While not a ride, this attraction really stood out to me! Sleeping Beauty's castle in Paris isn't nearly as large as Cinderella Castle in Florida, but there are added elements that make it totally unique! First of all, you're able to go upstairs into the castle and take a brief walk around reading the story of Sleeping Beauty, told through stained glass, tapestries, and storybooks (if your French is better than mine!). You'll also see the spinning wheel that Aurora pricked her finger on, and can step out onto the balcony for a view of Disneyland from above!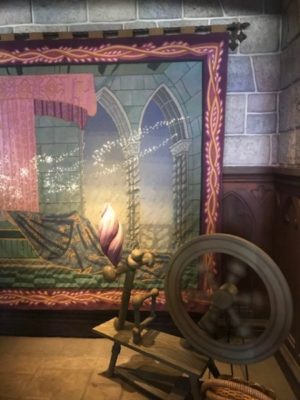 Though the aforementioned was beautiful and unique, my favorite part of the castle was actually located in the dungeon! You'll be able to see the dragon chained up, but moving around! I could've stood there and watched her move around for hours!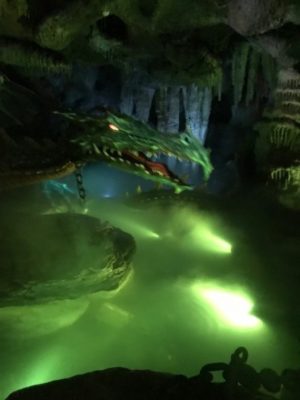 5. Pirates of the Caribbean
Would it really be a Disney trip without Pirates of the Caribbean? Not for me, at least! Having ridden Pirates at WDW, Disneyland, and now Disneyland Paris, I love that each attraction offers something unique and special. Disneyland Paris' version takes you past the cannonball fight scene, the townspeople scene (poor Carlos is still being dunked in the well!), and other familiar scenes to those who have ridden in WDW, but adds some unique scenes, especially toward the end of the boat ride. We thought the attraction was coming to a close when we arrived in another section of the attraction that we didn't expect, including a shipwreck scene that was very impressive!
Have you visited Disneyland Paris? What are your favorite attractions? Let us know your thoughts in the comments or on Facebook or Twitter! 
Did you like this article? Make sure to share it with your friends! Check below for easy ways to share!
Want to visit the Disneyland Paris Resort? Contact The Magic for Less Travel for more information and a free, no-obligation quote.