This post may contains affiliate links for your convenience. If you make a purchase after clicking a link we may earn a small commission but it won't cost you a penny more! Read our full disclosure policy here.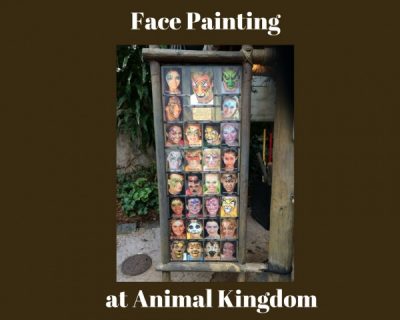 This face painting station is in Harambe, in the Africa section of the park
The whole reason that I am so freakishly obsessed with Disney travel is that my parents brought my sister and me to Walt Disney World many times when we were growing up, starting all the way back in 1976. My parents recently brought us back there again – this time with my sister and my own families in tow.
When my nephew Ben found himself in Animal Kingdom, strolling through Africa, he decided he wanted to get his face painted like a dinosaur. (This kid is seriously into dinosaurs! I was impressed with his knowledge!)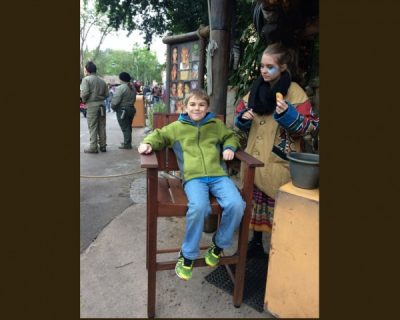 Ben before his dinosaur makeover!
The face painting area is located in Harambe, near a couple of shops and a short walk away from the Festival of the Lion King. As you might expect, animal designs are the main offerings here.
Ben told the nice Cast Member which design he wanted while his father paid for the service. Then he sat in a large, high wooden chair and the makeup artist went to work!
The entire process took much less time than I thought it would. It was well under 15 minutes from start to finish. And on this particular day (the first Tuesday in January) there was no wait at all.
Ben was very patient and sat still while the Cast Member applied the different shades of green, yellow and black to his face. Maybe this is because I said "You're going to be in my blog, Ben!" while I took pictures.
I have to say, he definitely picked a face painting that matched the color scheme he was wearing! The face paint lasted all day, and he begged his parents to let him not wash his face that night. They relented, and I'm pleased to announce that the paint lasted the entire next day as well. (After that, Mom and Dad put their foot down and told him he had to wash it off.)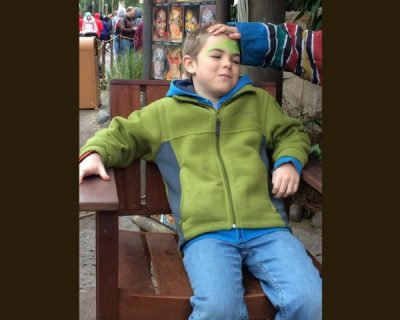 The first paint is applied…
Ben doesn't have any allergies to speak of, but I wanted to point out that he didn't complain of itchiness at all. Also, after he washed it off, there was no residual redness or any sign of irritation. I have a feeling Disney is very careful to pick gentle makeup that will not bother most people's skin. Still, if you or someone in your family is interested in getting their face painted and has sensitive skin, it's a good idea to ask beforehand what kind of products they use.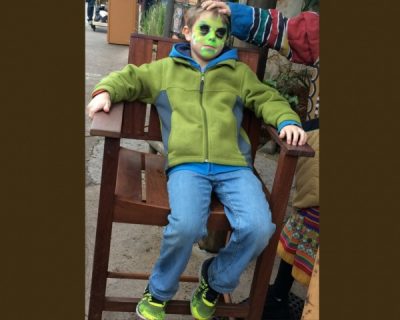 On his way to becoming a Benosaurus
Ben was thrilled with the results. Several cast members throughout the next couple of days made comments about how fierce he looked, and some of the characters pretended to be afraid of him.
Face painting at this location costs between $12 – $20 depending on which design you choose. I later found out that touch ups are included in the cost; just save your receipt and present it at the same location if your child smudges it.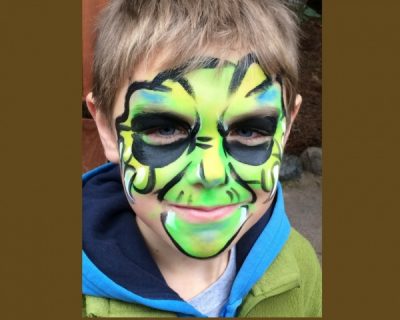 Have you done face painting in the parks before? What were your experiences? Share in the comments, or on Facebook or Twitter.
Did you like this article? Make sure to share it with your friends! Check below for easy ways to share!
Incoming search terms:
https://www themouseforless com/blog_world/face-painting-at-animal-kingdom/
https://www themouseforless com/blog_world/face-painting-at-animal-kingdom/#:~:text=The face painting area is are the main offerings here
https://www themouseforless com/blog_world/face-painting-at-animal-kingdom/#:~:text=The face painting area is Festival of the Lion King
face painting africa
where is the face paint station in animal kingdom