This post may contains affiliate links for your convenience. If you make a purchase after clicking a link we may earn a small commission but it won't cost you a penny more! Read our full disclosure policy here.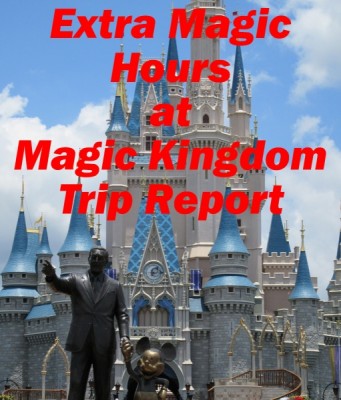 The day had finally come in our vacation.  We were heading to Magic Kingdom for extra magic hours, lunch at Cinderella's Royal Table and a whole bunch of memory making.  This is our day!
For those that may have missed the last few posts, my husband and I along with our daughter  (9) and son (6) headed to Walt Disney World with my parents, sister and brother-in-law.  We stayed at Disney's Caribbean Beach Resort and had the Disney Dining Plan as well as park hoppers.   At this point in our vacation we had spent an evening at Epcot, a day at Animal Kingdom, and hit up morning extra magic hours at Hollywood Studios.  It was now time to head to Magic Kingdom.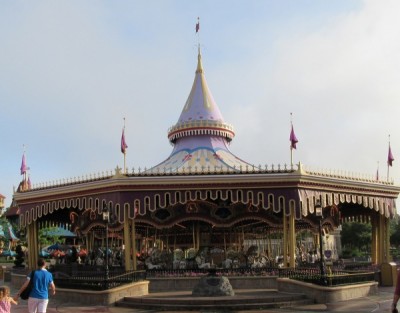 I love an empty park
Once again we met up with my parents bright and early at 6:30 to catch the bus to Magic Kingdom.  The tricky part at Magic Kingdom is that the bathrooms are located outside the turnstiles so we had to plan accordingly.   We also ran into the issue of being told our Mickey touch point wouldn't be opened only to move into another line to have the original open later.  Either way we got through the MagicBand touch point and to the rope with no problems. We couldn't see the opening show, but we weren't concerned about that as much as wanting to stay ahead of the crowd that had grown behind us.  Once the rope was dropped we were walked down main street and up through the castle.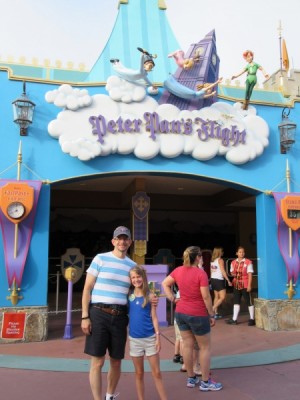 Grandpa and Daughter at Peter Pan
We headed right to Peter Pan and walked right on.  The new queue area was extremely well done and I thought it was such a good addition along with the air conditioning and shade.  From Peter Pan we walked over to Winnie the Pooh where the wait was still short at around 10 minutes.   The kids loved the interactive queue as well a they worked together to uncover different characters from the honey.  Our next stop was to head back to ride Under the Seas- Journey of the Little Mermaid.  We were able to walk right onto the ride which also had a great waiting queue to keep little ones entertained.
At this point it was around 8:30ish and we needed a quick break.  Barnstormer had a short line so we headed there next following bathroom breaks and water bottle refills.   If I could have done something differently this would have been the ride I would have skipped and done It's a Small World instead.  Walking to the Barnstormer took us away from Adventureland which is where we wanted to head next and it is a slow loading ride that wasn't that exciting for our kids.  None the less we rode the Barnstormer and then headed to Splash Mountain as the rest of the park was going to open soon.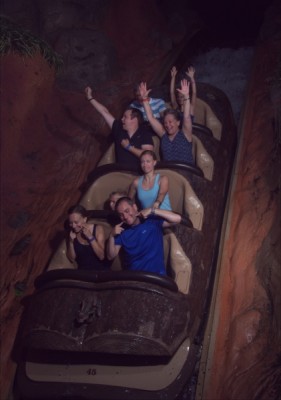 So much fun on Splash Mountain
When we go to Adventureland, the lines for Splash Mountain and Big Thunder Mountain were extremely long, however; we realized that they were not allowing people into the queue yet.  We got in line for Splash but quickly realized that we were going to miss our FastPass for it so we got out of the stand-by line and went through the FastPass line instead.  Again not the most well thought out but we managed.
Right after riding Splash Mountain, which was so much fun as we had the whole boat to our family, we walked over to ride Big Thunder Mountain with our FastPass.  This ride is my dad and sister's favorite and it was my daughter and son's first ride so we had a fantastic time being able to experience it all together.
It was now snack time!!!  Mickey Ice Cream sandwiches!!  We took the snacks on the go as we stood in line for the Haunted Mansion.  A short wait of 30 minutes but we learned quickly there wasn't a lot of shade or air movement.   Our daughter loved this experience where our son did not at all.  The adults liked the tradition of the ride as well as the new additions at the end.
After standing in line for The Haunted Mansion in the heat of the morning, it was time to find some air conditioning again.  One of the best places for this in Fantasyland in Philharmagic.  We absolutely love this show as it pulls all the best movies, in our opinion, into one fun show.  There is usually never a long wait and it seats a lot so a great option when you want to get out of the sun which is what we wanted to do.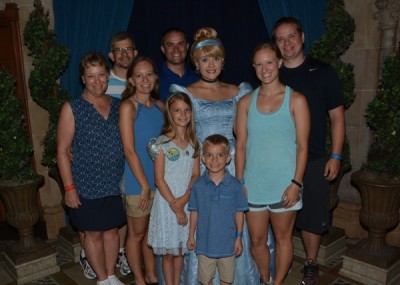 A wonderful experience at Cinderella's Royal Table
Our dining reservations were right next door at Cinderella's Royal Table for noon.  We were able to check in right away and head into the castle where we waited to see Cinderella.  If you want to know more about our experience at Cinderella's Royal Table check out my previous post.  Overall we had a magical experience with great food and wonderful princess interactions.  Service was quick and we had time before our 2:00 p.m. FastPass to Seven Dwarf Mine Train so we split up (always be willing to do this with a large group) and our family of four headed to the front of the castle to take pictures as we were dressed a little nicer.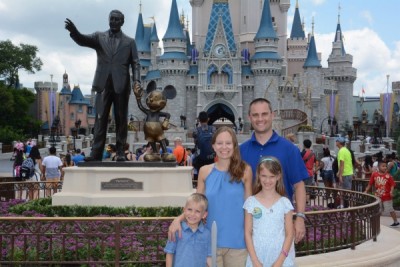 Take advantage of photographers
As I love pictures, I always take advantage of the PhotoPass photographers throughout the parks and try to coordinated our outfits to help make these pictures even more magical.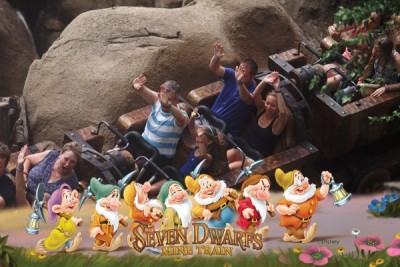 Having so much fun
The group met up at Seven Dwarf Mine Train around 2:00 p.m. and even though the line for FastPass was long due to problems earlier in the day, we still moved through quickly.  This was the first time for our kids and my parents to experience the ride and they had a great time.  Our son was nervous at first, but once we got rolling he did a great job screaming along with everyone else!
Waiting out the rain
Following this it was time to head back to the resort for a quick swim and a rest.  Our evening was a little crazy as a huge storm came through and it down poured for over an hour.  We did manage to get to Old Port Royal for supper and then we took our kids along with my parents to Hollywood Studios to see Fantasmic.  My husband and I love this show and wanted to make sure the kids and my parents got to experience it, but we were nervous about the rain.  The Disney magical bubble worked however and we were able to see the show without any issues and it was as great as I remembered it to be!  Each time I see it Disney has upgraded something within the show to make it that much more magical!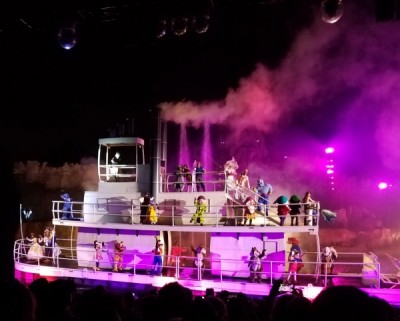 Fantasmic
Fantasmic was the end of the our day.  We talked about staying for the fireworks or riding more rides as it was extra magic hours, but the kids were ready to be done and as much as I would have loved to keep going when they are done it is time to call it a day.  Our first full morning at Magic Kingdom was so much fun and didn't disappoint in the least.  I sometimes hate getting up in the mornings while on vacation but being able to experience the quietness of the park is something that I cherish.  Saturday was our sleep in day following a late night at Fantasmic.  We headed back to Magic Kingdom for more rides and two dining experiences.  Join us on our magical adventure in my next post.
Incoming search terms:
magic kingdom travel report