This post may contains affiliate links for your convenience. If you make a purchase after clicking a link we may earn a small commission but it won't cost you a penny more! Read our full disclosure policy here.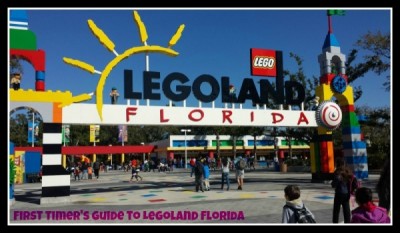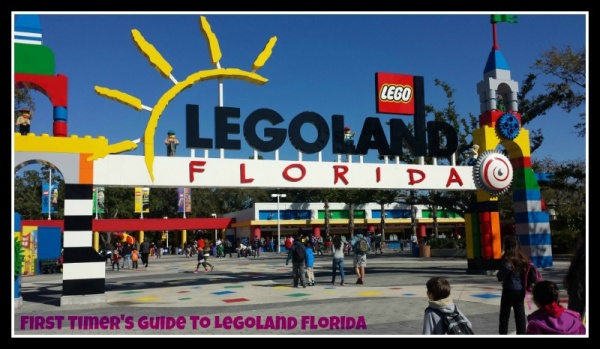 Everything is awesome! At least that's what the song says. Now that it's in your head, let's talk Lego! Legoland Florida that is. We recently made our first ever trip to Winter Haven to take in the Orlando area's newest theme park. The drive was roughly 45 minutes coming from Disney property. Let's break our trip down down brick by brick.
Admission Cost
Legoland has several different ticket options. As of the time of this blog post, a general admission ticket for an adult (13 and up) is $87 and for a child (3-12) $80.  Annual passes start at $99. If you prepay and select a date, you are able to save $15 per ticket. There are also other discounts for multiple day tickets and for Florida residents. There was a water park option that allows you to add the water park admission for an additional $15.
We actually used none of these. We were able to score a free child admission (with adult admission) through a coupon. We got this coupon in a Lego Happy Meal back when the Lego Movie was in theaters. However, we have also seen them in Lego Club Magazine, some Lego sets and even cereal boxes. It was a pretty good deal for us in the end. Two adults and a child for under $200. Definitely research your options before you go. (Like checking out our page filled with all kinds of discounts and other tips that can be utilized at Legoland Florida.)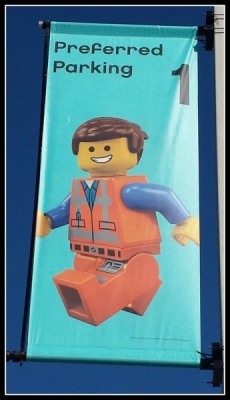 Legoland Surrounding Area
The surrounding area is full of shopping plazas and businesses. In fact, there were multiple times I could easily see the main roads and stores from the top of ride platforms and rides themselves.
Theme
Legoland is made up of many differently themed areas. Our favorites were Lego Kingdoms, Land of Adventure, Lego City, Miniland and World of Chima. Each park section had their own attractions and props related to it. The park layout can be somewhat confusing for first timers. There were a few times the park map just didn't cut it as far as showing us where to go. Fortunately, we were able to find an employee willing to help us out when we needed it.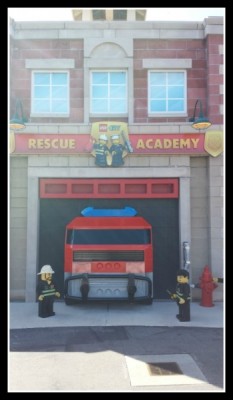 Honestly, I could have walked through Miniland the entire day!
The Star Wars sets were amazing.
Rides and Attractions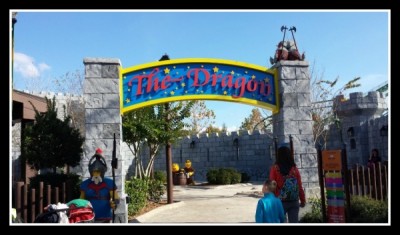 There is a nice mix of rides for all ages. The four coasters are Flying School (44"), Coastersaurus (42"), Project X (42"), and our son's favorite The Dragon (40"), All four were fun, but nothing too intense. Good rides for younger thrill seekers and parents who aren't looking to get nauseated.
There are also many rides for kids not tall enough for coasters. There are jeeps, jousting, Duplo play area, carousels and a few spinner rides just to name a few. One of the more popular rides was the Ford Driving School.
Ford Driving School gives kids the ability to drive around a Lego city while obeying all traffic rules. The kids were loving it, but this may be the slowest loading ride ever. You wait in line. Then you wait in the next room. Then a crew member talks. Then you watch a safety video. Then the guy talks again. Then you walk outside. Then you get to a car. Then all 20 kids need to be checked for seat belts. Then kids crash into each other. Ride over.
Perhaps the coolest ride in Legoland Florida is one of the newest.  It is the Quest for Chi, located in the World of Chima. As you ride in a boat you man water cannons that are powered by turning a crank. Along the track there are water cannons that spectators can fire at you as well. Few things were as pleasing to us as soaking unsuspecting walkers on a brisk February day. This would be a can't miss ride during the summer months. It is interactive as well. There are sensors all along the ride that if you hit them with water, something will happen (such as characters move or water shoots at you!).
While the rides were fun, we couldn't help but be a little frustrated by the loading speeds. The process was often very inefficient and we felt like the loads could be handled differently. We would imagine that come busy season, this could be a major issue.
Food
The food and restaurants in Legoland Florida can be summed up in one word: decent. Decent prices, Decent options. Decent locations. Pizza, sandwiches, chicken, burgers… basic theme park fare. Simply put, you will eat here because you are hungry. There is no "destination" restaurant here. We ate lunch at the Lakeside Sandwich Co. and decided to wait for dinner till we were back at Disney World.
Shopping
We were surprised to see that there wasn't much available in Legoland that couldn't be found at any Lego Store (other than park shirts and hats). The mini-figure store offered some uniqueness, but most other stores carried Lego sets that were themed for that specific area of the park.
A major disappointment for us was that the park does not accept Lego VIP Club. When we asked about it, we were told that since the park is owned by Merlin, they cannot accept the card or its rewards ($5 back for every $100 spent). The cashier said they were working on it. I understand, but… the name of the place in LEGOland. Shouldn't this be resolved by now?
An interesting piece of information we discovered was that the park offers a one hour shopping pass. You pay the deposit of a park ticket, and if you return in under an hour you are fully refunded your deposit.
A few other things…
Park hours were 10-5. At $87 for an adult admission, this is a rather short day. For a few extra bucks, we could have twice as long in the Magic Kingdom!
Their on site hotel is scheduled to open May 15, 2015 Rooms are available to book now (Pirate, Kingdom, and Adventurer)
Not enough The Lego Movie stuff. I wanted Emmet and Wyldstyle. Everywhere. (Editor note:  It was announced that a new 4-D movie will be added based off the characters from The Lego Movie.)
More character meets would be nice.
The Miniland creations are seriously works of art.
Overall Thoughts
Our family enjoyed Legoland Florida. Our 8 year old son was in Lego heaven. To him, everything was awesome, and that's what truly matters to us. I don't know if the value would feel the same if we did not have the coupon though. When planning your Legoland trip, we would absolutely advise you to do research on park tickets to find the cheapest option available.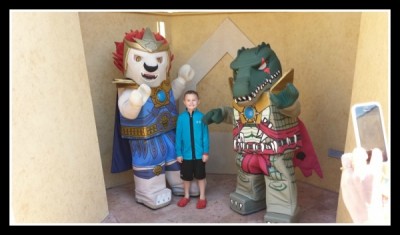 Legoland Florida is still new to the Central Florida theme park game, but it has a solid base plate. There is definitely the opportunity to build upon what they have started. I'm not sure what other Lego pun I can use here.
What do you think? Is your family considering taking time out of their summer Orlando/Disney/Universal trip to spend a day in Legoland?