This post may contains affiliate links for your convenience. If you make a purchase after clicking a link we may earn a small commission but it won't cost you a penny more! Read our full disclosure policy here.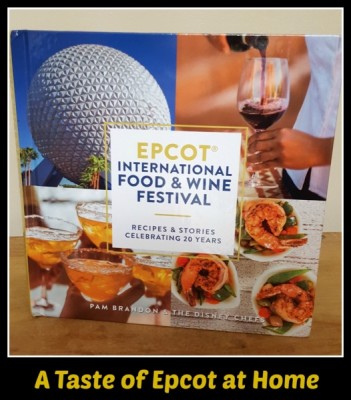 One of my favorite Walt Disney World events of the year is the Epcot International Food and Wine Festival. This event offers a unique opportunity to try different foods from around the world. Every year after visiting, I find myself craving some snack that I tried at the festival. If, like me, you have ever wished that you could bring home the delicious foods from the festival, here is your chance to make some of your favorites at home!
The book begins with an overview and history of the Food and Wine Festival. I found this interesting since I did not attend my first festival until 3 years ago. There are snippets about each year of the festival, a timeline of significant events, and interviews with prominent chefs. This part of the book is easy to read and doesn't feel at all like a history lesson. I enjoyed it.
Now, on to the fun part and the main reason why I purchased this book. The recipes!
This portion of the book should come with a warning because the mouth watering pictures of food will definitely leave you hungry! There is a nice assortment of dishes from the 90's all the way through the the current festival. I am looking forward to making some of my favorite dishes and am excited to try some things that I have never had before. I am definitely an amateur as far as cooking goes, but most of the recipes don't seem too complicated.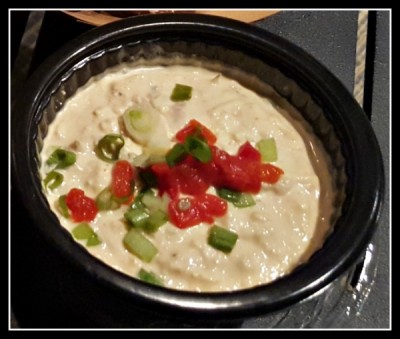 Spicy pimento cheese, the perfect topping for beef sliders
The first recipe section contains several drinks and appetizers. So, if you find yourself at home wishing you could just have one more cheese puff from Brazil or some escargot from France, now you can make your own! Other favorites like the Canadian cheddar cheese soup, spicy Florida shrimp, and pork pot stickers are also found in this section. Yummy!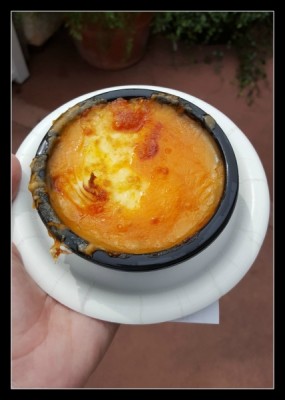 Whip up your own Fisherman's Pie at home!
The next section contains main dishes. Here you will find recipes for dishes like Kalua pork sliders and lamb meatballs. Even one of the festival's most raved about dishes, the wild mushroom beef filet from Le Cellier is listed. Believe it or not, the recipe doesn't look terribly complicated so I may give it a try soon!
There is a good mixture of chicken, beef, and seafood dishes, so there is a little something for everyone. Even though the portions at the festival are designed to give guests a small taste of each dish, these recipes are designed so that you can make full entrees. Perfect for a dinner party!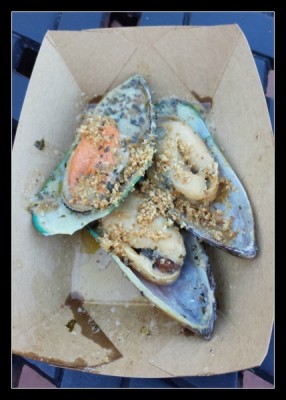 Make your own homemade mussels
The final section is dessert recipes. I will be totally honest and say that this is the first thing I looked at when I picked up the book. From warm chocolate lava cake to apple strudel, this last section of the book has the recipes to satisfy any sweet tooth. Life is short, eat dessert first!
For around $25, you can take this book home and have a small taste of Epcot in your own kitchen. For me, it was totally worth the purchase price.  I can't wait to start cooking!
Have you purchased the Epcot International Food & Wine Festival cookbook?  What do you plan to make first?