This post may contains affiliate links for your convenience. If you make a purchase after clicking a link we may earn a small commission but it won't cost you a penny more! Read our full disclosure policy here.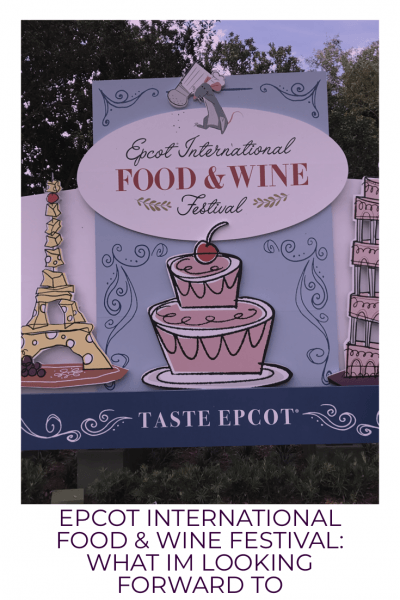 My favorite season at Walt Disney World has to be fall; from the decorations to the adorable fall-themed treats, there's just nothing better! But if I'm being completely honest, my favorite thing about fall at Walt Disney World is the Epcot International Food & Wine Festival! I look forward to getting my favorite treats every year, and once the menus hit the internet, I had to take a look and start crafting my list of "must-eats" for the festival! Here, I'm bringing you my favorite returning menu items, and some interesting new options I'm looking forward to!
My Favorite Returning Options
1. Roast Bratwurst in a Prop and Peller Pretzel Roll, Germany
I'm a bratwurst girl, and this is a dish I look forward to every year. The brat, itself, is smaller than the normal option served up at the Quick Service spot, and it comes on a pretzel roll, which amplifies the flavor! This year, Prop and Peller, a Bavarian bakery, is sponsoring the pretzel rolls, so you know they're going to be soft, fluffy, and delicious. Another delicious must-try option in Germany is the Schinkennudeln, a cheesy pasta gratin with ham and onions.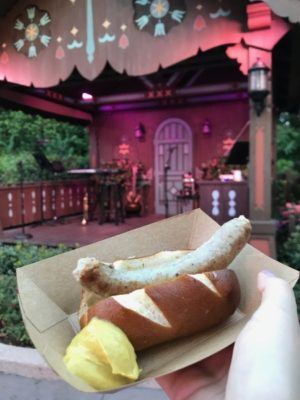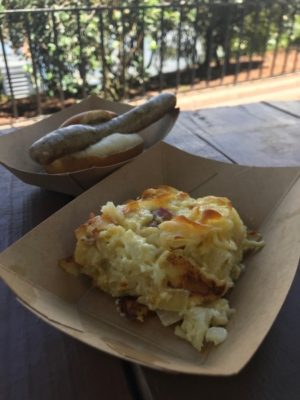 2. Freshly Baked Carrot Cake and Cream Cheese Icing, Hops & Barley
This is the one dish at Food & Wine that I've been known to eat twice in one day. If you're a carrot cake fan (or, rather, a cream cheese frosting fan), this is a must-try! Warm, moist carrot cake is topped with a ton of warm cream cheese frosting, because everybody knows that frosting makes everything better!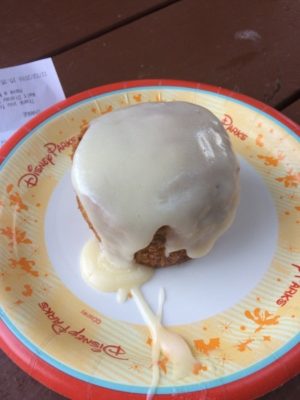 3. Warm Chocolate Pudding with Irish Cream Liqueur Custard, Ireland
I bet you can tell I have a serious sweet tooth by now! This chocolate pudding is more like a warm lava cake, and it is rich! This silky smooth cake is served with Irish Cream Liqueur Custard, which is relatively mild and sweet, but I prefer this cake without the custard topping because it is just that good!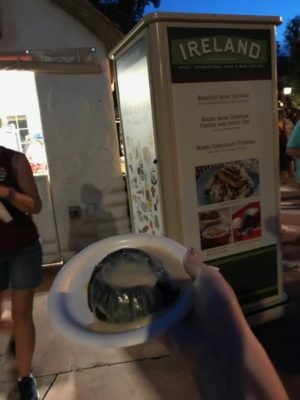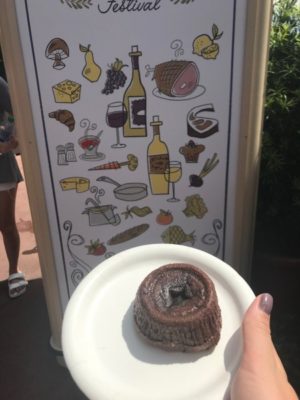 4. Teriyaki Chicken Bun, Japan
I wasn't sure if I should add this to my "already tried and loved" or my "can't wait to try" list, since last year's teriyaki bun was filled with beef, and this year they're mixing it up with chicken. Last year's bun was served warm, and consisted of a doughy, fluffy bun filled with finely shredded beef and teriyaki sauce. The sauce was sweeter than I'd expected, and I really enjoyed this option. Plus, it's portable, making it perfect to eat while standing in line for your next food or drink choice!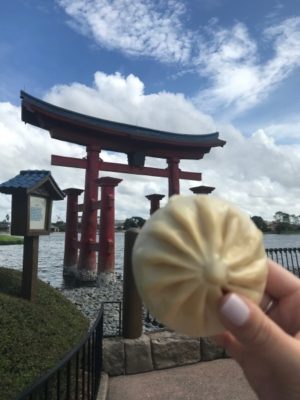 5. Crispy Pork Belly with Black Beans, Tomato, and Onions, Brazil
If there's one thing I love, it's pork belly! You know when something is so good that (gasp!) you forget to take a picture? This pork belly will do that to you! A sizable piece of juicy pork belly is nestled upon a bed of black beans, tomato, and onions. I mean, need I say more? This dish is best shared, in my opinion, since pork belly can be pretty fatty, but if you want to eat the whole thing yourself, who am I to judge?
New Options I Can't Wait to Try
1. Raclette Swiss Cheese with Baby Potatoes, Cornichons, and Baguette, The Alps
Yep, you heard me right. Melty, gooey, Swiss cheese is melted and scraped off the wheel onto roasted baby potatoes. I'm already envisioning myself dipping that baguette into the cheese and feeling extremely happy. I have a feeling this is going to be a very popular option this year!
2. Sweet Corn Fritter with Fresno and Red Pepper Jelly, The Donut Box
The Donut Box isn't slated to open until October 1st, but I'm guessing it'll be worth the wait. I've never met a corn fritter I didn't like, and I think the spicy-sweet combination of this dish will put it over the top! Also at The Donut Box: Strawberry-dusted Yeast Donut Holes. Did they just go 2/2? Yep, I think so!
3. The IMPOSSIBLE Cottage Pie, Earth Eats
I know Earth Eats was at Food & Wine 2018, but I don't remember seeing the Cottage Pie on the menu! I'm a fan of IMPOSSIBLE products; these meat alternatives are made with pea protein and whey protein, and mimic real beef. Though they're not much healthier than ground beef, they're a fun alternative! The cottage pie is filled with carrots, mushrooms, and peas, and is topped with mashed cauliflower (yes!!!), white beans, and mozzarella. I'm a shepherd's pie lover, and this seems like a fun take on a classic.
What dishes and beverages are you looking forward to experiencing at this year's Epcot Food and Wine Festival? Let us know your thoughts in the comments, or on Facebook or Twitter!
Did you like this article? Make sure to share it with your friends! Check below for easy ways to share!
Want to visit the Walt Disney World Resort? Contact The Magic for Less Travel for more information and a free, no-obligation quote.