This post may contains affiliate links for your convenience. If you make a purchase after clicking a link we may earn a small commission but it won't cost you a penny more! Read our full disclosure policy here.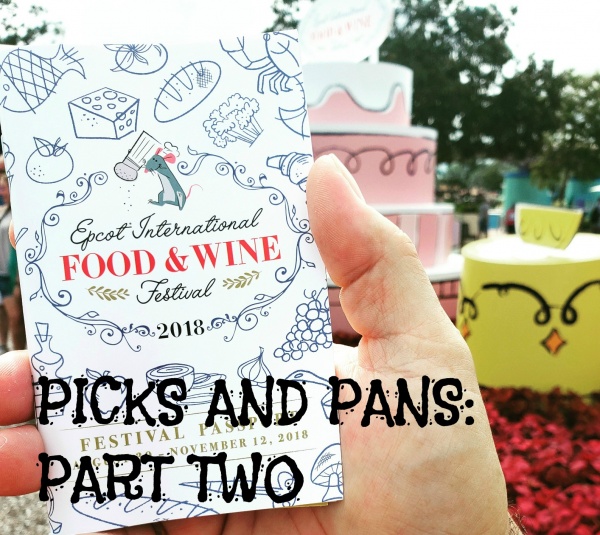 I hope you all got a good few nights sleep, and had a light breakfast this morning.  Welcome to day two of the Epcot International Food and Wine Festival. If you followed my opening day plan, you will be waiting at the rope in Norway at 10:45 a.m. East half of the lagoon is ahead of us today, plus the rest of the World Showcase Promenade. No more intro necessary, let's eat!!
GERMANY
Schinkennudeln…Pasta gratin with ham and onions. This dish has so much potential, but not this time. Woefully under seasoned. PLEASE make this better, Germany!
SPAIN
Charcuterie in a Cone…Super cute and shareable. Nice hard cheeses, spicy sausage and briny olives. Worth it.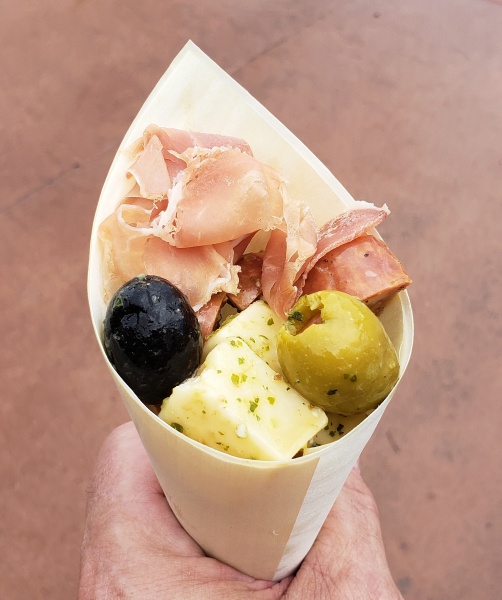 Spanish Paella…Just terrible. Long grain rice(wrong kind) and no flavor. Dry sausage and chicken. Please don't.
Seafood Salad…Very fresh seafood in a light marinade. Mussels, shrimp and scallops. Adorable and delicious.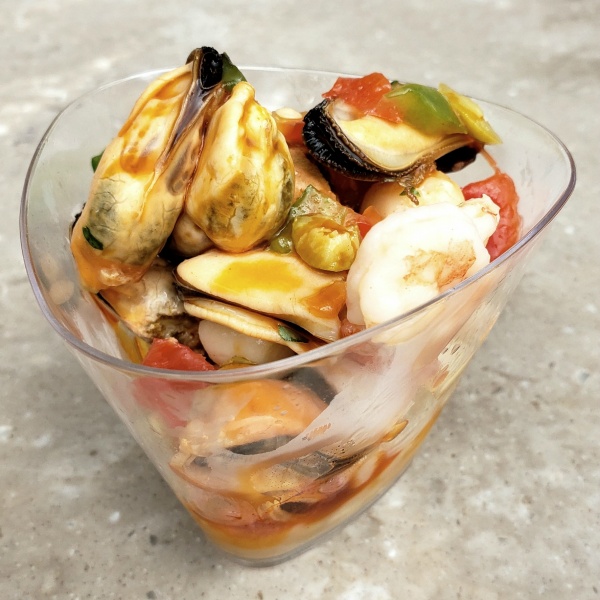 AFRICA
Barbere Beef Tenderloin…So much potential, but no flavor. Lots of it, but not very good. Pass.
Spicy Ethiopian Red Lentil Stew…My best in show last year at the Epcot International Food and Wine Festival. Same great flavor, but my lentils were mush this time. I'll give it another try, you should too.
INDIA
Warm Indian Bread…Think mini bread service from Sanaa! Fluffy bread. Mango salsa was good, pickled garlic was great! Nice and Shareable.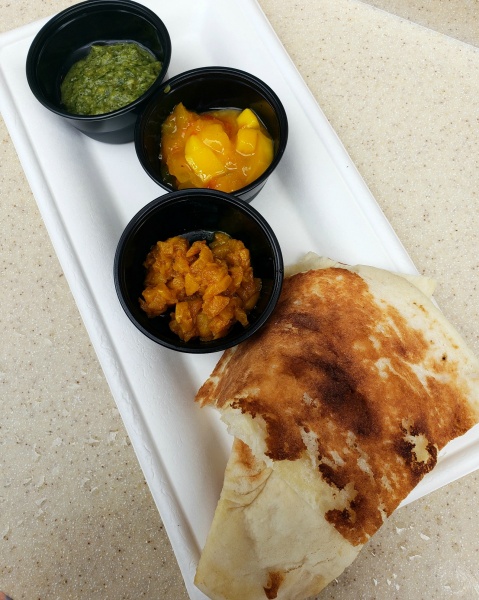 Korma Chicken…Juicy thigh meat. Spicy cumin scented sauce. Tomato garnish finished nicely, and more of that bread!! Good dish.
CHINA 
Chicken Dumplings…Same ol', same ol'. But that's a good thing! Yummy.
Duck Bao…Steamy moist bao. Rich duck coated in hoisin. Small but good. Do it.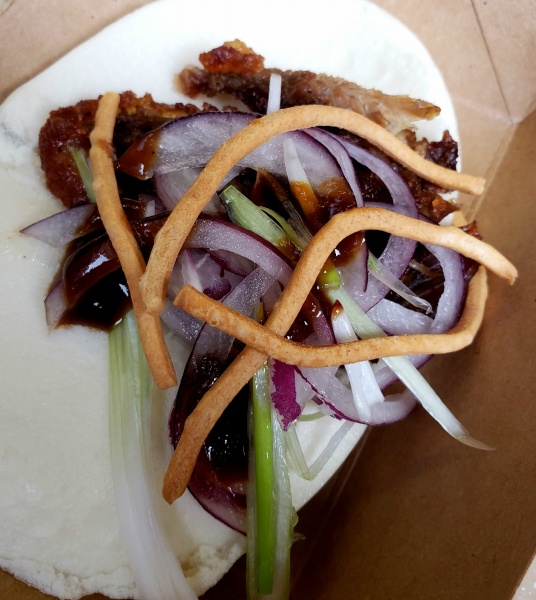 Black Pepper Shrimp…Very crispy and tender shrimp. The noodles again sell it, chewy in a good way. Seriously spicy. Yes!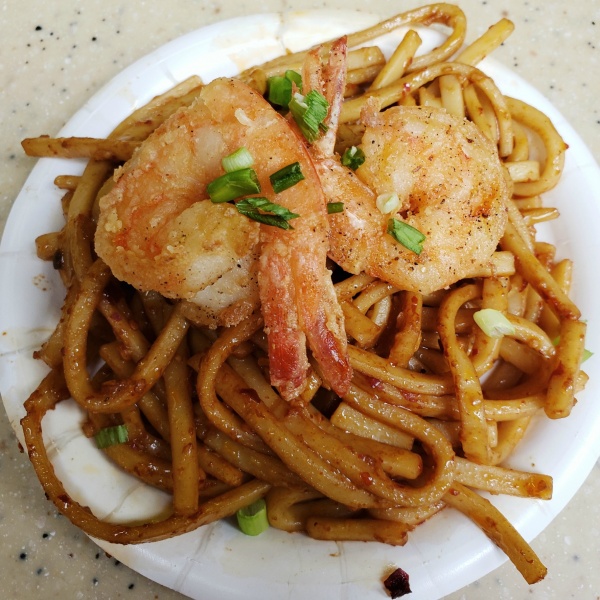 MEXICO
Short Rib Tostada…The beef is braised to perfection. Black beans are creamy and cumin scented. Fresh spring onions and a brilliant salsa verde garnish nicely. That tortilla though…I can't even describe how crunchy it was. This simple dish is probably my best in show.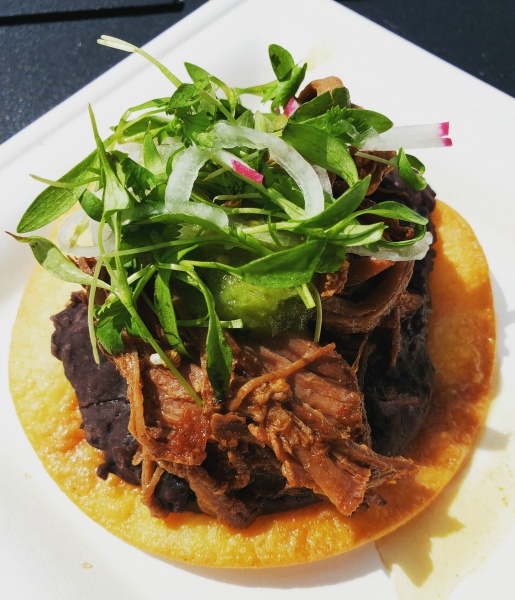 Shrimp Quesadilla…Then there is this. Probably my worst in show. Painfully bland and completely lacking in texture. Just awful. The guajillo sauce was earthy and spicy. I would eat it on anything, but it could not rescue this dish. Please don't.
Coconut Rice Pudding…Simple but satisfying. Tart mango coulis cuts nicely. Notes of cinnamon. Big winner.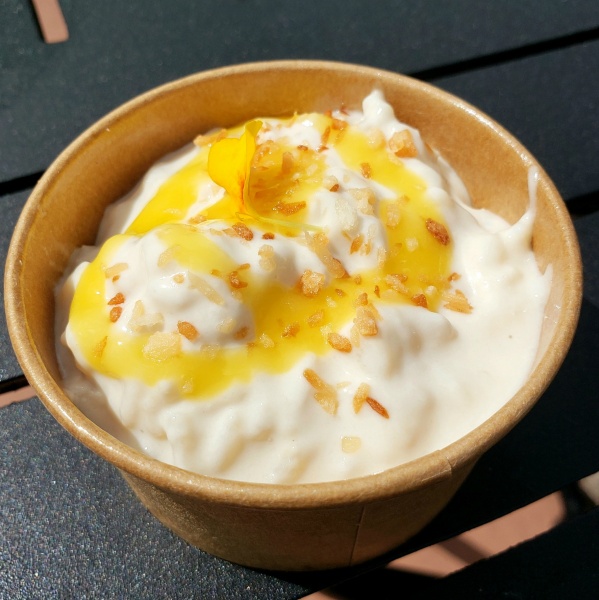 THAILAND
Seared Shrimp and Scallop Cake…Well seasoned and moist cake. I like it. The chilled noodles could be served by themselves as their own dish. Worth trying.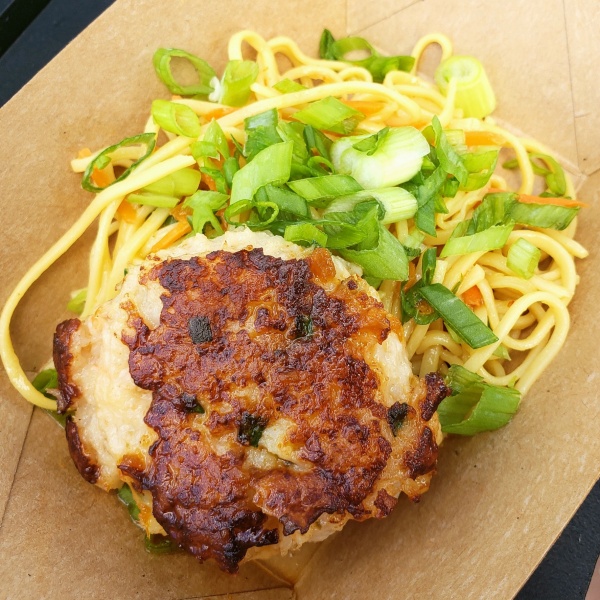 HAWAII
Grilled Tuna Tataki…Super fresh Ahi with a light sear. Pickled veg added a much needed sharp bite and the wasabi tied it up in a neat little bow. Give me more. Small but delicious.
Terriyaki-glazed Spam Hash…If you like Spam, you will love this one. Seared with potatoes, peppers and onions in a sweet soy-based glaze. Comfort food 101. Love this returner.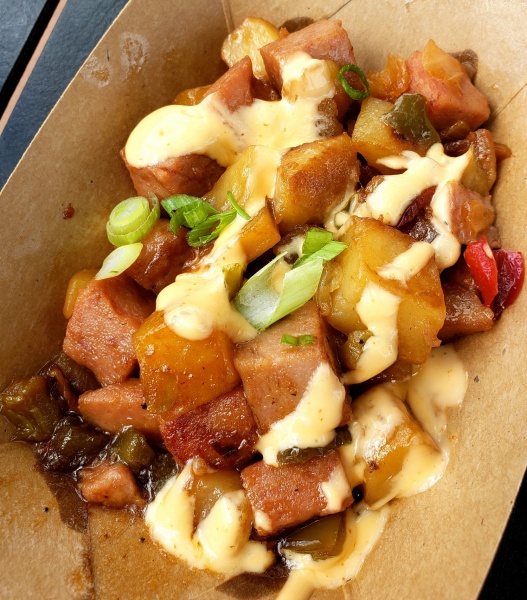 Passion Fruit Cheesecake…Creamy smooth texture to this cake, but not a lot of flavor. Toasty macadamias are a nice topper. Just ok.
AUSTRALIA
Grilled Lamb Chop…Always solid. Tender and fatty, grilled to a medium-rare. Decent mint pesto. Odd crumble of potato chips on top. Worth it if you are a lamb fan.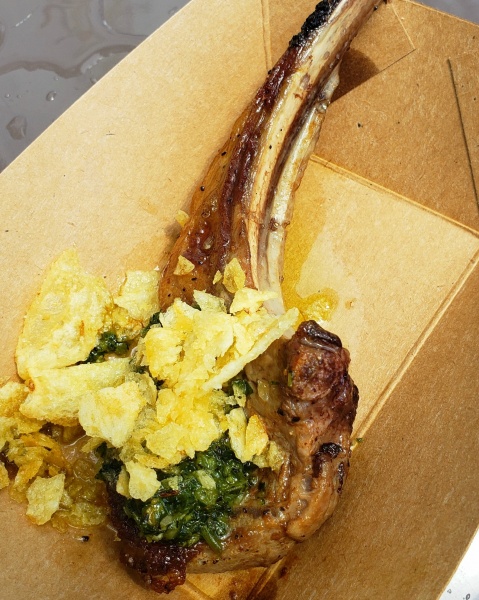 Lamington…This is a classic. Chocolate dipped yellow cake coated in toasted coconut. All. Day. Long.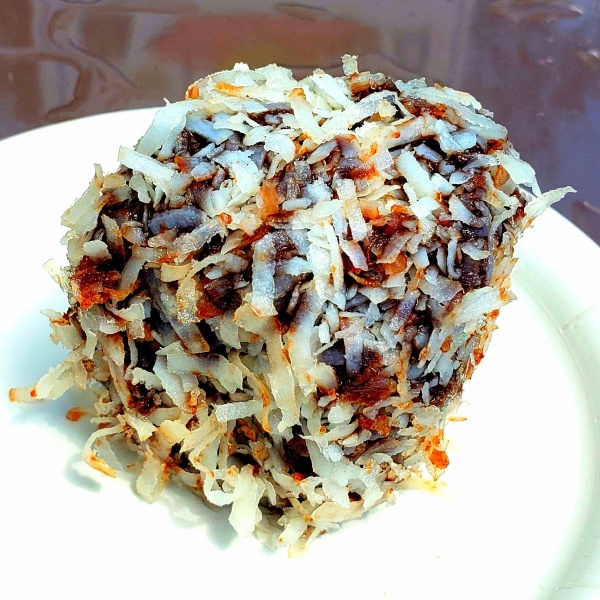 NEW ZEALAND
Lamb Meatball…Grainy textured meatball. Tomato chutney was sweeter than I care for. Pastry shell was sogged. Pass.
Venison Sausage…Well made sausage in a very good marsala mushroom sauce. Squash puree was flavorless. Not bad overall.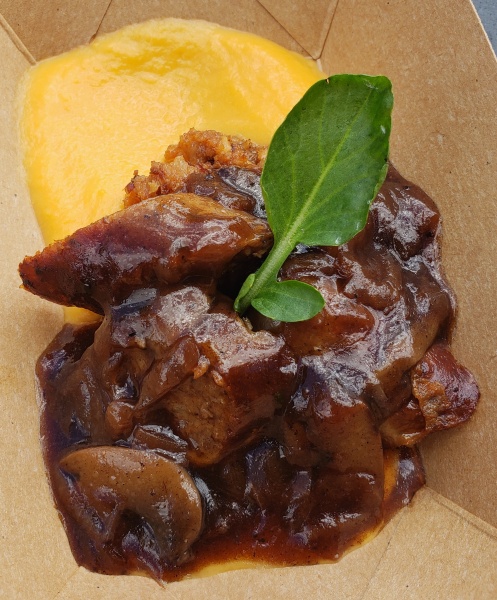 WINE AND DINE STUDIO
Seared Scallops…Nice sized Scallops. Very exotic mix of mushrooms. Tons of truffle in the celeriac puree. Restaurant quality. Excellent.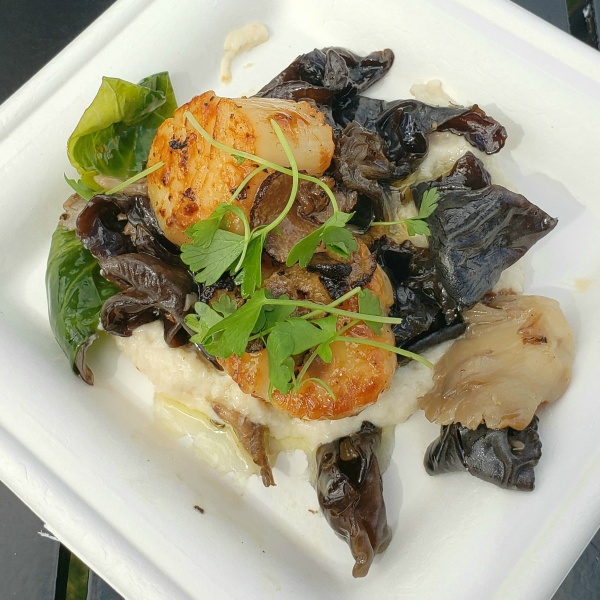 CHEESE STUDIO
Braised Beef Stroganoff…Stop the presses! More braised beef! But this one, this one. The noodles are like spaetzle and a little toothy, SO good. Mushroom sauce is enriched with an herby cream cheese, and that house pickle friggin sings! Oh ya, the beef rocks too. Top few.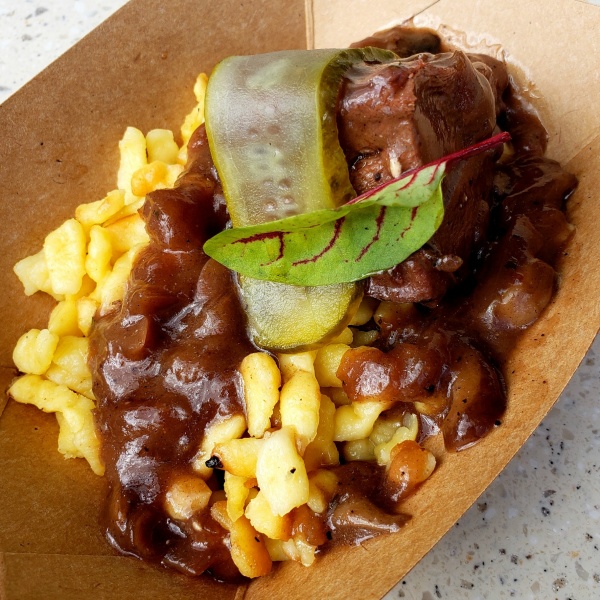 Wow. That was a LOT of food. I was able to hit almost every Epcot International Food and Wine Festival kitchen at least once, and try everything on my list. Just to sum things up, here are my top 5 and bottom 5:
BEST BETS:
Short Rib Tostada, Mexico
Black Pepper Shrimp, Japan
Seared Scallops, Wine and Dine
Beef Stroganoff, Cheese Studio
Impossible Burger, Earth Eats
NOT SO GOOD:
Paella, Spain
Shrimp Quesadilla, Mexico
Beer-braised Beef, Belgium
Lobster Roll, Hops and Barley
Beef Tenderloin Tips, Africa
Overall, the quality of food that is produced in these tiny kitchens is more than commendable. However, I thought there was a complete lack of creativity shown by the powers that be during the off-season. Very few new dishes, and no new kitchens during this year Epcot International Food and Wine Festival. Still tons of fun, but I am expecting better next year.
As I've said before, I don't think you necessarily have to do the Epcot International Food and Wine Festival in two days. In fact, I don't even really recommend it. It's a lot of "work." I had a few runners with me, so it made my life easier (thanks honey!) Try to pick a handful of kitchens from my list and have them for your early lunch. Then maybe sneak in a few more later in the day as a snack. That late afternoon time slot might be a good time to visit a couple of the promenade kitchens. I hope my "favorite" and your "must try" lists overlap a just little so you can streamline your day.
Remember to pace yourself and stay hydrated (Yes, this means water. ugh) So, fill your pockets with fresh napkins, stick a fork behind your ear, and snack on!! Next up for me is Festival of the Holidays and Mickey's Very Merry Christmas Party in early December. Only about a 100 shopping days left, so make sure to re-up your Prime subscription! I'm an extra-large, in case you were wondering, for presents!
Which of these kitchens are your favorite during the Epcot International Food and Wine Festival? Share in a comment below or on Facebook or Twitter.
Did you like this article? Make sure to share it with your friends! Check below for easy ways to share!
Want to visit Walt Disney World? Contact The Magic for Less Travel for more information and a free, no-obligation quote.