This post may contains affiliate links for your convenience. If you make a purchase after clicking a link we may earn a small commission but it won't cost you a penny more! Read our full disclosure policy here.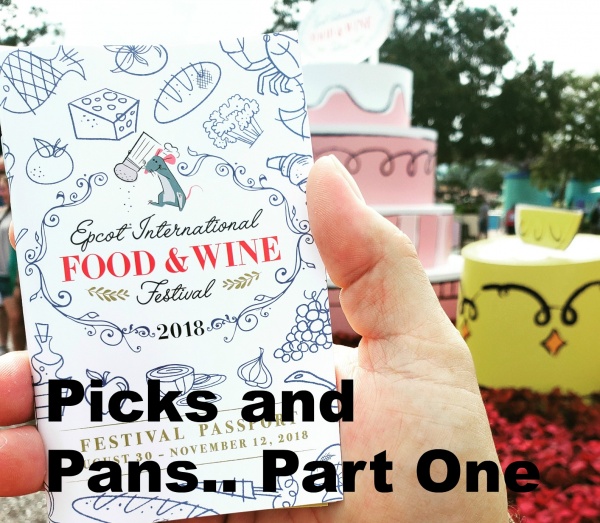 Welcome to Bloggerpalooza, otherwise known as opening day of the Epcot International Food and Wine Festival. This multi-month happening is a culinary marathon, but opening day is an event unto itself. If you are anxious to meet your favorite internet celebrity, then this day should be pinned on your planner. Every member of the Disney interwebs is here to be the "first" to review this year's new gustatory offerings. The problem is, "first" on the WDW scene is about 10 seconds in front of the next guy's retweet.  So, even though I am here for the starting gun, I am going to slow things down a little. Don't get me wrong, I'm still going to cram about 50 plates of food into this review, but I wanted to take a little more time to, er, digest my findings. If your current itinerary takes you to Epcot in the early days of this soiree, then I am sorry I couldn't help. But if you have plans to attend in the next nearly 75 days, then sit back and soak this in.
If you have read my past articles, then you already know this….start your day at the Epcot International Food and Wine Festival at 11:00 a.m.  As a matter of fact, make that 10:45 a.m.  Be that guy. I can't stress this enough. Be at the rope in Norway, or on the other side of the lagoon in France. When the whistle blows (there isn't really a whistle) you can bust it towards the American Adventure, and have about 6-8 kitchens to yourself for the first hour. After that, pick a direction, and make your way back towards Spaceship Earth.
There are 15 kitchens on the World Showcase promenade this year for the Epcot International Food and Wine Festival, and they will usually be busy. If you can have two days at the Epcot International Food and Wine Festival, it might be wise to split this area in half. Just pick and chose which kitchens have the shortest lines, and be a little fluid.   I started my first day in Italy. I wanted to give my countrymen a chance to redeem themselves. The food at this kitchen has been marginal at best for the last four festivals. I'll let you know how they did here in a second. I'm going to go pretty fast, so pay attention.  Let's do this!
ITALY
Pollo Alla Cacciatora…Braised chicken thigh in a generic red sauce. Very few veggies. Totally flavorless polenta. 8 bucks?? Nope.
Fritto Misto…Nice sized shrimp. Crispy zucchini. The sweet potatoes were a nice addition this year. Just ok.
HOPS AND BARLEY
New England Lobster Roll…Very well-made bread. I will leave it at that.  Expensive and small…and not very good. I wouldn't.
New Brunswick Slider…Literally one bite(ok, maybe two) A very good bite, but not worth the price. Horseradish is the key, but it couldn't put it over the top. Pass.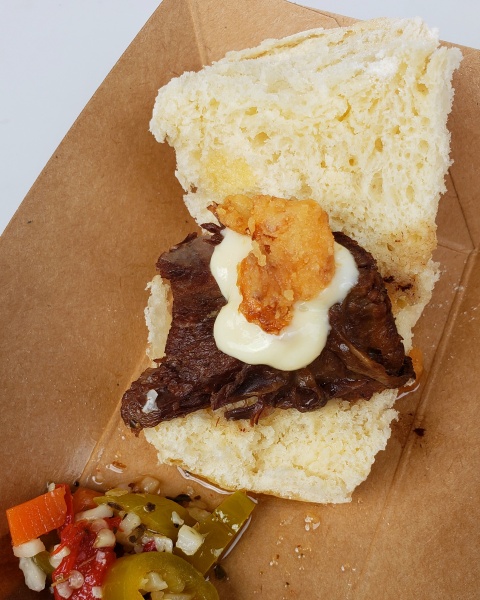 JAPAN
Teriyaki Chicken Bun…Perfectly chewy and light bun. The chicken filling is packed with sweet soy flavor. Excellent.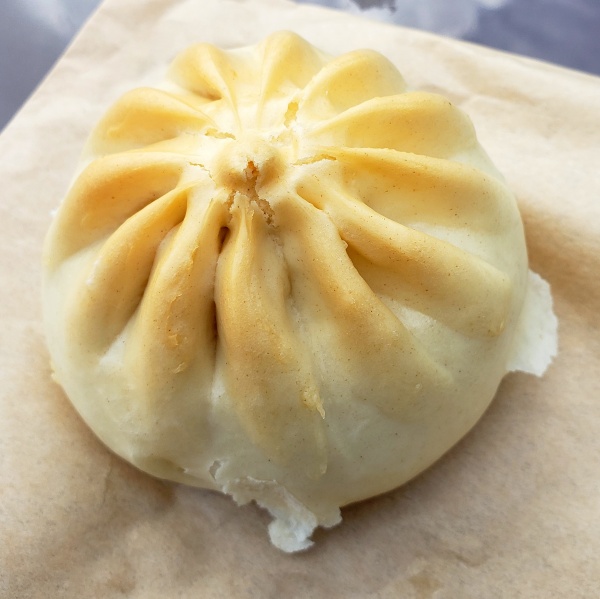 Beef Nigiri…Weird as all get out, but I like it. Roasted and rare sliced beef served on sushi rice. Pickled jalapenos and shrimp sauce add a great kick. Yes please!!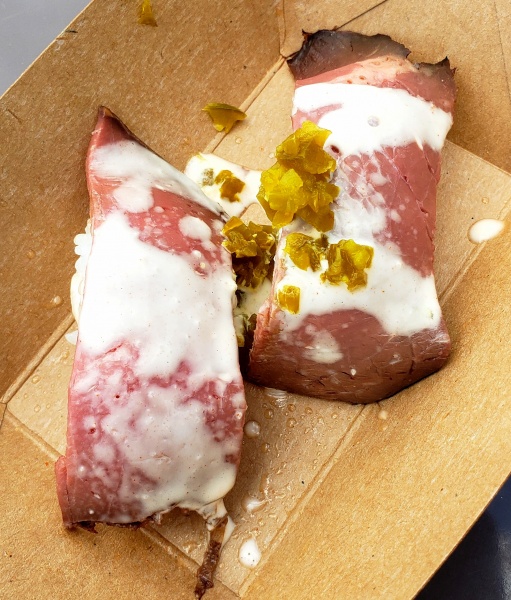 Spicy Roll…Freshly wrapped in well prepared sushi rice. The salmon and tuna filling is rocket hot and laced with sesame. Good size. Get everything in Japan. Please.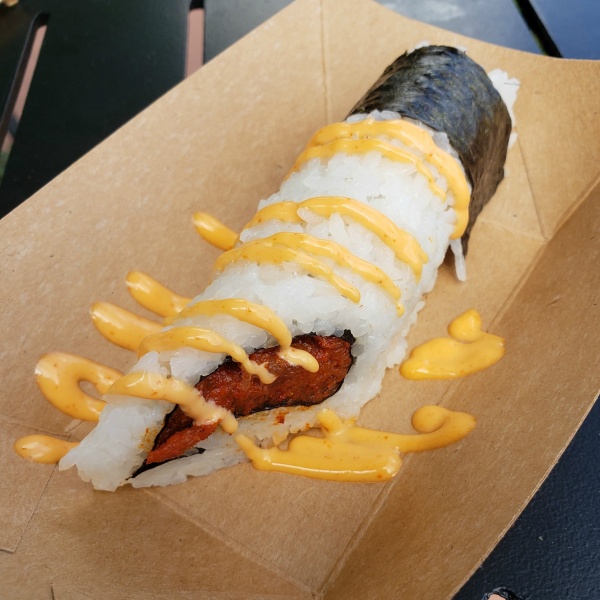 MOROCCO
Kefta Pocket…Very dry and under-seasoned beef patty. Slaw was crunchy and cool. Great pita. Pass though.
Hummus Fries…Basically a lighter version of falafel. Spicier than last year, but I'll allow it. Tzatziki and cukes cool things nicely. Love. This. Dish.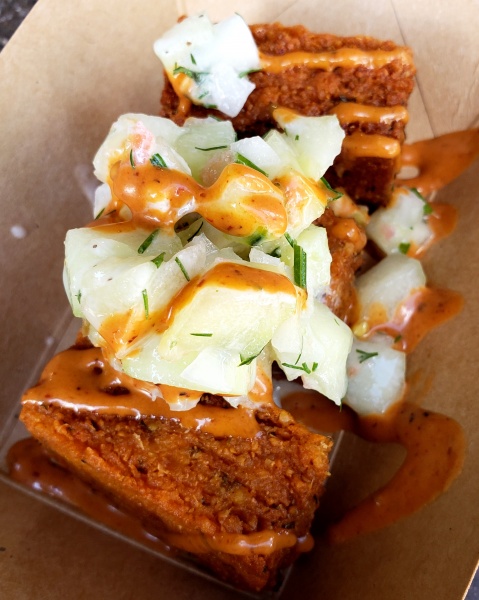 Chocolate Baklava…Nice and rich chocolaty almond filling. The shell is a little hard, so grab a knife. Worth a try.
BELGIUM
Beer-braised Beef…Not a fan. Beef was ok. Oddly acidic sauce. Boring mashers. Want beef?…head to France..or Canada.
Belgian Waffle with Warm Chocolate Ganache…Serviceable waffle. House whipped cream. Quality chocolate. Nice.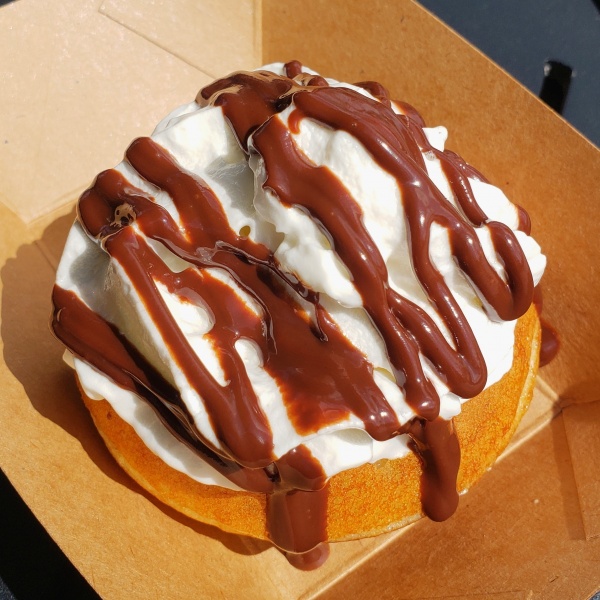 BRAZIL
Moqueca…Seafood stew. Fresh fish, shrimp and scallops. Lime tartness pops in the coconut sauce. Micro cilantro is a genius. Excellent dish.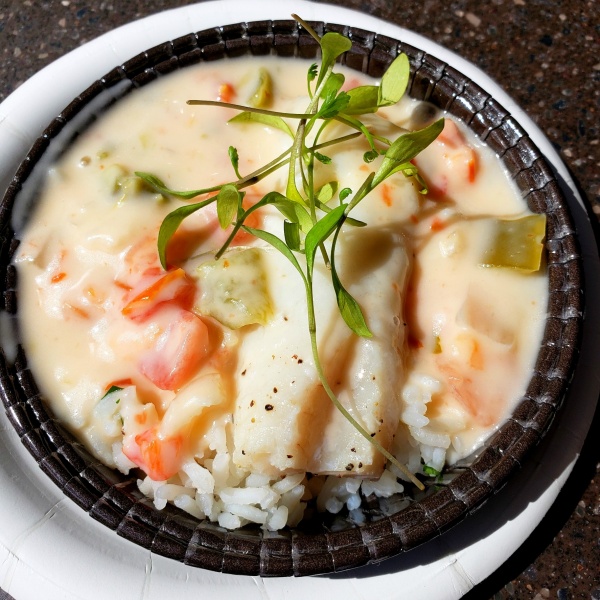 Crispy Pork Belly…What more is there to say? Crunchy fatty pig. Firm, yet creamy beans. This is a must do. And a must repeat.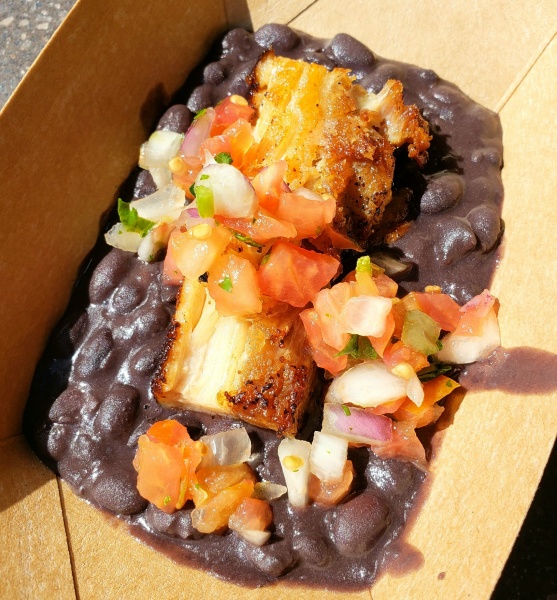 Pao de Queijo…Brazilian cheese bread. Not sure what cheese they used, but it kills. Puffy and chewy like a popover. Try and eat less than half a dozen of these during the Epcot International Food and Wine Festival, I dare ya.  Huge winner.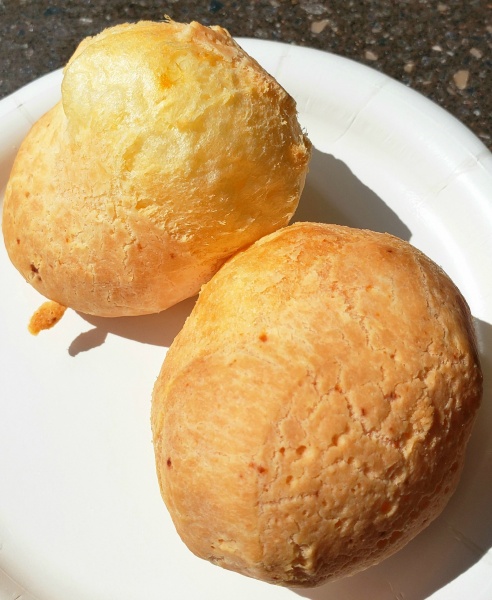 FRANCE
Carbonade de Boeuf…Excellent braise on this beef. Bacon smokes this sauce just a little. Great mashers. Winner.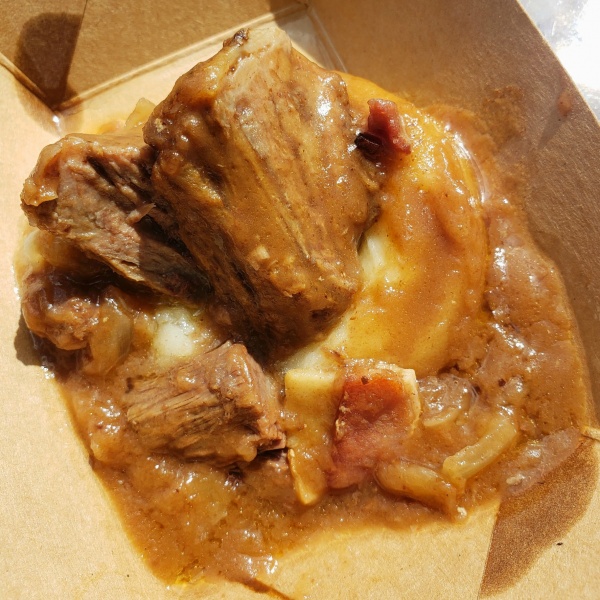 Crème Brulee…Excellent version of this French classic. Velvet. Raspberry jam inside, and a crackly sugar on top. Perfect.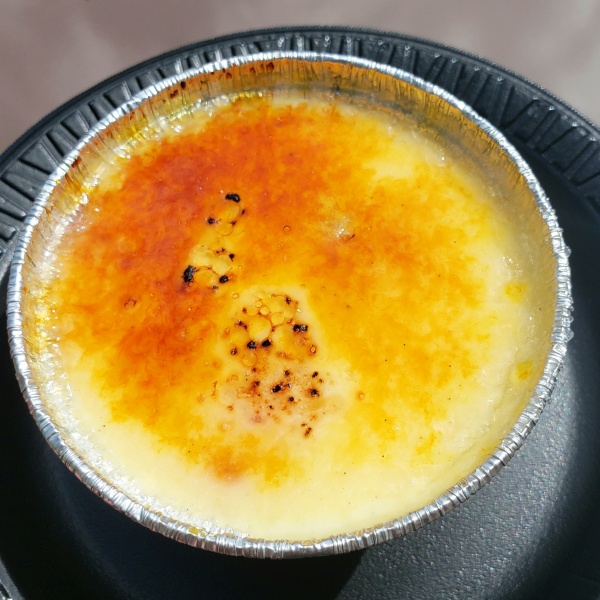 IRELAND
Warm Irish Cheddar and Stout Dip…Just like it sounds, and it's awesome!! Ask for more bread, or a straw, or a bib. Great shareable.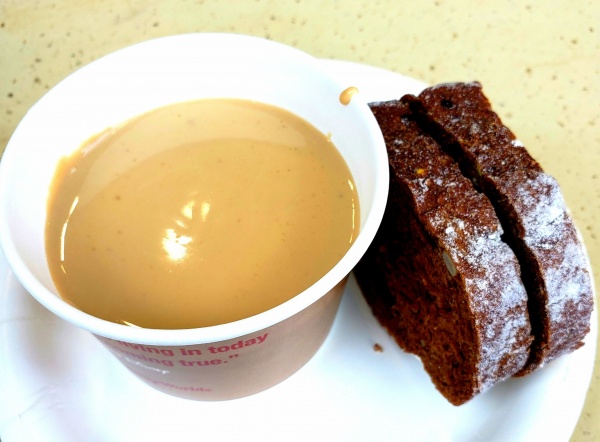 Warm Chocolate Pudding…Think molten chocolate cake. Gooey and densely chocolate. Irish cream crème anglaise is on point. Yes please.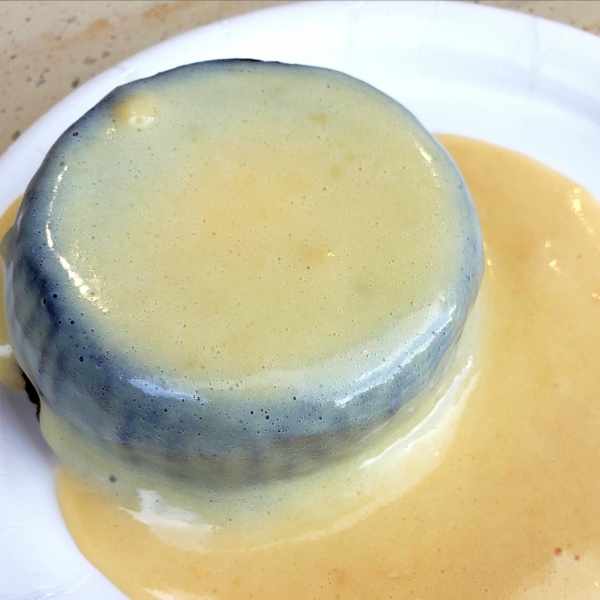 CANADA
I passed on this kitchen this year. The beef here is ALWAYS a hit. I am not a fan of the Cheddar Soup, but I am in the minority. By all means visit our neighbors to the North with my blessing.
The next few kitchens are scattered around the area between Future World and World Showcase.
FLAVORS FROM FIRE
Piggy Wings…A favorite returner. Actually, a piece from the shank, these are roasted to a gentle tug. Spicy Korean glaze is sticky in a good way. Love these!
Charred Chimichurri Skirt Steak…Great texture on the beef. The corn cake is fluffy with a little crispy edge. Pickled veg pop. Nice dish.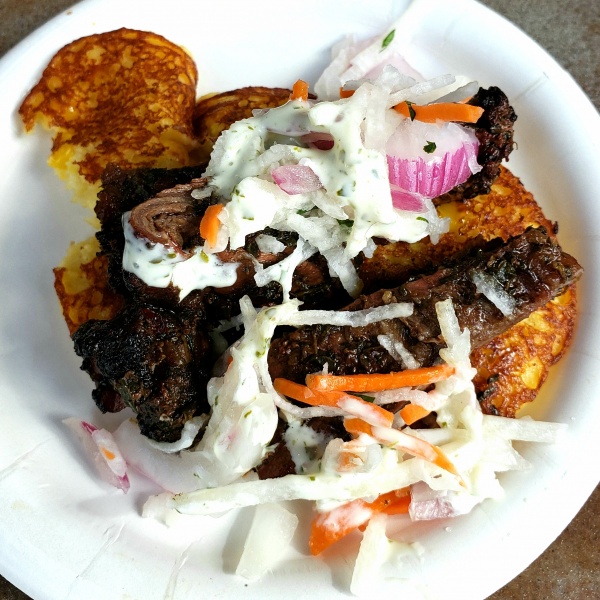 Chocolate Picante…Dark chocolate mousse with a cayenne kick. Unbelievable four biter. Mangos for the win. Excellent dessert. Maybe the best.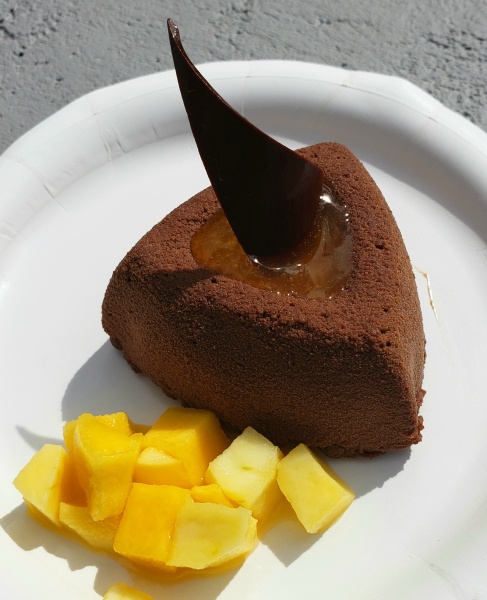 EARTH EATS
Steakhouse Blended Burger…Very beefy patty. That brie cheese fondue is money. The truffle and bleu cheese potato chip adds the perfect crunch. Winner
Impossible Burger Slider…I wrecked this vegan slider. And I would do it again. And again. Fabulous Asian slaw. Get it. Trust.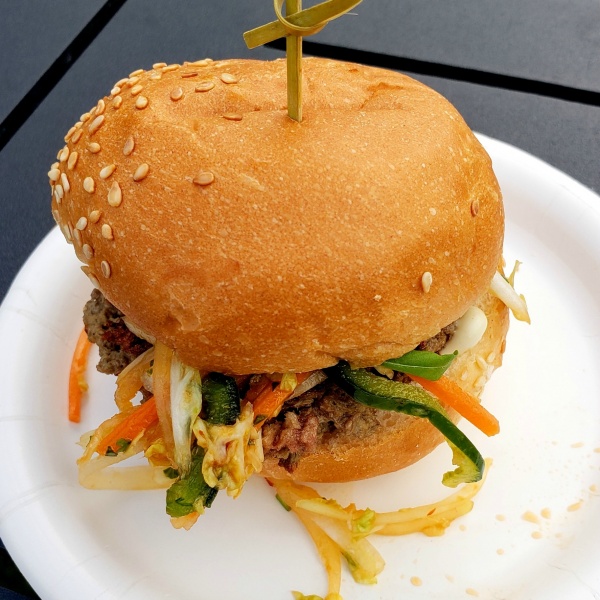 COASTAL EATS
Lump Crab Cake…Good size, decent flavor. Love the Napa cabbage slaw. Avocado crème helps. Not bad.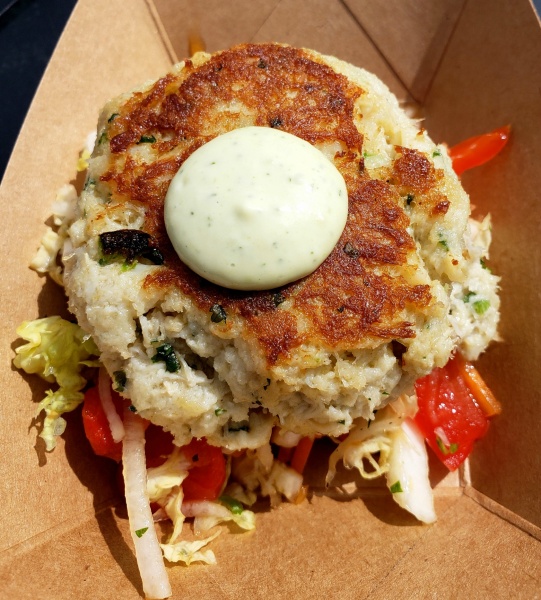 Seared Scallops…Small, but fresh and sweet little mollusks. The butterbean succotash killed again this year. Easy recommend.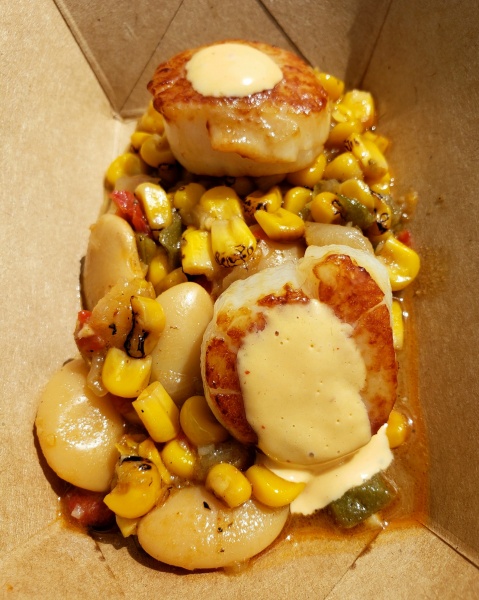 Day one of the Epcot International Food and Wine Festival in the books. I'm going to head to the Stormalong Bay to sweat this one off. I'll be the one laying on a pile of greasy receipts and plastic forks. Stay tuned for part two. See you all for part two! We will start in Spain..get some rest!!
Have you visited Epcot during the Epcot International Food and Wine Festival this year yet? What were your picks from these marketplace kiosks? Share in a comment below or on Facebook or Twitter.
Did you like this article? Make sure to share it with your friends! Check below for easy ways to share!
Want to visit Walt Disney World? Contact The Magic for Less Travel for more information and a free, no-obligation quote.