This post may contains affiliate links for your convenience. If you make a purchase after clicking a link we may earn a small commission but it won't cost you a penny more! Read our full disclosure policy here.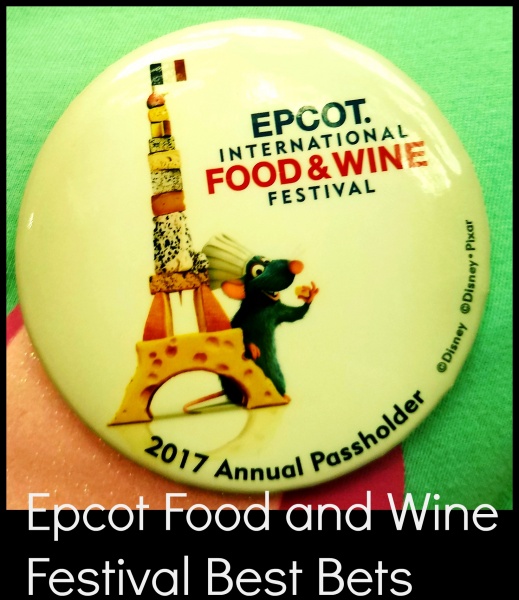 Welcome back to the second day of your epic food tour of the World Showcase during the Epcot Food and Wine Festival. I hope you are well rested after day one. We will again begin this session on the southside of the lagoon in front of the American Adventure. This time we will head east toward Italy. As a reminder, try and get here for the Epcot Food and Wine Festival as close to 11:00 a.m. as possible, you will thank me.
As I write this, I am realizing that not all of you treat the food festivals in Epcot as the Culinary Olympics. It is not your lifelong quest to achieve legendary status as the foremost authority on all things food. I tend to over-do it a bit, I know this. I just want you to have all the information you need to narrow your choices, and maximize your fun. So humor me.
Here we go again with the remainder of the booths for the Epcot Food and Wine Festival, this time starting with our actual country of origin.
ITALY….Crispy Calamari     Usually my 8yo daughter, Giada's, favorite. Not this time. Bland breading. OK Pomodoro sauce. Soggy presentation. Sorry, my countrymen, gotta try harder.
Spezzatino con Polenta     This returner hits the mark. Flaky tender chunks of beef in a deeply flavored stock-based sauce. The creamy polenta(another Giada favorite) is cheesy and al dente. Grab one and climb the stairs to the balcony overlooking the lagoon. Molto buono!
SPAIN….Charcuterie Cone    This is a cute take. Salty cured pork products, olives, hard cheeses and an herby pesto-like vinaigrette, all wrapped in a paper cone. Inventive and yummy.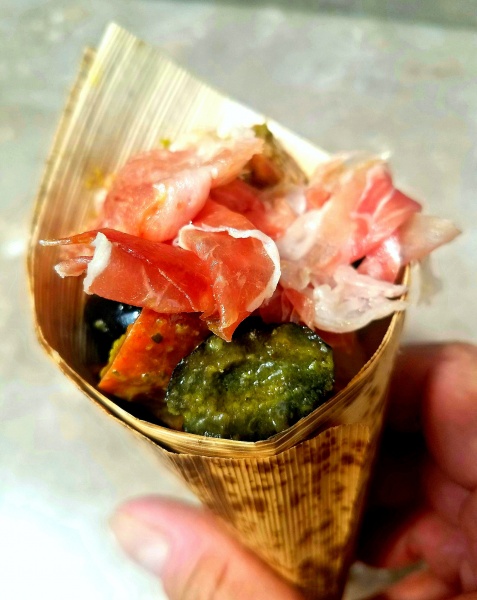 Spanish Paella    Long grain rice is used here, a huge no-no. Not only that, it has no flavor. This dish is dry and bland. Almost no seafood. Just awful. Please don't.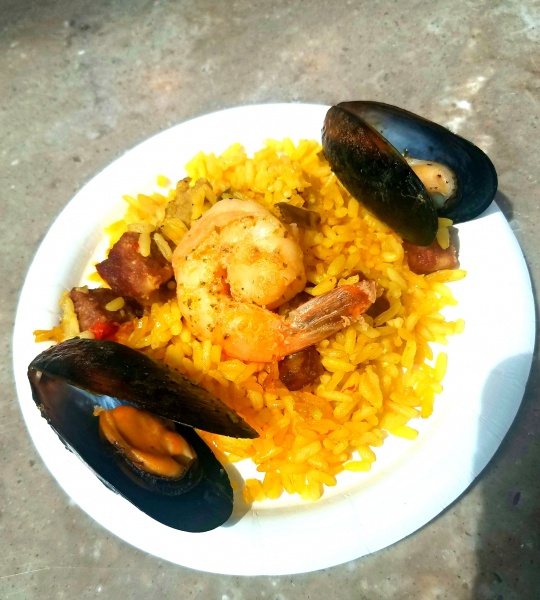 GERMANY….Schinkennudeln   German mac 'n cheese. Cheesy noodle casserole with ham is perfect for the kids and the non-adventurous. Great carb load for an evening of drinking, if you so choose.
AFRICA….Spicy Ethiopian Red Lentil Stew    If you have read me at all, you know I am the opposite of a vegan. But this little face-free entry blew my doors off. Easily my best new dish of the year. Toothy lentils. Smoky cumin-scented broth. Chewy quinoa. And to top it off, a cooling dollop of vegan yogurt. YES!
CHINA….Roasted Duck Bao Bun    Classic returner. Perfect steamy ultra-white bun. The duck is tender and fatty. Duck fat… Duck fat! Plummy hoisin sauce finishes this little sandwich. Must do. Every time.
Chicken Potsticker    Standard issue dumplings, but very good. Giada loves them. You might as well grab some with your duck. Oh, and some chopsticks.
MEXICO….Ribeye Taco    Should be a slam dunk, but no. Tender but grey strips of beef. Ok tortilla. Bland Chipotle sauce. Disappointing.
Tequila Chipotle Shrimp Huarache     Really juicy and plump shrimp. The cabbage and crema are nice garnishes. The Spanish word huarache means shoe. This version is just that. Impossible to eat with a plastic fork. Pass.
THAILAND….  Marinated Chicken   The chicken is poached, and a little sad looking. I liked it, but not very eye friendly. The peanut sauce is fantastic. Crispy stir-fried veg are a nice garnish. Huge portion. Worth a try.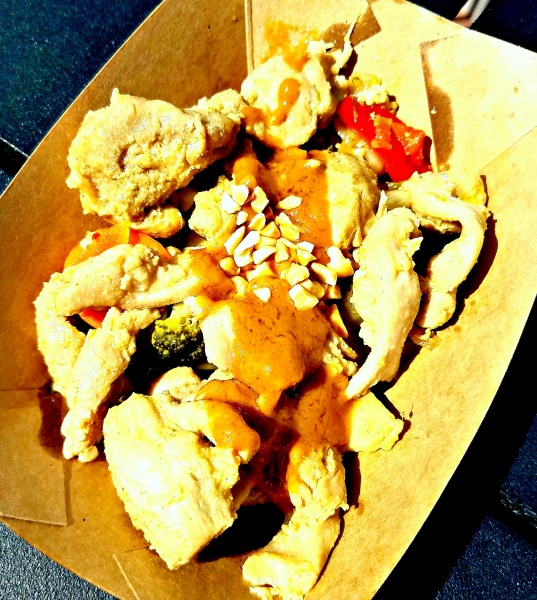 Seared Shrimp and Scallop Cake    Crispy on the outside, fluffy and seafoody inside. Really unusual, but yummy. The chilled noodle salad would stand up on its own if offered that way. Great dish!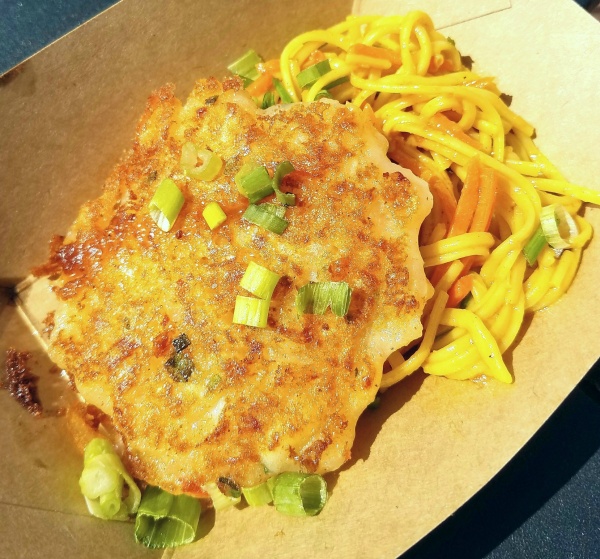 FARM FRESH…  Crispy Chicken    Chicken thigh is used here, and it is pretty decent. The cornbread is dry, and the redeye gravy is bland and gloppy. Pass.
Roasted Beet Salad     Perfectly roasted beets, crispy fresh green beans, and spring greens. The vinaigrette is made with the trendy Minus 8 vinegar, and is spot-on. The kicker here is the salty feta. Yum. Extra spicy walnuts are a highlight, too.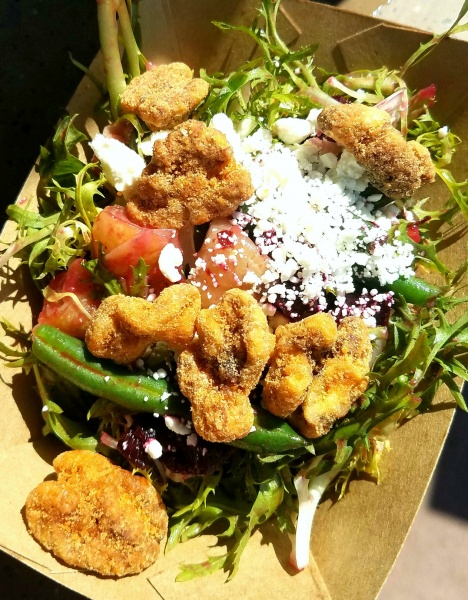 HAWAII…    Kalua Pork Slider    A stalwart of the Showcase Plaza. Eat this every time you pass by. Every year.
Grilled Tuna Tataki    This replaced the longtime favorite Poke' very nicely. Seared fresh tuna is slice thin and raw in the middle. Seaweed salad makes a nice base for the fish. Wasabi cream pops on top. Excellent value.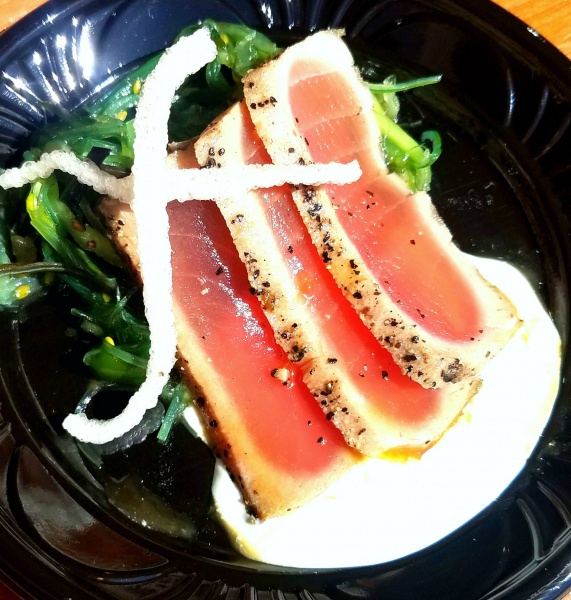 Teriyaki Glazed Spam Hash      My second favorite new dish. Spam is the poorman's pate', and I would eat it at every meal. Every day. For the rest of my life. This hash has tender/crispy diced potatoes, fresh bell peppers, onions and a Sriracha mayo. Killer. If there was a sunny-side-up egg on top of this dish, I would actually sleep there.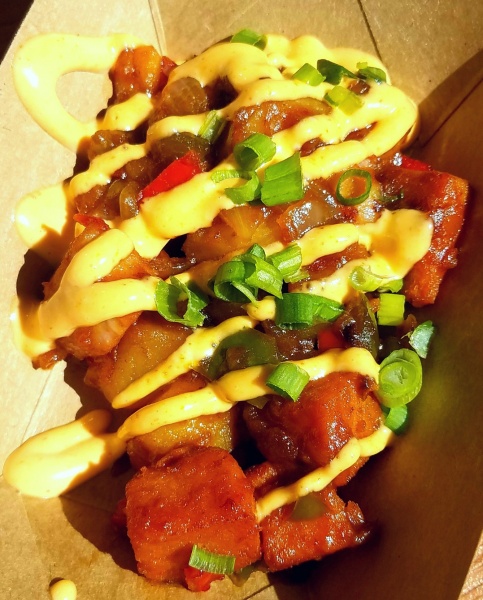 ALMOND ORCHARD….   Cauliflower Risotto    Chunky cauliflower replaces the Arborio rice in a nice spin on this classic dish. Pulled chicken breast, artichokes and spinach garnish. Well played. Recommend.
Fire Roasted Tomato Hummus    Good not great. Totally worth it to share, though. Very beer-friendly (just threw that it in, all the food is pretty beer-friendly to me) Love the crackers.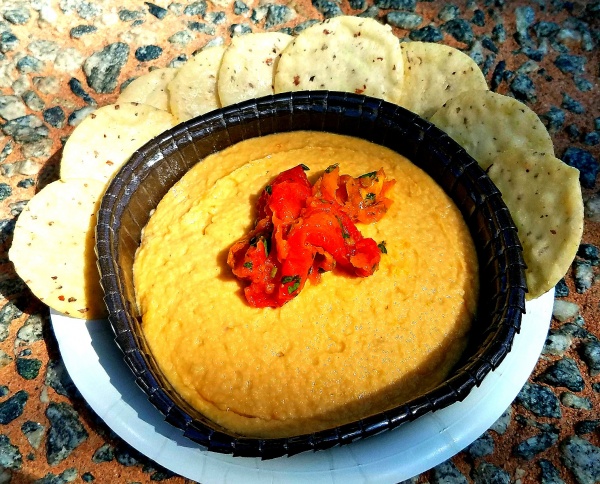 Banana Almond Sundae    Pureed frozen bananas make up the ice cream. Tart fresh berries offer an excellent contrast. Crunchy/chocolatey oats to top. Huge portion. Best new dessert!!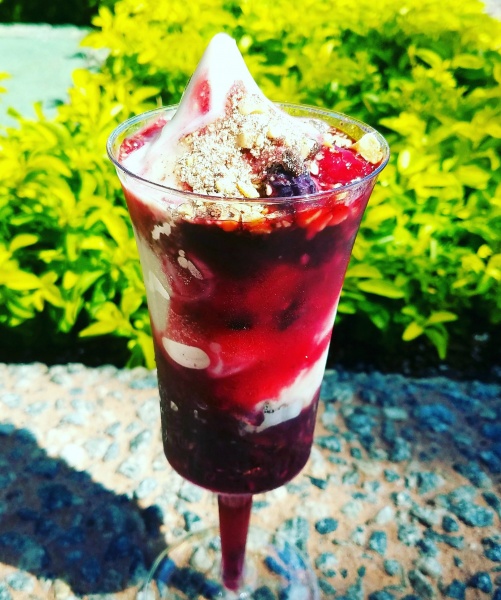 AUSTRALIA….    Lamington     I've written about this little three-biter so many times I'm running out of stuff to say. Yellow cake is soaked in chocolate, and rolled in toasted coconut. I think we had 6 this year, up from 5 last year. I dare you to eat just one! If you really want to defy my plan, and eat something before you head to the American Adventure in the morning, I will allow this. Only this.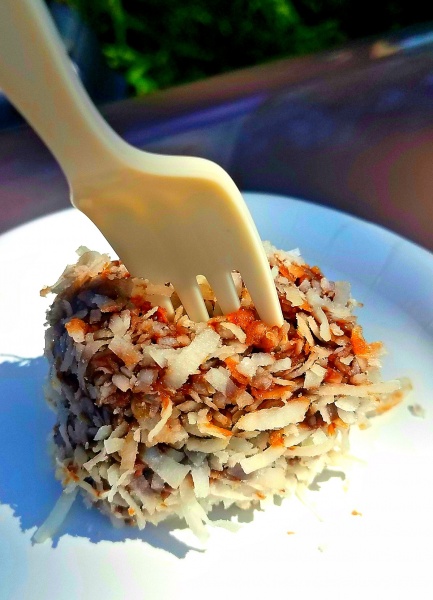 NEW ZEALAND…    Lamb Meatball      Very good returner. Juicy and lamby. Decent size. Killer tomato chutney.
LEGACY SHOWPLACE (ODYSSEY BUILDING)…     Cheeseburger and Macaroni Handwich     This is pretzeled bread shaped into a cool little cone. Stuffed with charred ground beef and cheddar macaroni. Very fun concept. Worth traversing the bridge.
Chilled Scotch Egg     Hard-boiled egg wrapped in sausage and deep fried. Sounds great. Not this one. Uber dry and flavorless. Sorry Chef. Impossible to finish.
I hate ending on a sad note. But, I do feel that it is just as important for me to tell you what I didn't like at this year's Epcot Food and Wine Festival, as it is what I did. I am really not that hard to please. I seriously try to give the Chef the benefit of the doubt, especially when cooking conditions are less than desirable.  The overall quality of the food at this festival is fantastic. It always is. Quite frankly, the success rate of all the outdoor kitchens throughout the year is impeccable. There are always a few misses though, and I feel it is my duty to warn you.
So, after two grueling days, this culinary journey has come to an end. If you followed my advice, I know there are two things to be true for this year's Epcot Food and Wine Festival: your belly is full of tasty treats, and your pockets are full of sweaty receipts and greasy napkins. I hope you enjoyed my recommendations, and I also hope you found some favorites of your own. My next adventure will be in November/December for Candlelight Processional, a holiday party, and all things Christmas!!
What are your favorite dishes from this year's Epcot Food and Wine Festival? Share them in the comments.