This post may contains affiliate links for your convenience. If you make a purchase after clicking a link we may earn a small commission but it won't cost you a penny more! Read our full disclosure policy here.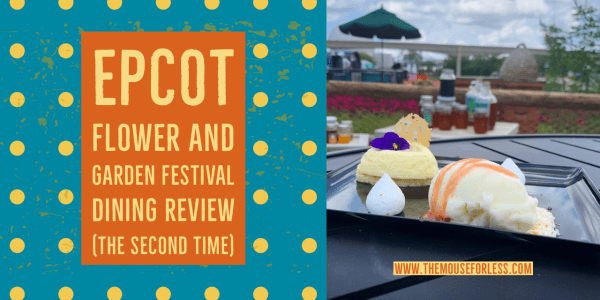 This past weekend, I made a quick trip over to Epcot while taking a getaway down to Daytona to celebrate Mother's Day with my mother-in-law. She had asked to go to Epcot with me, since she knows what a huge Disney fan I am and she wanted an expert to take her around. (She hasn't been since 1994!) So, of course, I happily obliged!
One thing I was excited to show her was the Epcot Flower and Garden Festival. I knew she'd love to see how beautiful the park is this time of year. Of course, we also made sure to hit up a few food booths along the way, and this time, I tried a number of new to me options! (And one favorite). So, I thought I'd share my thoughts. (See my thoughts from my first visit earlier this year, here.)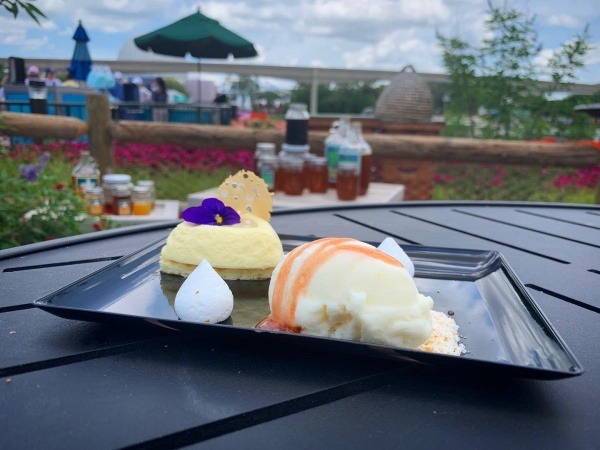 The first booth we stopped at was the Honey Bee-stro. I wanted to try the cheesecake that everyone had been raving about. The cheesecake, which was a Local Wildflower Honey-Mascarpone Cheesecake with Orange Blossom Honey Ice Cream garnished with Fennel Pollen Meringue Kisses and Petite Lavender Shoots was good, but I didn't think it was exceptional. I certainly didn't understand why everyone's been raving about it. I thought it was very creamy and it did pair nicely with the orange flavored ice cream that came with it. I definitely think it's worth trying, but I had another dessert option that I ended up thinking was WAY better. More on that in a second.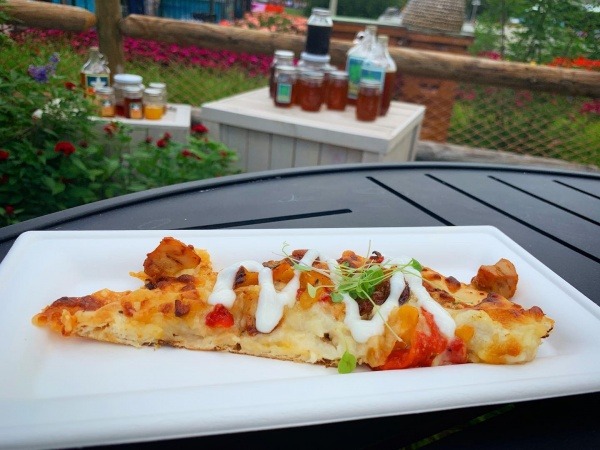 I also tried the Honey Tandoori Chicken Flatbread with White Cheddar Cheese, charred vegetables, Clover Honey Sour Cream and Micro Watercress. Now this was exceptional. I could have eaten a full flatbread of this! The flavors meshed perfectly, which sweet and savory. It was delicious and when I head back to Walt Disney World for Memorial Day Weekend, I will be getting this again. (But Disney…please consider adding this to the menu somewhere when the festival is over….maybe Sunshine Seasons. I think it would fit in well there!)
Speaking of something that I'll be getting again in a week, we moseyed over to the Northern Bloom booth by Canada. The dish that we tried that was new to me was the Griddled Maple Pound Cake with Warm Peach Compote and Sweet Corn Gelato. I was a lot hesitant on this, but my mother in law thought it sounded good, so I went with it.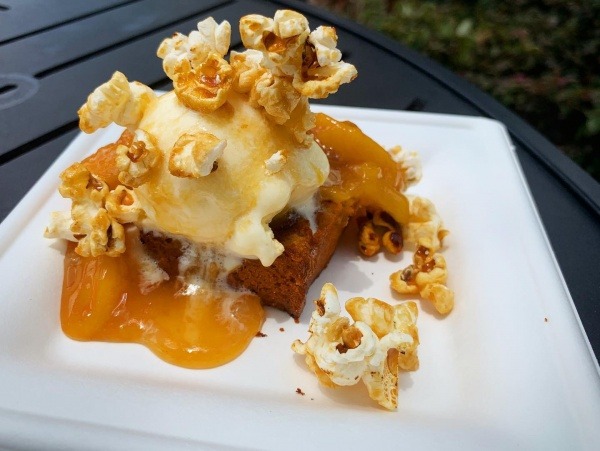 Holy cow! This is, hands down, I think my favorite dessert option at the festival. The maple pound cake tasted fabulous and it was served warm. I was a little anxious about the peach compote…while I like peaches, I don't love peach pie, but when it was paired with the cake, it was perfection. Mix in a bite of the gelato and the maple popcorn that was scattered on top and while this dish doesn't sound like it would work, it worked so very well. If you are looking for a dessert choice and this sounds at all like flavors you might enjoy, get it.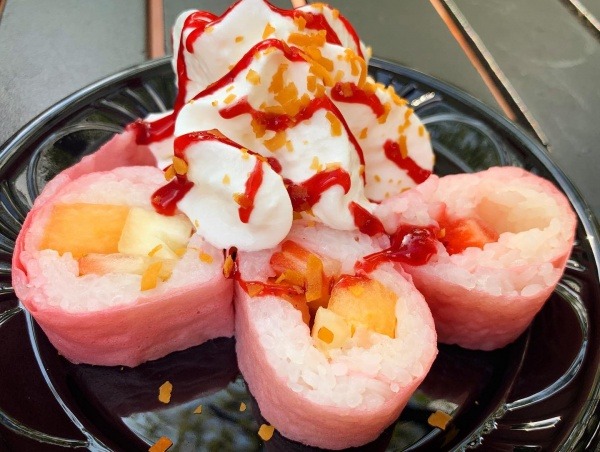 The last dish that we got is one of my all time favorites, but I hadn't picked it up this year yet. That is the fan favorite, the frushi from the Haniami booth near the Japan Pavilion. This is a springtime delight and it's easy to see why it's a repeat year after year. It consists of Fresh pineapple, strawberries and melon, rolled with coconut rice, topped with raspberry sauce, sprinkled with toasted coconut and served with whipped cream on the side. It's easily accessible for all ages and for even the pickiest of eaters.
With only a few more weekends to go until the end of the Epcot Flower and Garden Festival, I can tell you that things are in full swing. The booths are firing on all cylinders and lines weren't bad at all. (Though I suspect next weekend may be a lot different, with it being a holiday weekend.)
Have you experienced the Epcot Flower and Garden Festival this year? Which booth and dish were your favorites? Share them with us in the comments or on Facebook or Twitter! 
Did you like this article? Make sure to share it with your friends! Check below for easy ways to share!
Want to visit the Walt Disney World Resort? Contact The Magic for Less Travel for more information and a free, no-obligation quote.