This post may contains affiliate links for your convenience. If you make a purchase after clicking a link we may earn a small commission but it won't cost you a penny more! Read our full disclosure policy here.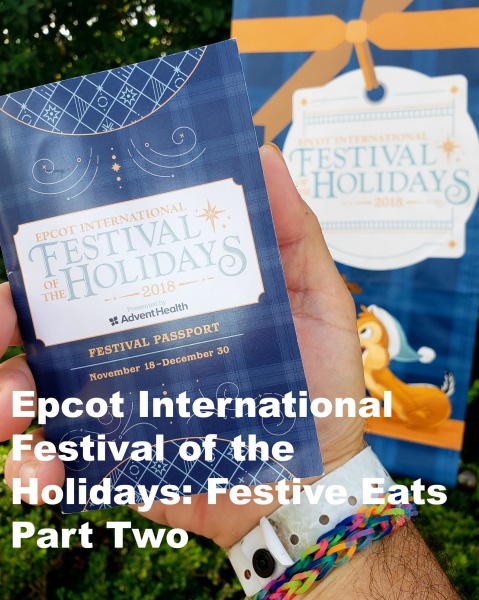 Welcome back for Part Two of my holiday trip around the world. One observation I have made from this event so far is that with only 11 outdoor kitchens, Epcot International Festival of the Holidays is very manageable in one day if that is all the time you have. This sort of undertaking would be impossible with the other jamborees offered in World Showcase, making this a nice, relaxing stroll around the circuit. So…take your time and enjoy the scenery(and the people watching!) We will pick things up in China, and head counter-clockwise on your map. Here we go!
SHANGHAI HOLIDAY KITCHEN (China)
Pork and Vegetable Egg Rolls…If you really want egg rolls, these are fine. Very typical. Don't forget to grab some hot mustard and sweet and sour sauce, that's always my play.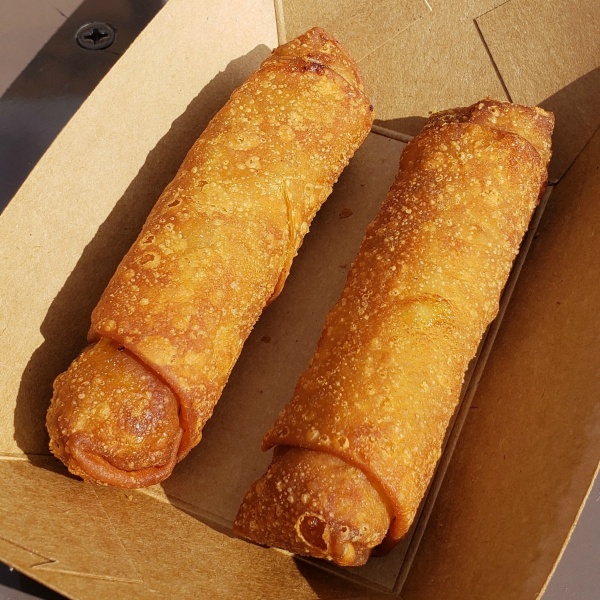 Mongolian Beef Bao Bun…Anything China wants to put in this steamy little bun is just fine with me. This oniony braised beef may be their best yet. Top 5.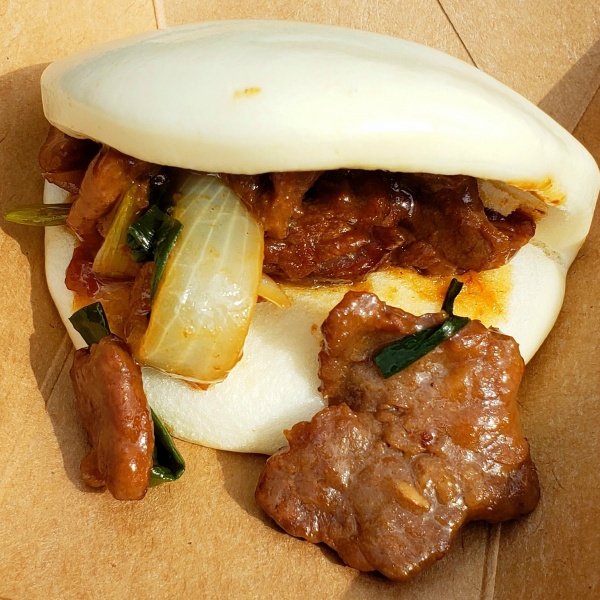 Celebration BBQ Pork…Think Chinese-American spare ribs. Braised to finish with a little sweetness. And yes, they are really that red. I would eat it again.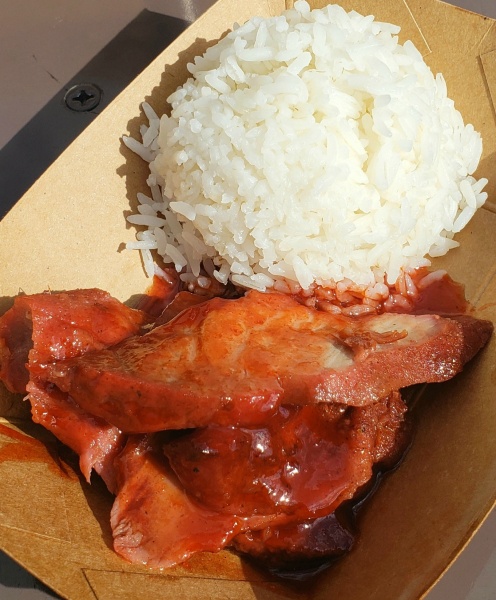 Spicy Mala Chicken…The chicken itself was amazing, but the sauce will make your day. Killer back-end heat. Craveable!
LAS POSADAS HOLIDAY KITCHEN (Mexico)
Enchilada de Pollo con Mole…Chipotle chicken filling was delicious, but the tortilla was a little difficult to navigate. Mole negro was nicely bitter, but a little too sweet. Just ok.
Tamal de Camaron…I don't think I have ever had shrimp in a tamale, but this was a good one. Toothy shrimp studded the fresh masa. Red mole had moderate spice, and wrapped this dish nicely.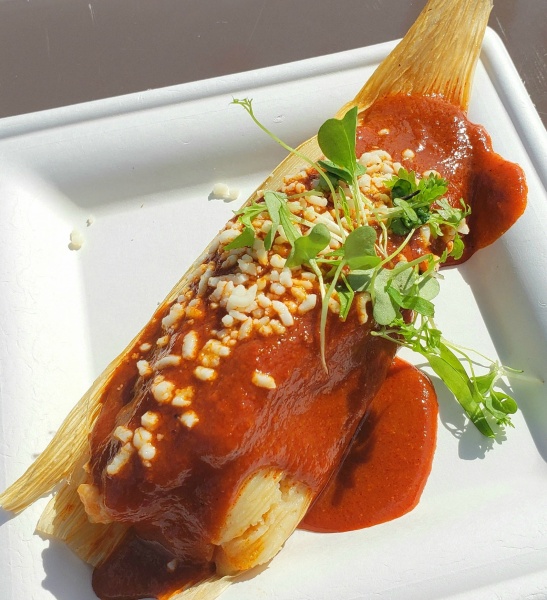 FEAST OF THE THREE KINGS (Promenade)
Pastelon…Taco pie? Kind of. Ground beef with sweet plantains and briny olives, all baked with a queso topper. Very good dish.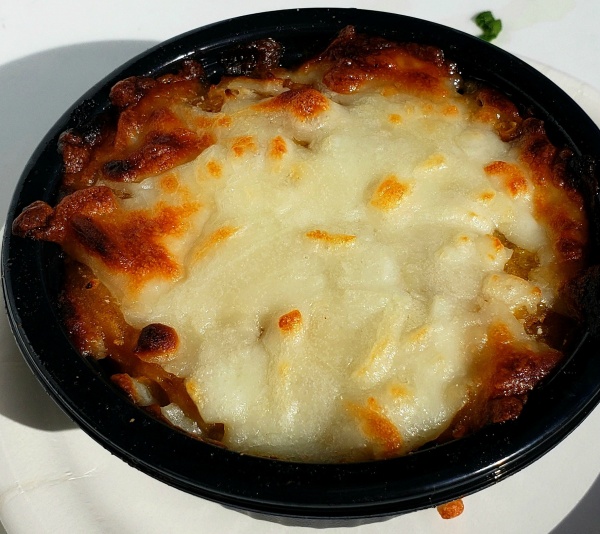 Queso Fresco-stuffed Arepa…Fresh and light. Poached and chilled shrimp paired well with the spicy/sweet tomato sauce. Crushed avocado to garnish, I'll take it. Worth it.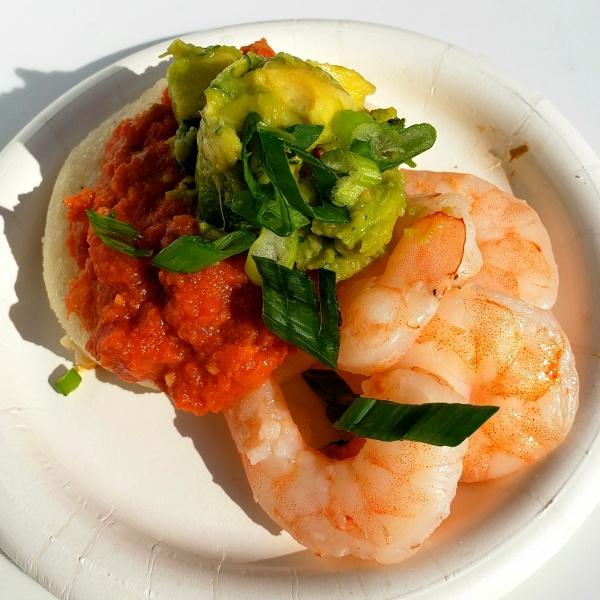 Arepas…Plain arepas topped with melted cheese. Looked white, tasted white. Bland as can be.
YUKON HOLIDAY KITCHEN (Canada)
Seared Salmon…Another great salmon dish from this festival. Crown Royal glaze was a sweet foil to this oily fish. Parsnip silk was just that, but needed salt. Ginger scented apple chutney stole the dish. Winner.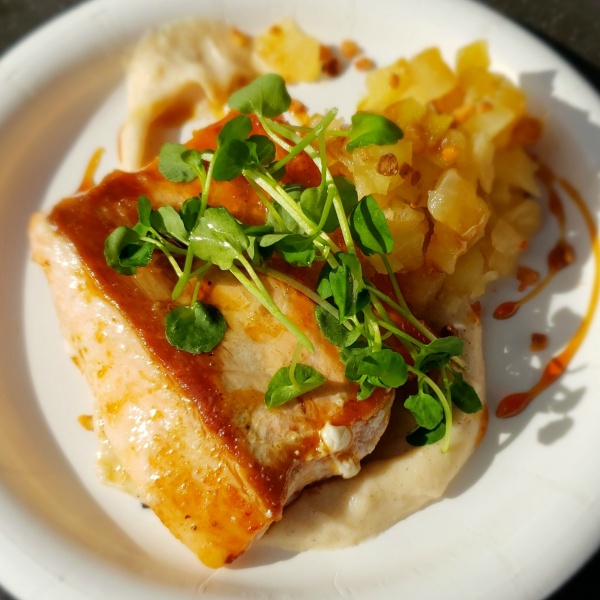 Traditional French Canadian Tourtiere…Meat pie, if you will. Decent filling in an ok crust. Meh. I wish they sold the house made ketchup in a quart jar! That said, can't recommend this one.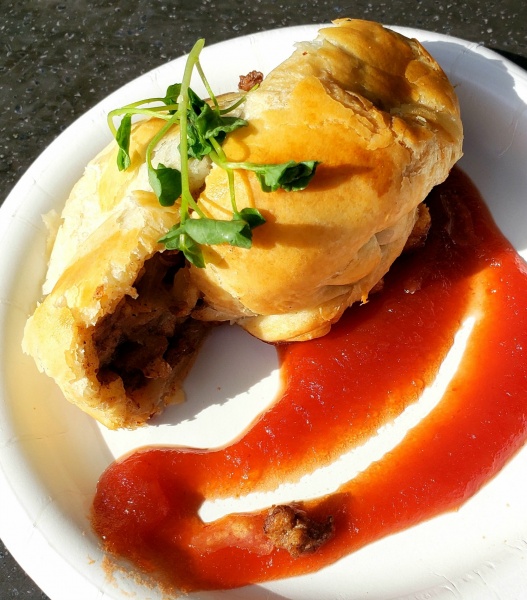 So wraps another successful culinary tour around the world. I have to say, food wise, this was as well done as any festival in recent memory. Granted, there are only a couple handfuls of kitchens to control, but the Chefs took advantage of this and really put on a quality show.
Apart from the outdoor kitchens, there are plenty of fun holiday activities for the entire family.
*Be sure to check out the Cookie Stroll, five unique creations located in various kitchens around World Showcase.  Make sure you get your passport stamped. Collect them all and receive a free completer cookie and a glass of milk. Well worth the ten bucks.
*As is the case with all festivals, there is a scavenger hunt. Chip and Dale's Christmas Tree Spree. Follow the boys around the world to complete your sticker map.  Maps are available at both shops on the promenade, and various spots around the World Showcase. Prizes this year are packs of adorable greeting cards, with various characters on the cover. A must do, and totally worth the $6.95.
*Last but not least, each country presents a Storyteller, charming us with the tales of their unique holiday traditions. Please do yourself a favor and try to make time for at least a few of these. There is no better way to spend a little family togetherness. Very good for the soul.
With Festival of the Holidays wrapped into a tidy bow, my sights are set on Epcot International Festival of the Arts in January.
Do you have a favorite Epcot Festival of the Holidays booth overall? Let us know in the comments, or on Facebook or Twitter!
Did you like this article? Make sure to share it with your friends! Check below for easy ways to share!
Want to visit Walt Disney World for the Epcot Festival of the Holidays? Contact The Magic for Less Travel for more information and a free, no-obligation quote.