This post may contains affiliate links for your convenience. If you make a purchase after clicking a link we may earn a small commission but it won't cost you a penny more! Read our full disclosure policy here.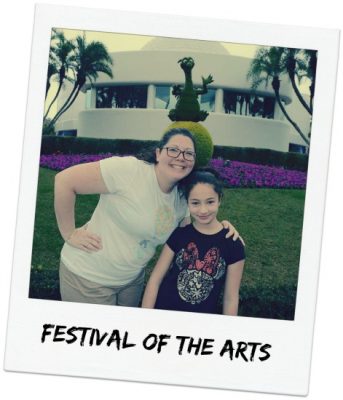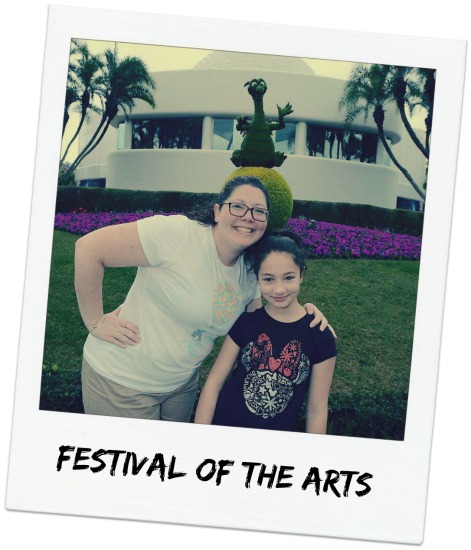 Today we are taking a look at the all new Epcot Festival of the Arts event. This weekend is the last weekend to experience the event. This is the first of two articles taking an in-depth look at the overall experience.
In all honesty, when I first heard about the Epcot Festival of the Arts I was not all that interested.  However, after I saw some of the offerings, I became super excited to check it out.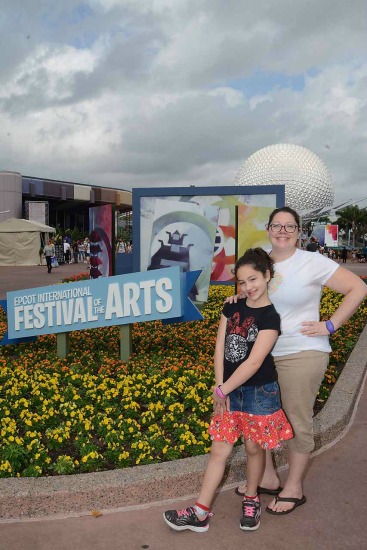 For a quick overview of this new event, we picked up a Festival Passport and a Times Guide to see if there was anything we didn't already know about. On our list of things we wanted to experience was the Living Statues, Animation Academy, Find Figment in Figment's Brush with the Masters and much more.  What festival is not complete without themed food and drinks?!  Oh yeah, and Disney does not miss an opportunity to promote via merchandise.  There was a special passholder shirt that I wound up going home with.  I am a sucker for this stuff.
The festival had different sections of the Arts: The Visual Arts, The Culinary Arts and The Performing Arts. The festival center is in the Odyssey.  Here they have two complimentary exhibits each day at 1:30 p.m. and 4:30 p.m.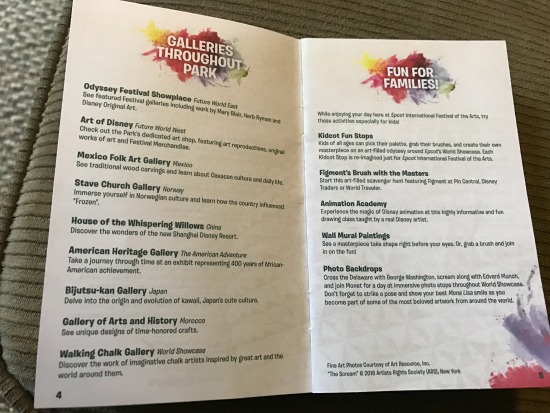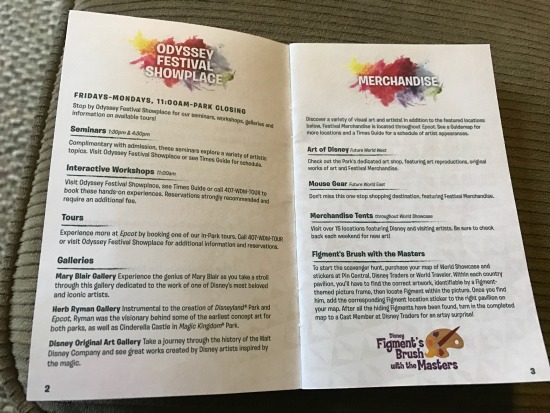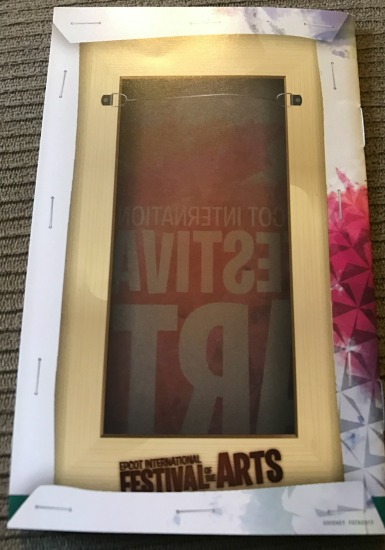 For the Epcot Festival of the Arts Visual Arts part, there were several options to engage in. One of our favorite were the Living Statues by the Fountain of Nations.  They each had a different themes and you could go take pictures with them.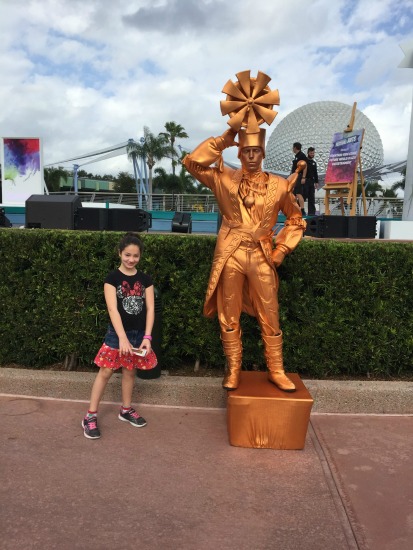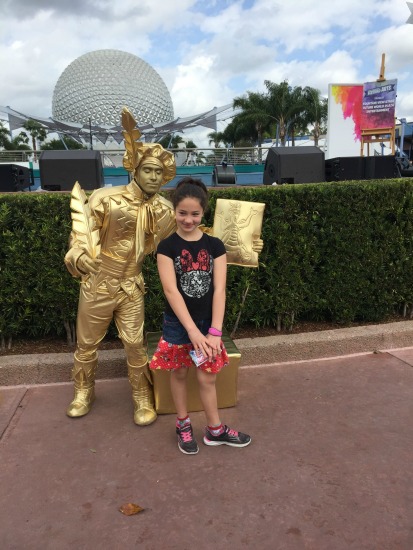 There were also tons of merchandise tents around World Showcase where artists were on hand to discuss and sign their artwork.  There were so many unique pieces there that I would have loved to have.  On the side heading towards Canada was a giant paint by number portrait.  You would go in line and get a cupful of paint with an assigned number, and then you were instructed to pain 5 squares of that color.  It was quite fun.  On your way out, they give you a postcard of what the finished product would look like.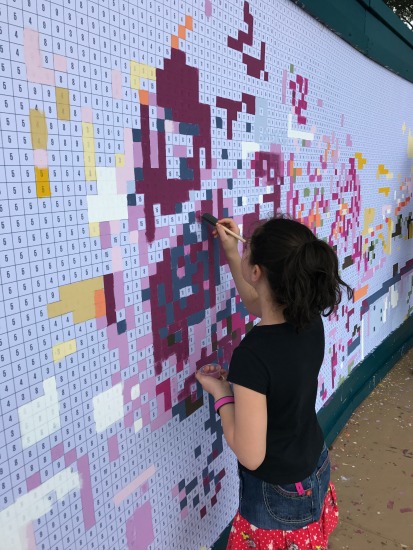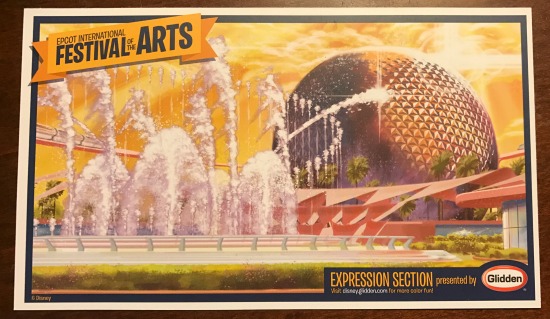 For the Performing Arts section of the Epcot Festival of the Arts, they had available on each night of the festival, Broadway performers showcasing some of their most popular songs. The weekend we were there, they had Ashley Brown (original Mary Poppins) and Josh Strickland (original Tarzan).  They do have Disney on Broadway dining packages available at several Epcot restaurants, which gets you reserved seating for one of the performances.  The times each night are 5:30 p.m., 6:45 p.m. and 8:00 p.m.  They also have various local choir groups that perform in the Odyssey and the phenomenal acapella group American Music Machine that performs several times daily on the Fountains of Nations stage.
The remaining weekends, for the Disney on Broadway performances, saw Kerry Butler and Kevin Massey February 3-6 performing songs from Beauty and the Beast, Newsies, Tarzan and Aladdin. And this weekend, from February 17-20, you will be able to catch Kissy Simmons and Alton Fitzgerald White performing songs from The Lion King, Aida, Aladdin and The Little Mermaid.
For the Culinary Arts, at the Epcot Festival of the Arts you are able to enjoy 7 different food booths called Food Studios with various offerings that all have an artsy flair. The items from the booth across from Mexico were delicious.  We had the Choriqueso Taco, the Huarache and the Passionfruit and Coconut Margarita.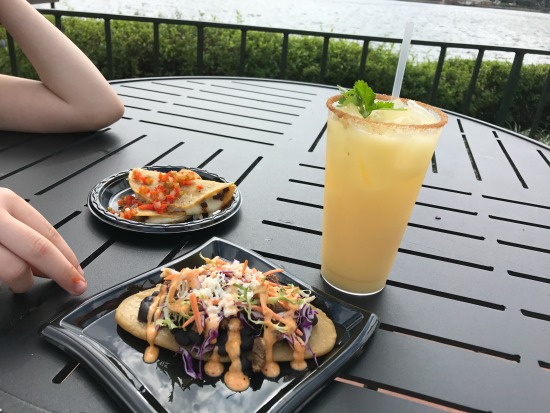 We tried getting some items from the Artists Table in the American Adventure, but because these dishes are art inspired, they take a little longer to prepare.  We also tried the White Chocolate Figment puzzle and the Pop't Art, which is a hazelnut-filled sugar cookie that is glazed from the Painter's Palette in the Odyssey.  The cookie was way too sweet and you could not taste the hazelnut filling at all.  The White Chocolate Figment puzzle was cute, it came with three little cups of paint so you could mix them together to paint Figment purple.  I also had a Pomegranate Mule and would not recommend it.  I love everything ginger and love Moscow Mules, but did not really like this twist.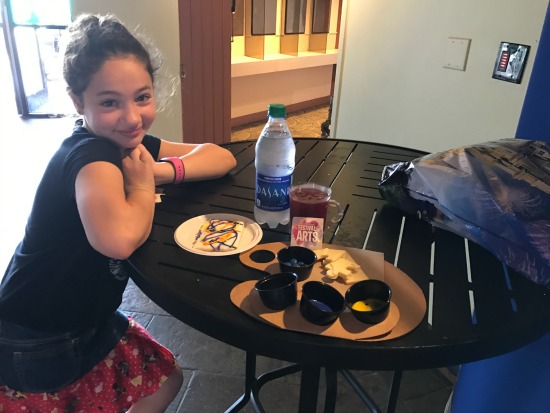 Then we headed to the Animation Academy.  We had a short wait for the next class and then went in and got to draw Tigger!  It was so fun.  We were big fans of the old Animation Academy and we hope this stays around permanently.  We have heard that if Disney hears enough positive feedback about it, they may keep it around.  So send those emails!!
Our approach to the festival was to head into Epcot and pick up the Figment's Brush with the Masters kits. We bought 4, so we could have all the magnets.  As we were heading there, we saw that there was a Figment topiary behind Spaceship Earth, so we took a quick picture there first.
We then started in Mexico and continued around the World Showcase in pursuit of the Figment paintings and Kidcot stops.  They also had a special Kidcot activity that was in the shape of a painter's palette.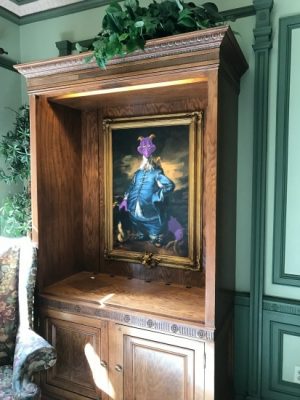 Another cool thing we came upon during the Epcot Festival of the Arts was some photo ops that were set up.  They were famous paintings that you could go in and be part of.  We loved this!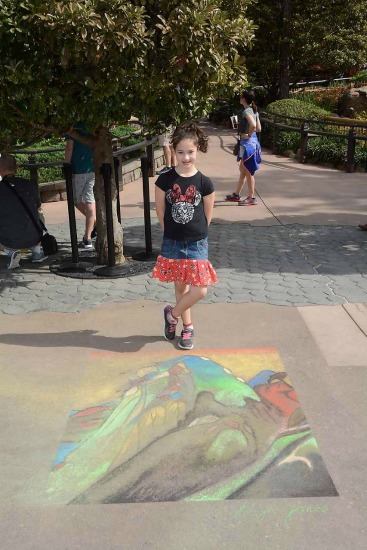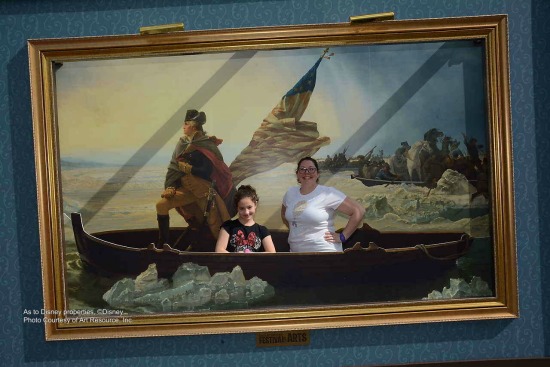 The Epcot Festival of the Arts was a great addition to this time of year and we hope to come back in the future. It was quite a hit and hope they bring it back next year!
Did you get to visit the Epcot Festival of the Arts? What did you think? Share your thoughts in the comments.