This post may contains affiliate links for your convenience. If you make a purchase after clicking a link we may earn a small commission but it won't cost you a penny more! Read our full disclosure policy here.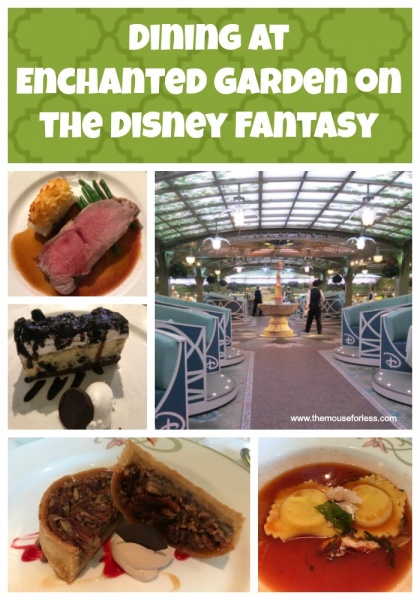 Welcome back to my tour of dining on the Disney Fantasy. Last week, for those who missed it, I discussed what it's like to dine at Animator's Palate. Today, we're heading to Enchanted Garden, the next restaurant in the rotational dining option onboard Disney Cruise Line's Disney Fantasy.
Enchanted Garden is set up like, well, you're stepping into a garden. There's a lot of greenery and white lattice. It's got a very airy feel to it. And who doesn't love the incredibly cool round tables that sit as you walk into the restaurant.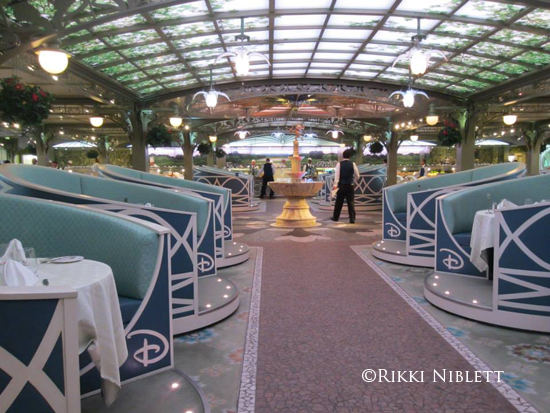 This restaurant is one of our favorites to go to as we board the ship? Why? Because everyone else floods Cabanas on the top deck, where as Enchanted Garden is usually pretty serene, plus, it is no longer a buffet, so you get served a full meal, if you want it. And who doesn't want it, right?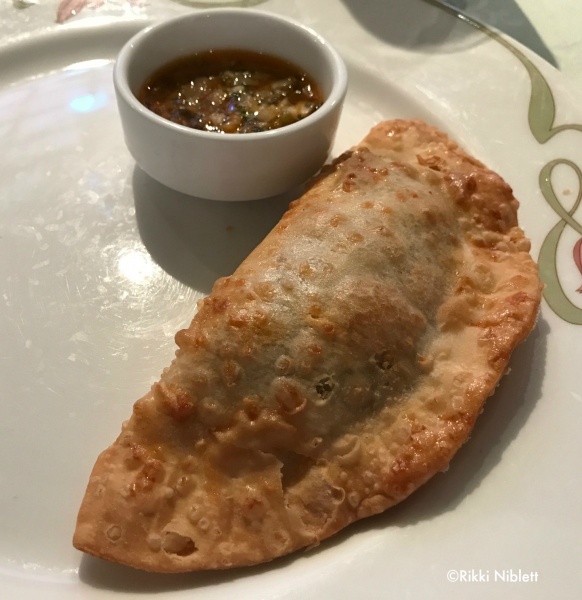 So, on this trip, I started with the empenada.  It was ok. It was a little dry, even after dipping it in the sauce that accompanies it. It was also a tad bit spicy. It didn't leave me thinking, yum!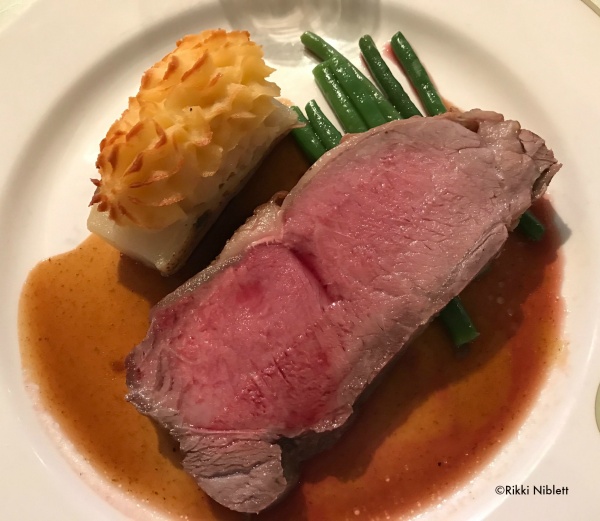 For my main entree, I decided I wanted to go all in. I got the prime rib which is served with asparagus, Double-Baked Potato, Natural Jus, and Horseradish. This was incredible! It was so juicy with just the right amount of fat.  The asparagus was a nice touch and the twice baked potato was good, but I do wish it had had a little more flavor. (I think that's my general consensus out of the main three dining rooms overall. I wish the dishes had more flavor.)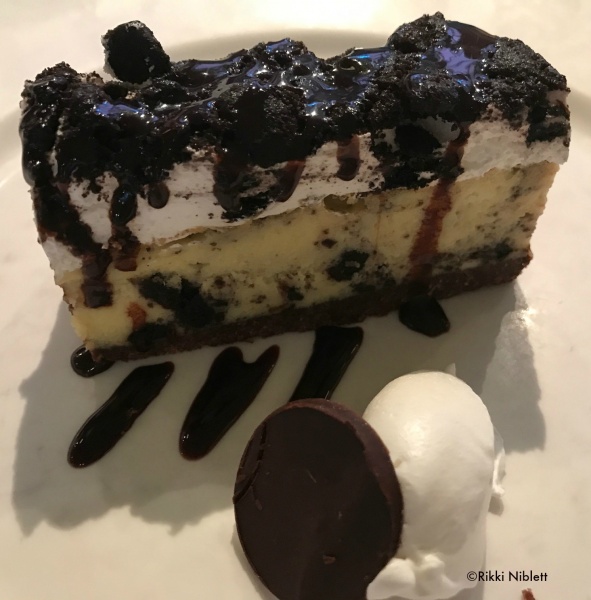 For dessert, I had a yummy Oreo cheesecake. This was quite good. Not terribly sweet, but was a good finish to my meal.
We ended up having dinner at Enchanted Garden a couple of times, but for the main night, I thought the food was again, good, but not great. (Maybe it's because I'd had the meals of my life at Remy and Palo the nights before….more on that later.)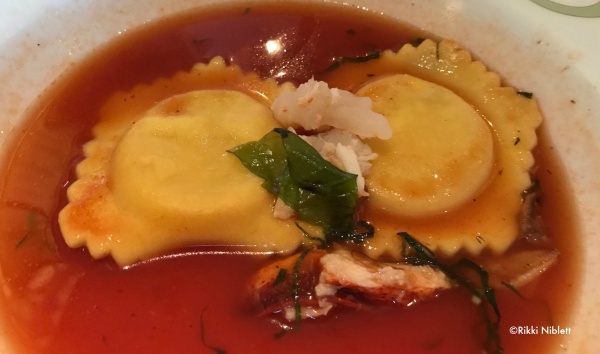 Speaking of Palo, they did take off the lobster ravioli, but it does seem as though they've added a version of the lobster ravioli here. This version is served in a tomato broth. It was actually quite good, but I do miss Palo's version. There were good lobster chunks in the ravioli too.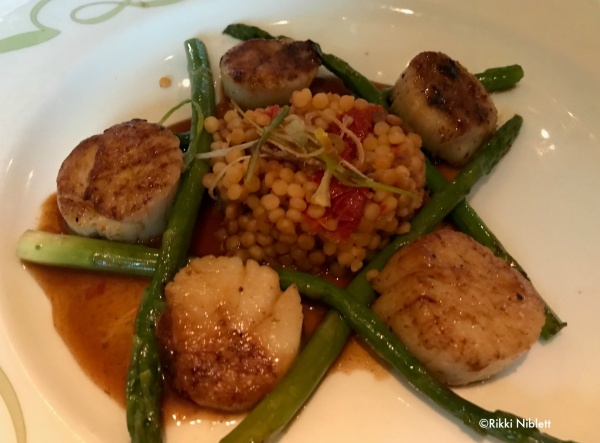 For my entree, I had the caramelized sea scallops served with roasted asparagus, sun-dried tomato cous-cous. The scallops were cooked to perfection. They were not chewy in the slightest (which happens all too easily with scallops.) The cous-cous was again, not my cup of tea. It was just alright. The asparagus was once again, a nice accompaniment.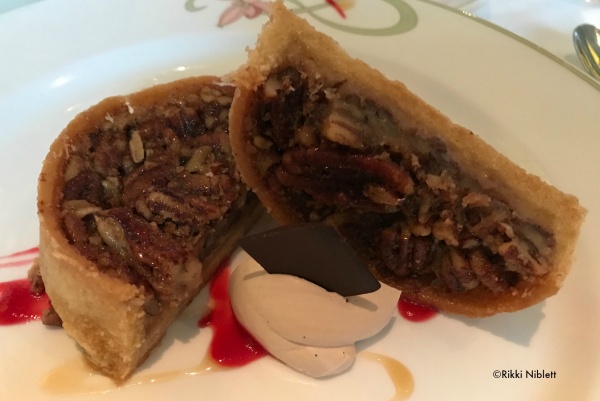 For dessert, I had the pecan tart with bourbon caramel sauce. This I thought was very good. It was similar to a pecan pie, which I love. I also tried the warm sticky date pudding, which was just ok again. I would totally get the pecan tart again though.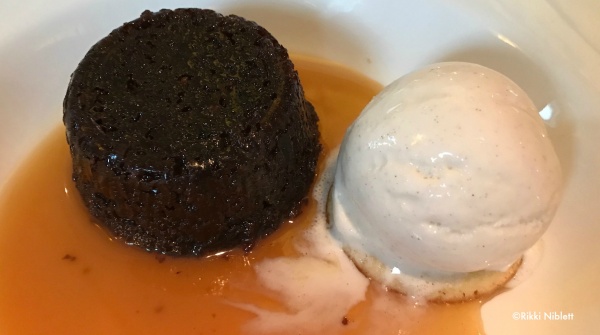 We also tried the sticky pudding, which again, didn't really wow me.
Overall, I love Enchanted Garden's feel. I think the restaurant is very open and bright, though sometimes I get that it can feel a little banquety or sterile, thanks to all the white. It's still one of my favorite restaurants onboard the Disney Cruise Line.
Have you dined at Enchanted Garden before? What did you think? Share your thoughts in the comments.
Did you like this article? Make sure to share it with your friends! Check below for easy ways to share!
Incoming search terms:
https://www themouseforless com/blog_world/enchanted-garden-disney-fantasy/