This post may contains affiliate links for your convenience. If you make a purchase after clicking a link we may earn a small commission but it won't cost you a penny more! Read our full disclosure policy here.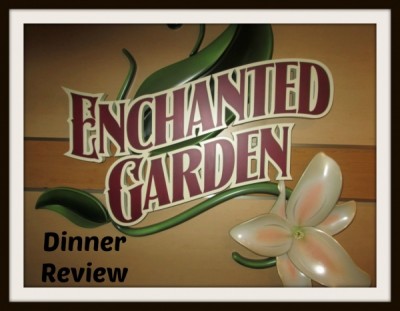 The Enchanted Garden Restaurant, a dining option on the Disney Dream with the Disney Cruise Line, is one of the three main restaurants that is included with rotational dining.  Each night while sailing, you dine with the same dinner mates and are served by the same cast members throughout your cruise.  We were lucky to have The Enchanted Garden assigned to us for our first dinner because it was a perfect setting to kick off a cruise!
The décor is inspired by the colorful gardens of France, and guests are greeted with a beautiful fountain at the entrance of the restaurant.  Seating is in cozy booths or longer tables.  The best part of the atmosphere is the lighting, which makes subtle changes throughout the evening.  At the beginning of dinner, the light is bright like in a daytime garden.  Throughout the dinner, the light is subtly dimmed to usher in an evening.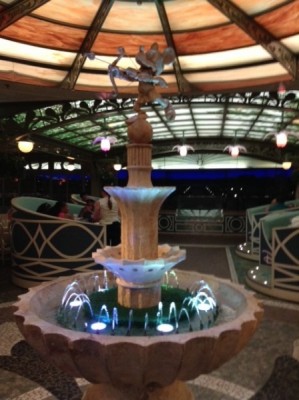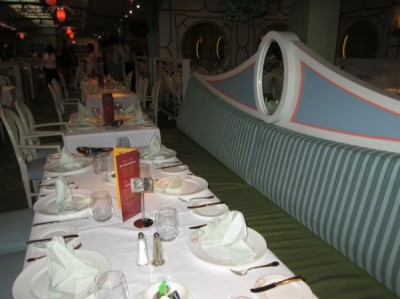 Once we were settled and introduced to our dinner mates, the feast began!  Warm rolls were on the table, and our drinks were immediately delivered.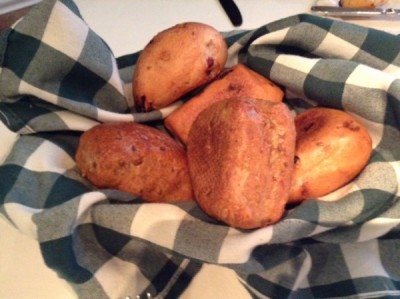 I started with a spinach and raspberry salad that included toasted pine nuts and Gorgonzola cheese.  The raspberry vinaigrette dressing was a perfect fit to this fresh salad!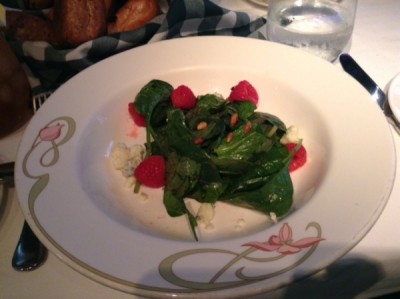 My daughter started her meal with chicken noodle soup.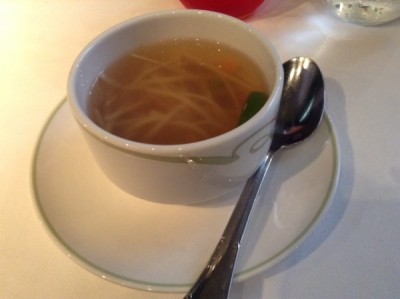 My entrée was a slow roasted prime rib with vegetables and a double baked potato.  The star of the entrée was the prime rib, which was fall apart at your fork tender and done to perfection!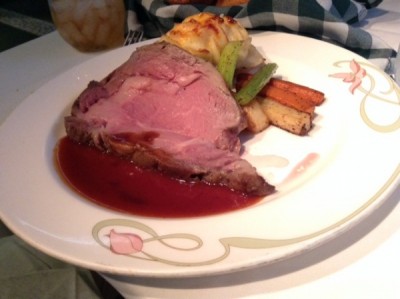 My daughter is seventeen, but likes plain food and we asked for a kid's menu.  Our server quickly brought her one, and he remembered from that point forward that her main choices would be from the kid's menu.  He did a great job with making her feel at ease by letting her know she could order absolutely anything on either menu that her heart desired.  She asked for a bowl of macaroni and cheese and a plate of French fries on the side and was thrilled with her dinner!  No matter what your age is, on the Disney Cruise Line you can order from the kid's menu if that is the food you prefer.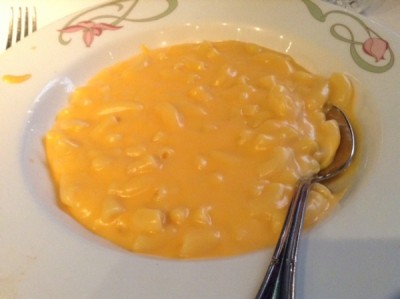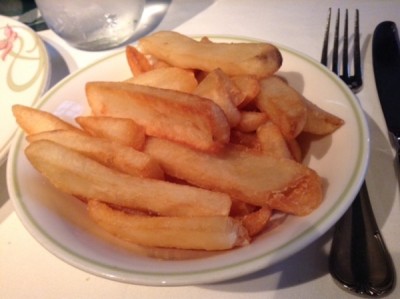 All of the dessert selections looked good, and I settled for a dessert trio to sample a few items.  The trio included a Sacher Torte, Strawberry Cheesecake, and Esterhazy cake.  All were wonderful!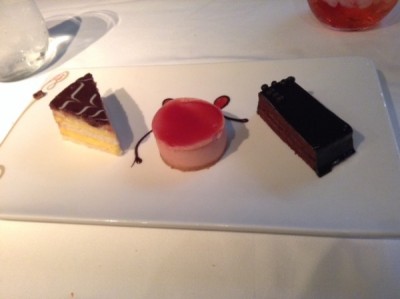 Our server told my daughter that she could have an adult dessert, a kid's menu dessert, or even a Mickey Ice Cream Bar!  She decided to go with a chocolate mousse.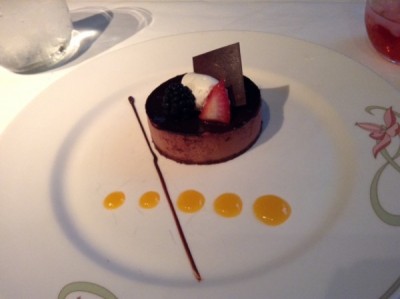 After dinner, our server took the time to show us a magic trick which we enjoyed.  All of the servers were outstanding, and with the Enchanted Garden atmosphere and food offerings it was a fantastic dining experience!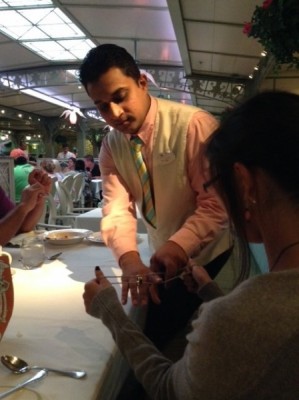 What are your thoughts on Enchanted Garden? Share in the comments section.