This post may contains affiliate links for your convenience. If you make a purchase after clicking a link we may earn a small commission but it won't cost you a penny more! Read our full disclosure policy here.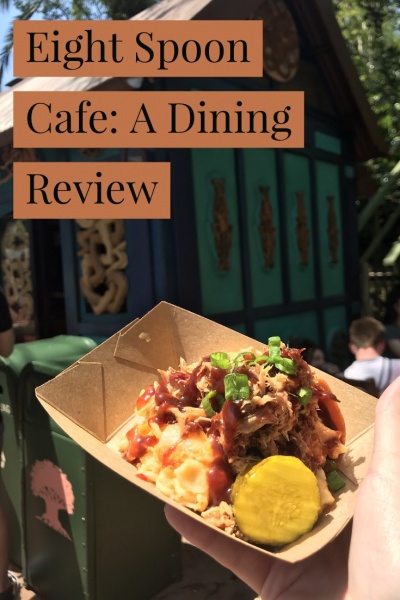 I'm a big macaroni and cheese fan; I love almost all forms of pasta, but there's something special about an expertly executed mac and cheese. Creamy, gooey, cheesy delicious pasta really can't be beat… unless you top it with delicious pulled pork. I recently tried the baked macaroni and cheese with pulled pork at the Eight Spoon Cafe in Disney's Animal Kingdom, and I'm bringing you my review!
First of all, let's start out with the location. This little unassuming kiosk is located in Discovery Island (to the right of the Tree of Life) in Disney's Animal Kingdom. I don't know about you, but I've walked past this little café multiple times in the past without so much as a glance at the menu. You really wouldn't expect to find such a delicious treat in a spot like this, but trust me, it's a real hidden gem! The menu is quite limited, with macaroni and cheese being the star. You can choose from three mac and cheeses: plain, pulled pork, and shrimp with sweet chili sauce. You'll also find a Mickey pretzel served with cheese sauce, potato chips, and bottled beverages.
Something important to note is that everything on this menu can be purchased as 1 snack credit on the Disney Dining Plan! I can tell you from personal experience that the macaroni and cheese with pulled pork was a filling lunch, so I consider that a great use of a snack credit. If you're not on the dining plan, mac and cheese prices range from $4.49 for the original mac to $6.69 for the mac with shrimp. The pulled pork mac and cheese came in at $6.49, a great value for what I received!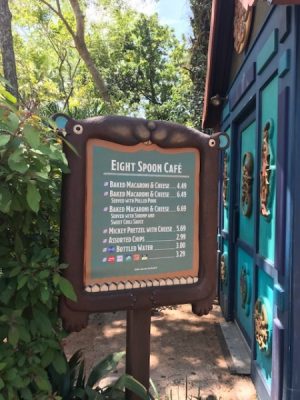 Now, onto the important stuff: the flavor! This mac and cheese came out hot! I was concerned I might get some lukewarm pasta, but that was not the case. The Cast Member expertly served up a heaping scoop of mac and cheese, added a large portion of pulled pork, and garnished with a pickle slice.
I found the macaroni to be extremely creamy and rich, and wasn't greasy or runny. The pulled pork was surprisingly tender, flavorful, and juicy, and the pickle added a fresh crunch to help balance out the heaviness of a big 'ol bowl of cheesy pasta. Garnished with a sprinkle of green onion on top, this dish was delicious and pretty! I'd be happy eating the original macaroni and cheese with no toppings, but I felt that the combination of pasta and pulled pork was perfect. As much as I loved this dish, I think I have to try the shrimp with chili sauce option next!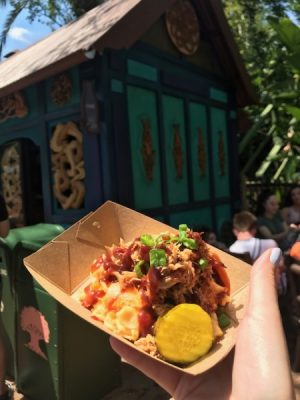 In summary, this dish from Eight Spoon Cafe was an absolute win for me. With very short lines, great prices, and the ability to eat something filling and nourishing on the go, I'll totally be back again soon. And for those of you on the Disney Dining Plan, this is a great use of a snack credit! Flavorful, filling, and unique, the macaroni and cheese with pulled pork is an absolute must-try on your next Animal Kingdom day! Because really, there's no wrong time to eat macaroni and cheese, right?
Have you tried this mac and cheese yet from Eight Spoon Cafe? What were your thoughts? Share in the comments, or on Facebook or Twitter.
Did you like this article? Make sure to share it with your friends! Check below for easy ways to share!