This post may contains affiliate links for your convenience. If you make a purchase after clicking a link we may earn a small commission but it won't cost you a penny more! Read our full disclosure policy here.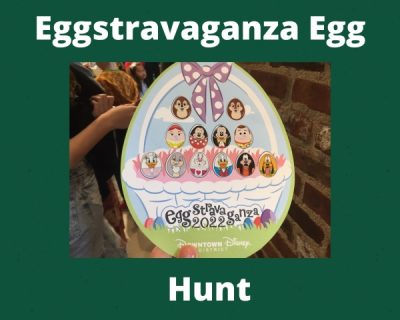 Disney's annual egg hunt is back!
Ah, spring. It brings fresh breezes, lovely flowers, and egg hunts! This past spring break, I took my daughter to Disneyland's Downtown Disney for their Eggstravaganza egg hunt! We had done this twice before. The first time was in California Adventure, and the second time was at Downtown Disney. This year, there were hunts available in both those locations plus Disneyland Park.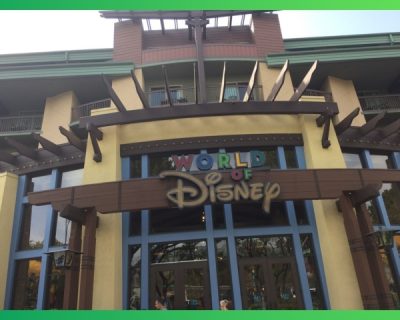 World of Disney, where we purchased our map
We purchased our map at World of Disney for $10.76. The colorful map came with stickers that corresponded to the oversized eggs that were strategically placed around Downtown Disney. Our quest was simple: We would search each location on the map for the egg, and once we found it, place the corresponding sticker in the correct locations. Once we were done, we would return to World of Disney to collect our prize. (NOTE: As long as you buy the map, it does not matter if you actually complete the hunt or not. You can still get the prize.)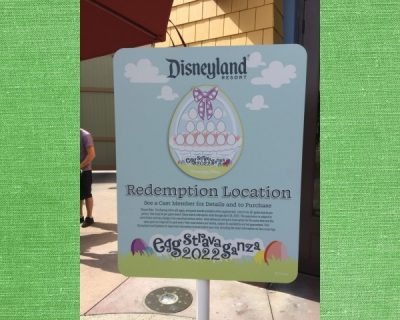 One of the redemption locations

The last time we did this at Downtown Disney, they had sold out of maps and instead gave us a photocopy of the map at no charge. We were able to do the egg hunt, but there was no prize. This time, I'm happy to report, we had no trouble buying a map.

The map clearly states the name of the shop, restaurant, or entertainment area where an egg can be found. But once at that location, you might have to do some careful scanning of the area to find it. Some were very easy to find, and some were more difficult.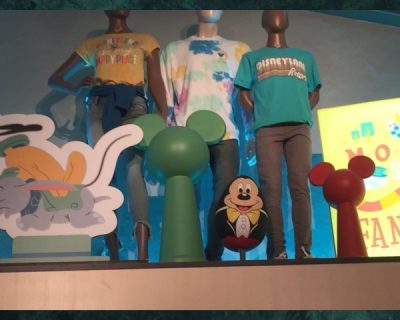 Hmmmm…where is that egg hiding?
For the most part, the eggs were located outside or were in window displays that were clearly visible from the exterior of the buildings. However, the World of Disney egg was inside the massive store. This one took us a while to find, and this was only partially because we kept getting distracted by the merchandise in the store that my daughter wanted to buy. (I'm sure this is exactly the point of the Eggstravaganza in Downtown Disney!)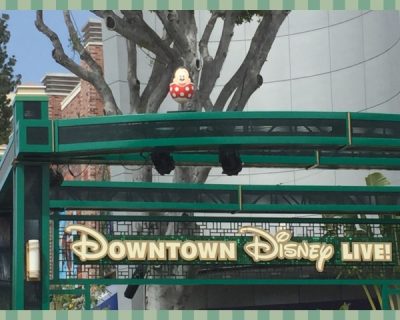 I know that egg is around here somewhere…
We also stopped to do some pin trading along the way. The hunt took us from one end of Downtown Disney to the other, so we got a lot of steps in! The weather was perfect: not too hot and not too cool, so we were very comfortable. If it were blazing hot out, I would have suggested a break inside the lobby of the Grand Californian, which is easily accessible from Downtown Disney.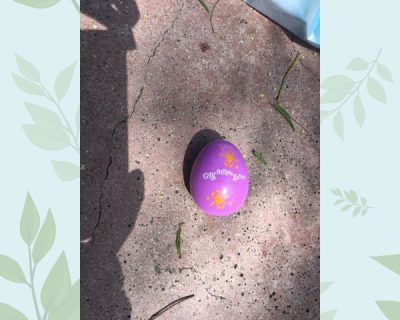 Our prize egg
Even with all the distractions, it took us a little bit over an hour to find the eggs. We presented the finished map, which we were allowed to keep, at the redemption area. Once there we were given the choice between four plastic eggs, each with a different Disney character emblazoned on them. We chose the Genie. This was a change from the year we did this in California Adventure. That time, we were told to pick a color and were given the egg that corresponded with that color. This time, it was totally our choice.

The Eggstravaganza is also held at Walt Disney World. This is a fun activity for all ages. Will you be at Disneyland or Walt Disney World during the spring break period?  Unless this is your very first trip to Disney, in which I recommend you concentrate your time on the attractions inside the theme parks, I recommend trying the Eggstravaganza!
Have you ever done the Eggstravaganza? What were your thoughts?  Share your thoughts in the comments or on Facebook or Twitter!
Did you like this article? Make sure to share it with your friends! Check below for easy ways to share!  
Want to visit a Disney Destination? Contact The Magic for Less Travel for more information and a free, no-obligation quote.

Incoming search terms:
https://www themouseforless com/blog_world/eggstravaganza-egg-hunt/