This post may contains affiliate links for your convenience. If you make a purchase after clicking a link we may earn a small commission but it won't cost you a penny more! Read our full disclosure policy here.
Looking for an excursion to consider on your next Disney Cruise? Have you ever considered doing the Dunn's River Falls excursion in Falmouth, Jamaica? I'm going to talk about the pros and cons of my experience with this port excursion. Let's dive into a full review of the Dunn's River Falls port excursion!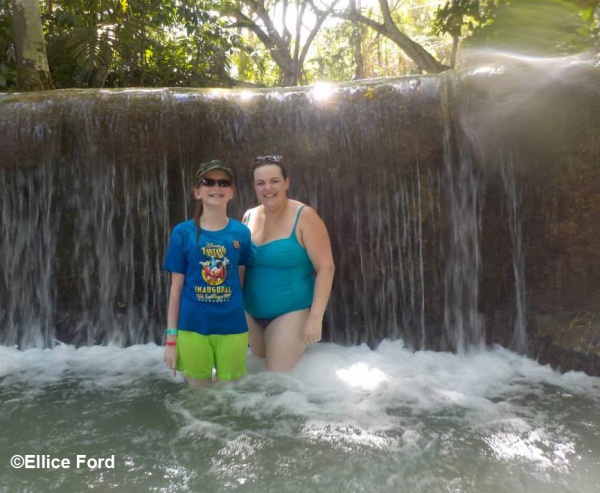 We opted for the Dunn's River Falls with lunch excursion, so it was kind of a two part experience, and both equally fun! This was truly a unique experience. I'm not going to lie – I was terrified. So terrified, that I almost quit halfway through. But I never did, and I sure am glad I made it to the top! It was SUCH a feeling of accomplishment!
This probably isn't the best excursion choice if you aren't in great physical shape or have young children. With that said, I am certainly not in tip top physical shape, and there were lots of children who joined us. I just think Disney should gear this one towards adults only, because it can be a little dangerous. But, it was honestly SO much fun, and sticks out in my head as a high point on our entire cruise.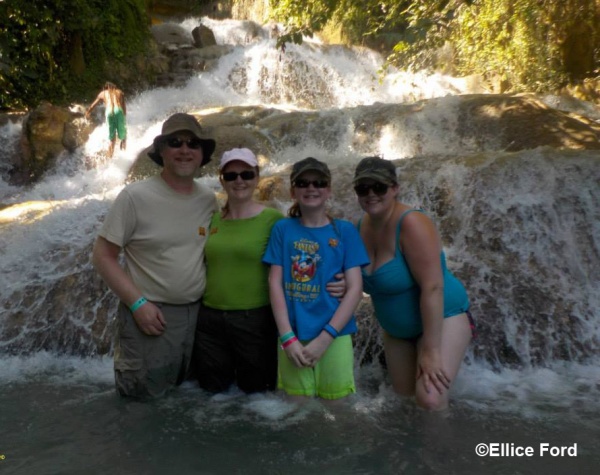 Our excursion started out by a bus ride/tour when we arrived to port. Our driver & tour guide took us to Dunn's River Falls which was about an hour & a half journey from the port. We saw all the sites & sounds of Falmouth, learned some history & enjoyed some reggae music. I really enjoyed this part, because it was nice to experience the full culture of Jamaica, instead of the sometimes glamorized portions that the Disney Port Excursions shows us.
When we arrived, we all went as a group to the park, which, in itself, was stunning. The vegetation, the blue skies & ocean, it was all simply beautiful. Near the gift shop, there was also a little alleyway type area where local artists were selling their art. I never bought anything there, but I did buy something local in part two of our excursion, which I will talk about later.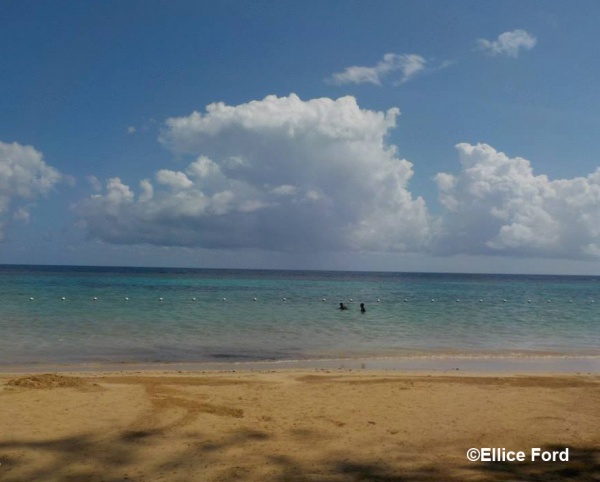 We walked down to the beach & the base of the waterfall to start our journey up this 600ft waterfall. It was a little bit daunting at first because there quite literally is rushing waterfalls coming at you.
Another tip I would suggest is to wear something on your feet, such as water socks. This will help with gripping the rocks.
Our group of 20 & the 3 tour guides all held hands facing the same way, and started the trek up. The reason we held hands was so we had more support, and someone to catch us if we fell. What I didn't like about this, was that if one of us went, we all did. Luckily, that did not happen. The guides are incredible & do this for a living; they are very good at keeping all the guests safe and making us feel comfortable. They taught us how to carefully step on each rock and landing.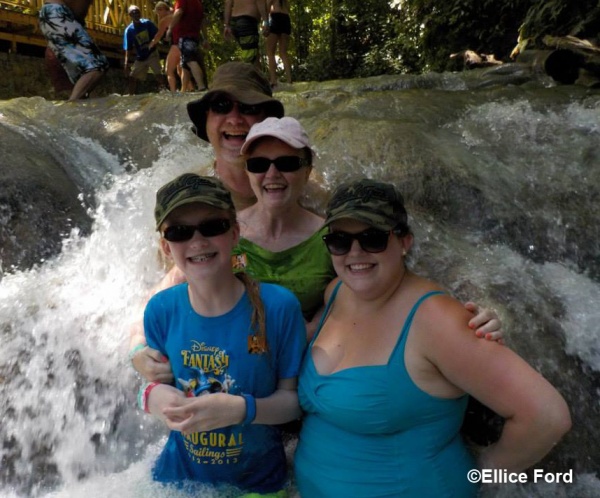 Every so often, we got to a pool landing, where we could wade & enjoy the water. This was my favorite part-relaxing! There was also some 'slides' – aka rocks that you could slide down – which were a TON of fun!
Again, the tour guides were incredibly helpful & safe. They held our hands if we jumped in a pool or went down the slide. They took great care of us.
After about 20 minutes, I was ready to quit. My body ached, my anxiety was through the roof because parts were so difficult, and I wanted to break down and cry. I asked my tour guide if I could leave and she told me I could, but gave me this pep talk to stay to encourage me to do so, and I could not be happier that I did. The first 20 minutes were the hardest part, and past that point, it was gravy! I was relieved that the second half of this hike up was easier, and was actually a TON of fun.
We continued on with our journey, wading in the pond areas, cooling off under a waterfall, and even exploring the local wildlife. It was absolutely phenomenal. When we got to the top, it was like we had just ran a marathon & the atmosphere was so positive & congratulatory. We did just hike a 600ft waterfall in 1.5 hours, after all!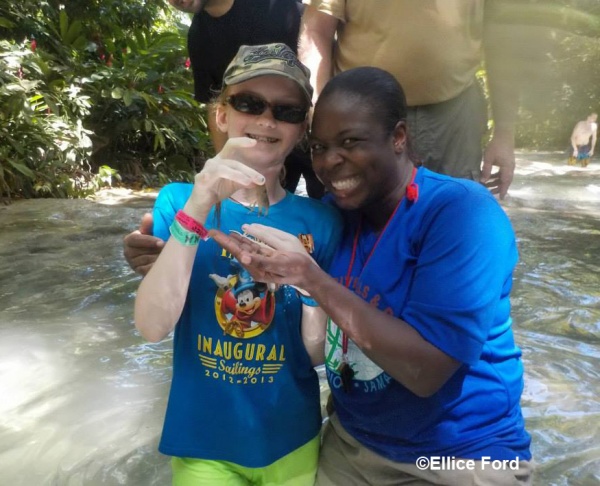 When we exited the waterfall, we got pictures by the signs & filled out our form to order the video they had created for us. The local company who does this excursion, had taken videos all the way up for each of the guests. They made my nervousness look like a joke, because they were able to leap from rock to rock with such ease to get that perfect shot. That helped keep me motivated too!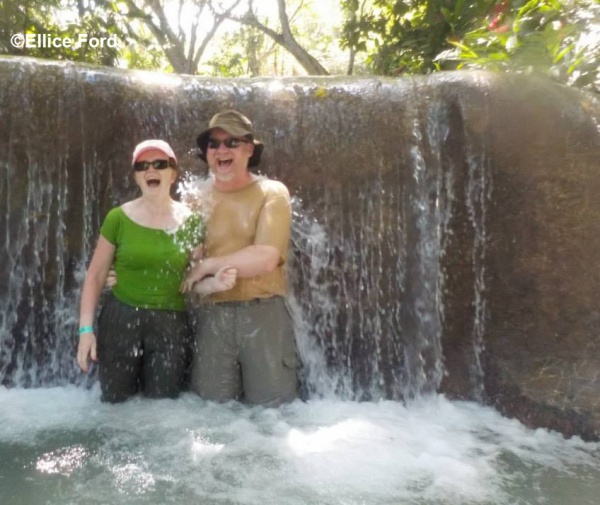 All of the locals who took us on this tour were truly phenomenal. They were some of the kindest people I have ever met & just have this way of making guests feel welcome & comfortable. It definitely helped with getting me through that excursion! After we all chatted & congratulated ourselves & others, we hopped back on the bus to head to lunch for a traditional Jamaican meal.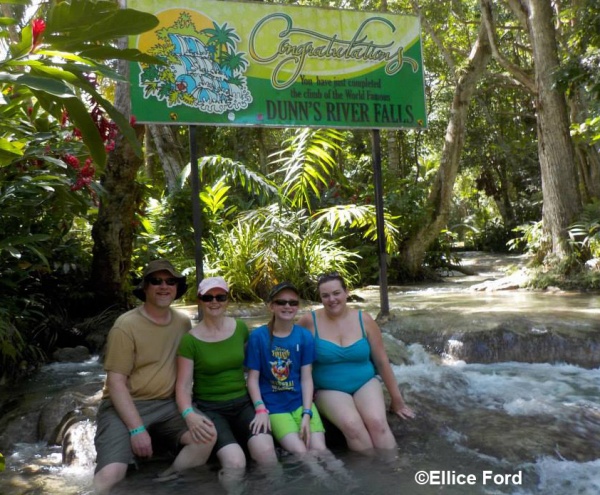 After our hike, it was time to hop back on the bus, where we headed to Mystic Mountain. After a short bus ride, we arrived & were escorted to the chairlift to the top of the mountain. This was another exceptional experience, where we got to view the beautiful Jamaican rainforest & landscape from way up in the air.
When we got to the top, we were treated to a traditional jerk chicken lunch! They did have hot dogs and fries for the kids as well. It was awesome to unwind with our group & enjoy the local cuisine.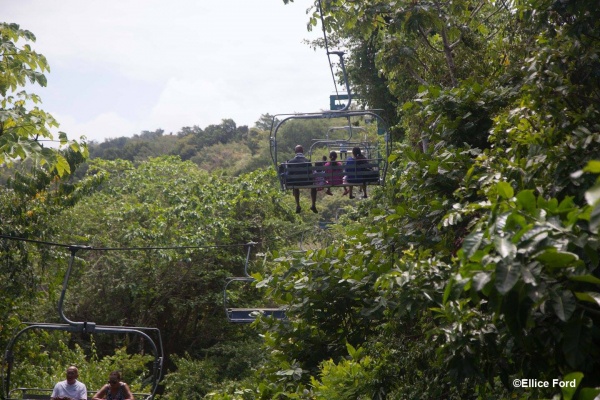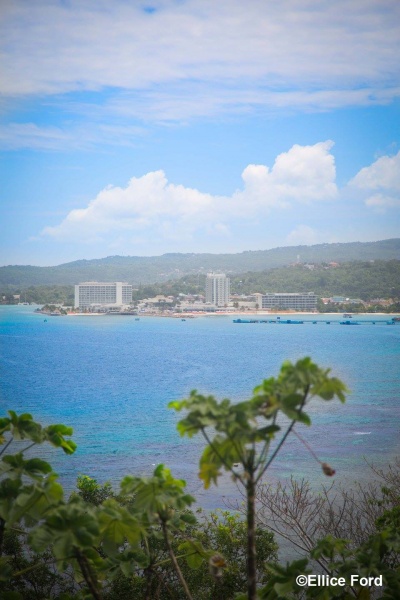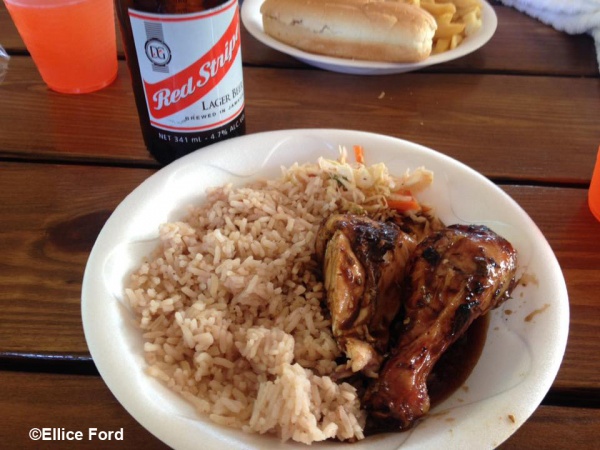 After lunch, we hopped in the infinity pool there to relax, enjoy the stunning view, and have fun on the waterslide. They also had a gift shop there and an area where again, locals were selling some art. This was where we bought a couple beautiful Jamaican paintings to bring home.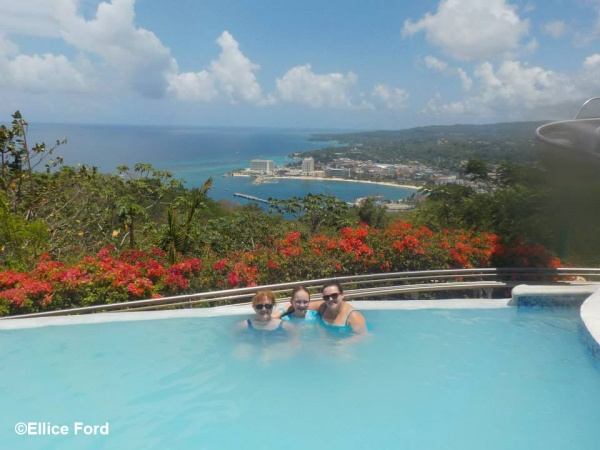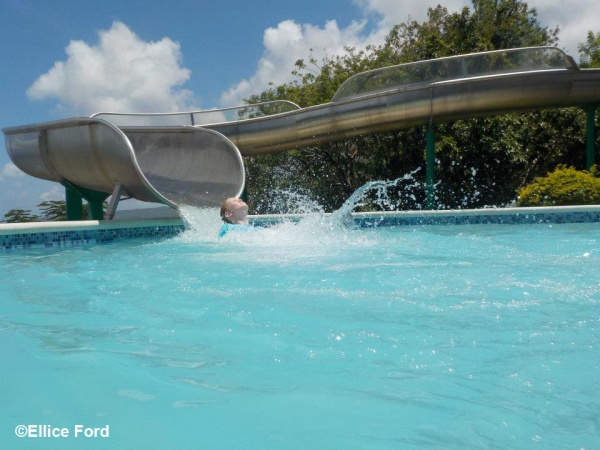 After our relaxing lunch & swim, it was back to the bus for the journey back to the ship. Our tour guide didn't do much talking this time, she just let us relax & enjoy the sights & music, after our busy day on the mountains!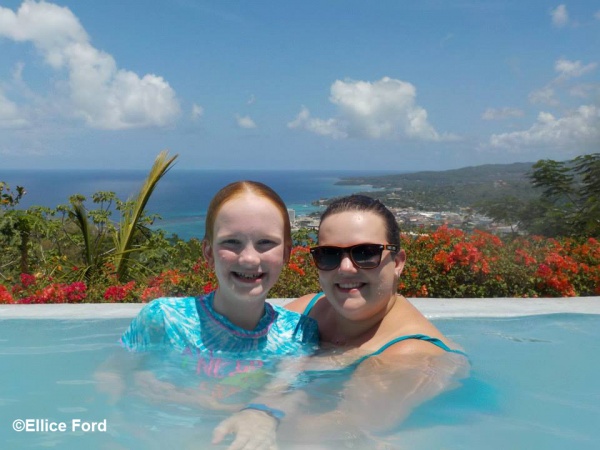 All in all-hands down-the experience of a lifetime. While I was a bit scared at first, I kept pushing, thanks to the help of my group & amazing guides, and I am so glad I did. I don't recommend this for the faint of heart, and I would definitely say bringing small children is up to your own discretion. Disney has increased the recommended age since I walked it, and it is now 10+, which I am glad to see!
Both the Dunn's River Falls & Mystic Mountain experiences were truly exceptional and I recommend it to everyone I know going on a Disney Cruise. Next cruise to Jamaica, definitely consider doing the Dunn's River Falls Port Excursion.
Have you ever done Dunn's River Falls or Mystic Mountain before? What were your thoughts? Share with us in the comments, or on Facebook or Twitter!
Incoming search terms:
https://www themouseforless com/blog_world/dunns-river-falls-excursion/