This post may contains affiliate links for your convenience. If you make a purchase after clicking a link we may earn a small commission but it won't cost you a penny more! Read our full disclosure policy here.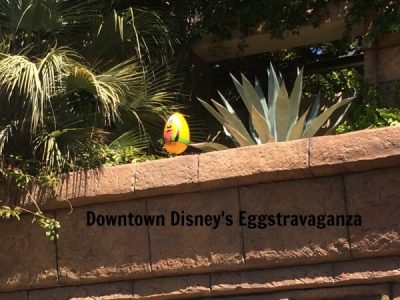 The hunt is on at Downtown Disney, in the Disneyland Resort!
Thanks to a blog written by Sherry, I learned that this spring, Downtown Disney at Disneyland would feature the Egg-stravaganza egg hunt. I had done this hunt previously at California Adventure, but the chance to try the one at Downtown Disney, which doesn't cost admission, proved to be too good to pass up.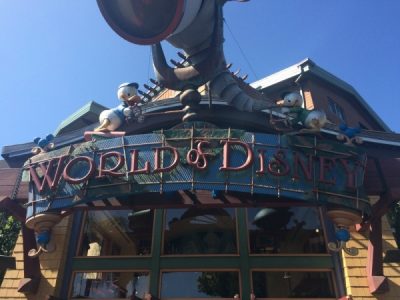 First stop – World of Disney, to get our map
The hunt is simple and fun. All over Downtown Disney, large Easter eggs decorated like Disney characters were hidden. When I say large, I mean the size of a toddler. So these eggs are not meant to be collected; rather, they're secured firmly in place, and guests are simply supposed to find them.
For $5.99 plus tax, you could buy a map giving general clues to each egg's location, plus stickers to put on the map once you've found an egg. At the end of the hunt, you could take your map to World of Disney to collect a prize – a plastic egg decorated like one of several Disney characters. (You can collect this prize as long as you've purchased the map – it doesn't matter whether or not you find all the eggs.)
I decided to surprise my daughter, who was on Spring Break, with this hunt. However, on the morning of the hunt, a friend warned me on Facebook that Disneyland had been quickly selling out of the maps. I decided to give it a try anyway.
We parked in the Mickey and Friends parking structure, which is the parking lot for the two theme parks. I decided to do this instead of parking at Downtown Disney itself because I didn't know how long the hunt would take. At Downtown Disney, parking is free for the first two hours. (An additional 2 hours can be validated if you see a movie at the AMC theater or eat a meal at a table service restaurant, which we were not planning on doing.) After that, the charge is $6 per half hour, with a maximum of $36 per day. Parking at Mickey and Friends is $20 for the entire day, so we parked there and took the tram to Downtown Disney.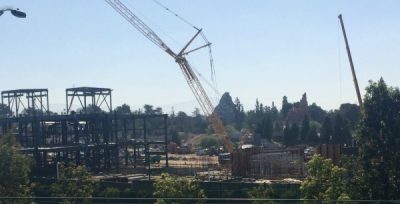 View from the Mickey and Friends Parking Structure – is this Star Wars Land?
I'm glad I did, because I managed to snap this shot of what I'm assuming, from its location, is construction for the upcoming Star Wars Land. (If anyone knows for sure, please let me know in the comments!)
We headed to World of Disney right away and, sure enough, the Egg-stravaganza maps were sold out. To my pleasant surprise, however, the shop was giving away, for free, color printouts of the map. There were no stickers, and we would not be able to get a prize, but we could still enjoy the hunt!
My daughter, ever the optimist, decided to take a pencil and draw each egg as she found it in the place the stickers should go. This hunt was slightly different from the one we did at California Adventure two years ago. The biggest difference? Some of the eggs were inside the locations, whereas during our previous hunt, all eggs were visible from outside.
The Egg-stravaganza hunt is over for 2017, so I'll show you a few of the hiding places. Always remember to look UP when you do these hunts! And also, if you get stuck, you can always ask a friendly Cast Member for a hint!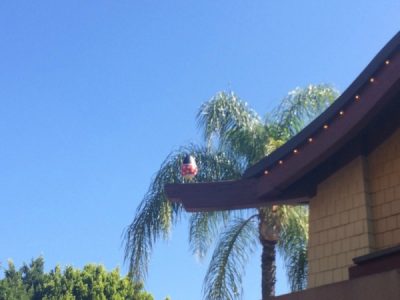 Presenting the wonderful, the fabulous, back side of Minnie Mouse egg!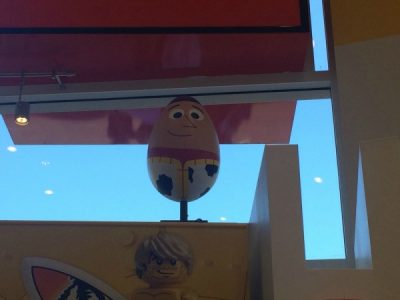 Some of the eggs are INSIDE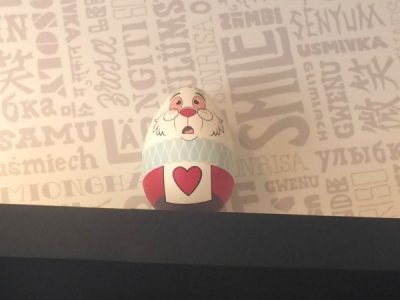 My favorite egg of the day
It took us a little over an hour to find all the eggs (we were doing this at a leisurely pace, and stopped for some fun at the Lego Store). Since I didn't have to buy the map, I let my daughter pick her own prize for finishing the hunt. She chose a churro!
This Egg-stravaganza experience further proved to me that even when things don't go as you planned at Disney, you can always have fun anyway. I'm glad that Disneyland decided to give out the printouts for free so we could still enjoy the hunt!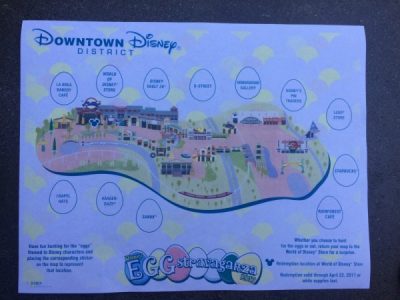 Did you participate in the EGG-stravaganza this year at Disneyland? What did you think? Share your thoughts in the comments.
Did you like this article? Make sure to share it with your friends! Check below for easy ways to share!