This post may contains affiliate links for your convenience. If you make a purchase after clicking a link we may earn a small commission but it won't cost you a penny more! Read our full disclosure policy here.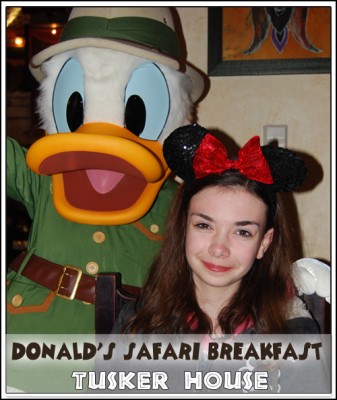 Every time my family and I make our dining reservations for a trip to Walt Disney World, we always work in a character meal (or two) into the master plan! Because my family is big on breakfast, that usually means we often opt for a character breakfast – a great way to fuel up for a busy day of rides and attractions, and we can knock off a few of the character meets without the long lines we would encounter in the park! We usually end up at Chef Mickey's or 'Ohana's, but on our last trip to the World, we decided to try something a little different. I had heard so many good things about Tusker House at Disney's Animal Kingdom, so it seemed that Donald's Safari Breakfast was in order!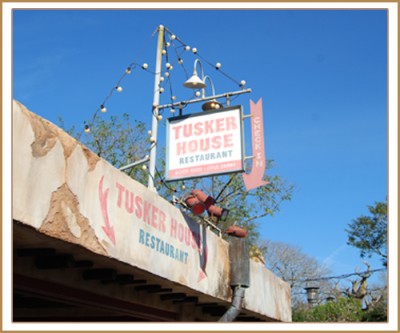 Tusker House is located in Disney's Animal Kingdom in the Africa section – just a short walk from the main entrance. It is uniquely themed as an open air, Harambe marketplace, with a delightful African themed décor that will make you feel that you have been magically transported to another continent!
After checking in at the outdoor podium, we were shown to our table in one of the four separate dining rooms. Even though the rooms aren't large, they each have windows that look out onto the main buffet area to make it seem a little more airy and spacious, and of course, there was more of that wonderful African theming to capture our attention! A soon as we were seated, a cast member came by to take our drink order. Along with the usual offerings of tea, coffee, soda, juice and milk, each server carries a carafe of the most delicious concoction "Jungle Juice"! We couldn't get enough of this wonderful blend of passion fruit, guava and orange juices – it was so good!
Then it was time for breakfast! The buffet section of Tusker House is set up in a two story room that is designed to look like an African marketplace. If you look up, you will see a balcony laden with African textiles and other exotic items. The buffet selections are displayed in several rustic carts that make you feel as if you are selecting your food items from an African street vendor.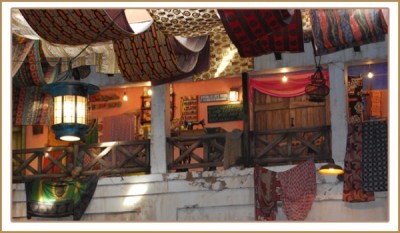 African themed balcony above the buffet carts.
Oh and the food! Along with the usual breakfast offerings of eggs, bacon, sausage, and of course, Mickey waffles, there was a large selection of breads and bakery items, salads and fruit, various frittatas and breakfast casseroles, and carved meats. My daughter loved the tater tots and made a trip back to the buffet for seconds on those! If you are feeling a little adventurous, try the African dishes, such as mealie pap, beef bobotie or the various fruit preserves and chutneys. Whatever you choose, you can't go wrong – the offerings were all delicious!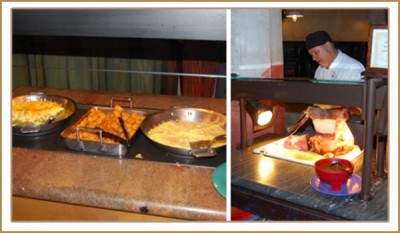 My daughter's favorite tater tots and the carved ham station!
And my absolute favorite dish on the entire, wonderful buffet? The Banana Bread Pudding with vanilla anglaise! Oh my, this is the best dessert ever, and I will admit I had to go back for seconds! I still dream of this dessert and I think I will need to try to recreate this at home. (Hmmm…another blog post maybe?) My daughter and husband thoroughly enjoyed the turnovers, cinnamon rolls and other sugary desserts, but did I mention the bread pudding???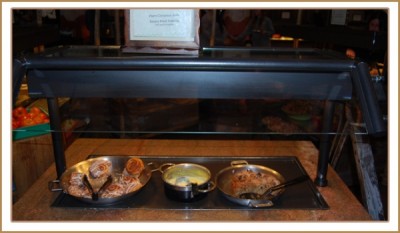 Banana Bread Pudding! Yummmm!
Not to forget one of the reasons we chose this breakfast location – the characters! Mickey, Minnie, Donald, Daisy and Goofy each made an appearance at our table as we enjoyed our delicious breakfast. They were all dressed in their safari-wear which makes for a unique photo opportunity that you won't get at just any location!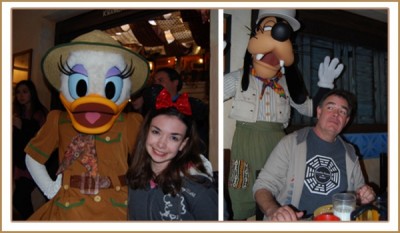 So whether you are off on an exciting safari on the African savannah, or hoping to conquer Expedition Everest, start your day with Donald's Safari Breakfast! It will have you fueled and ready for your next adventure at Disney's Animal Kingdom Park!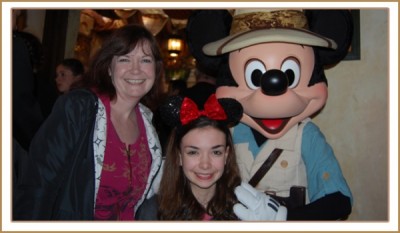 Safari Mickey!
Have you visited Tusker House's breakfast? What are your thoughts?